New footage shows an unauthorised visitor inside the rear entrance of the Isabella Stewart Gardner Museum. Photograph: Reuters
---
This article titled "Is America's greatest art heist about to be solved?" was written by Jonathan Jones, for theguardian.com on Friday 7th August 2015 16.09 UTC
There's new hope that the biggest art heist in American history may soon be solved. A new investigator on the case has found a video of a mysterious happening at the Isabella Stewart Gardner Museum in 1990, just 24 hours before thieves walked in and took more than $500m worth of masterpieces.
Police have released the video, which looks like it may well show a rehearsal of the robbery. If so, this would open up new lines of investigation – from the mysterious visitor and his car, to the role of the guard both that night and the next.
The New York Times has suggested the videotape raises questions about the role of Richard Abath, who was on guard duty the night of the robbery. This 23-year-old aspiring rock musician was taped up by the intruders after they apparently tricked him into letting them in after hours. But if the video shows Abath letting one of the same criminals in the night before, what does that mean? And couldn't he help the police identify the robbers?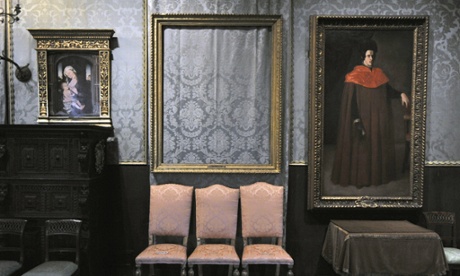 I truly hope this new lead does get somewhere. This year is the 25th anniversary of a devastating assault on world culture. Art thefts are not romantic heists carried out by heroic gentleman thieves. They are cynical, philistine attacks on museums perpetrated by and large by organised criminals who do not care at all about the art they steal.
The robbery at the Isabella Stewart Gardner Museum deprived the world of more than a dozen paintings, including works by Vermeer, Degas and Manet, and most miserably of all Rembrandt's Christ in the Storm of the Sea of Galilee (1633) – a bright jewel of a history painting that is at once a realistic scene of Dutch seafaring and a visionary religious scene. Ships and storms were all the rage in Dutch Golden Age art, but here Rembrandt shows his originality by raising a "genre" scene to the heightened intensity of history painting. He does, in fact, what JMW Turner would later do with sea painting – but he does it better, with an explosive power of light and darkness and turbulence of soul.
At least that's what I conclude from looking at reproductions. I have never seen it in reality. When I first visited this lovely museum in the early 1990s the thieves had already done their destructive work. Isabella Stewart Gardner was a great collector in the age of Henry James. Her museum has a portrait of her by Sargent and a Renaissance courtyard created with chunks of original European masonry. A Renaissance fantasy in Boston. What it doesn't have is the art that was taken by those ingenious and mean-minded criminals all those years ago. Let's hope at least the Rembrandt is intact and undamaged somewhere, its beauty waiting to be returned to the light one day.
guardian.co.uk © Guardian News & Media Limited 2010
Published via the Guardian News Feed plugin for WordPress.
Categories
Tags