Just one year since winning the Catlin Art Prize and Neil Raitt is navigating the international art scene like a pro. A residency and exhibition at the Goss Michael Foundation in Dallas was followed by an exhibition at Anat Ebgi in LA, who he also showed with at NADA in New York.
If that wasn't enough, back in London on his home turf, he's set up a studio and project space with some fellow RCA alums called Westminster Waste. We caught up over a cup of tea to discuss his recent projects, life on the other side of the pond and the joy of painting in a digital age.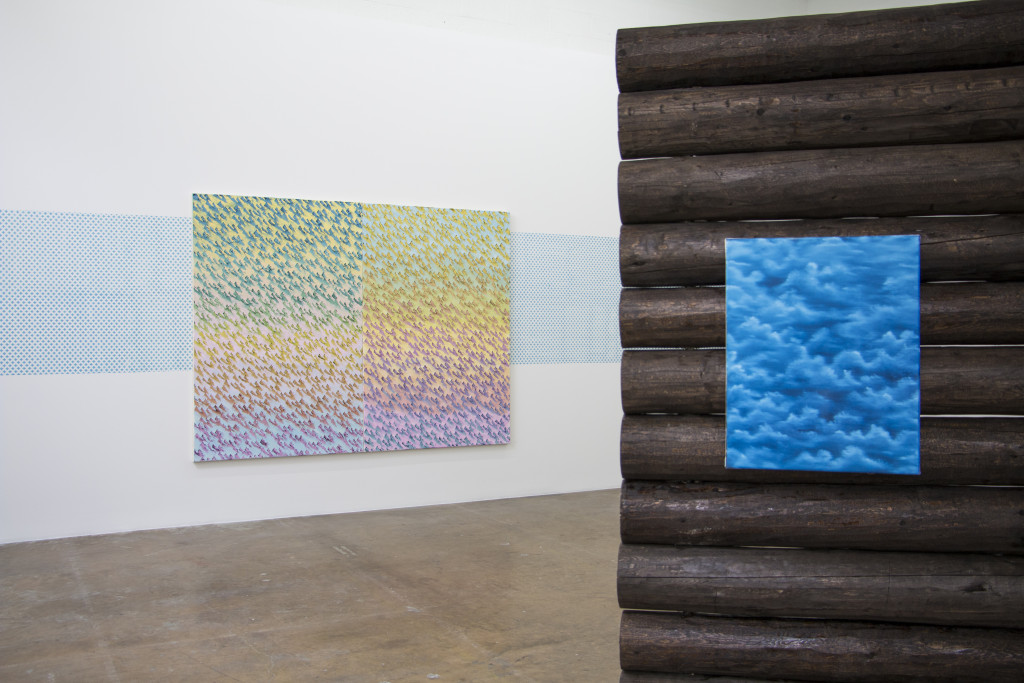 Neil Raitt,Cabinectomy (installation view) Goss-Michael Foundation, TX
2014
How did you set up the project space, Westminster Waste?
I had a bit of time between shows and I asked my friend Brendan who's a technician, he's really meticulous, he used to make violins by hand, I said to him we were looking for plasterboards and a quick job. I was away, and a week later I came back and it was half finished, he was getting the walls completely flush and he did a really nice job on it.
I sort of kickstarted it and then we are putting a curator hat on as and when it suits us. We've got a rough list of shows and we've actually scheduled about a year. It's a very international group, there's someone from pretty much every part of the world, so they all bring their own things to the table. We've got Philip Seibel from Dusseldorf, he makes these really nice veneers and Jonny P Watts, who has written for Frieze, he's going to curate a show. We're not really showing our own work because it's nice to open it up to conversations outside the building, but at the same time we use our connections.
How does the British art scene compare to that of America?
London's a very tough cookie as far as cities and being an artist goes. Spending a short amount of time in New York when I went out for NADA and LA, it feels like the opportunities there, if you're an artist, are more in abundance.
I think investment in young artists is slightly more. A comfortable young professional with a comfortable income would more readily invest in art. There are different cultural factors, like in America, there's a height of consumerism that really adds, which is not so much the case in England. I think our history plays a part in that and that makes for a slower process in a career because it reflects the history of art in England. Whereas in America [their art history] goes back a couple of hundred years, so I think that painting and art in general is a younger fish.
How has your work developed since we last spoke in May 2014?
After we last spoke I made some work for Dallas and I had a solo show at the Goss Michael Foundation. I developed a new series. I had an idea for these cabin pieces. The Foundation was huge and they let me work in there for two months and I put this cabin together. That felt like the start of something and I've been developing that series since then.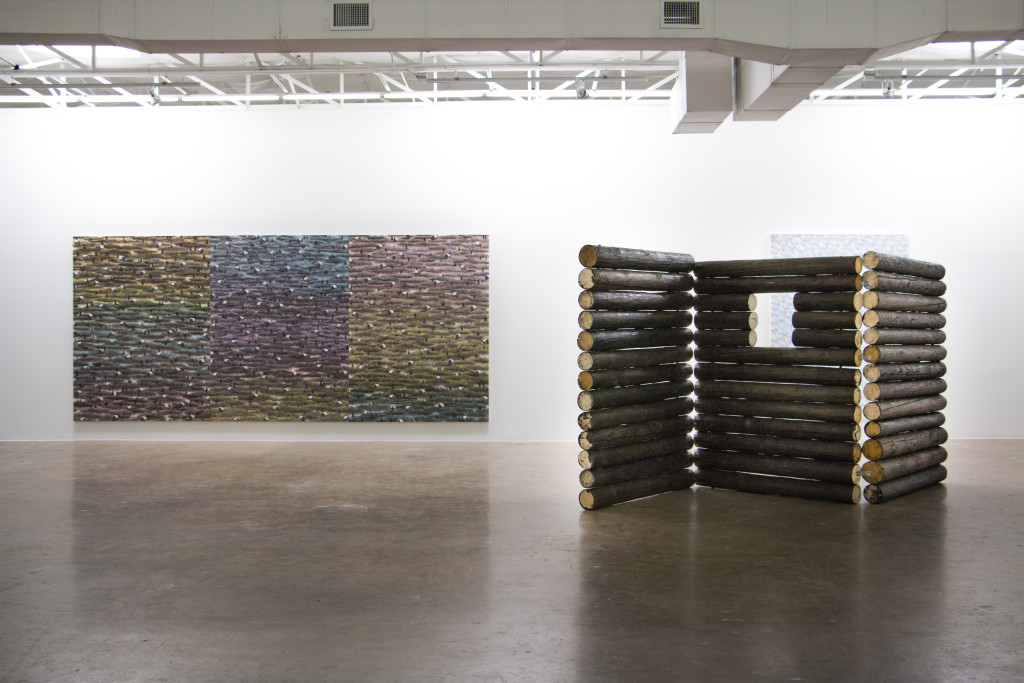 Neil Raitt, Cabinectomy (installation view)Goss-Michael Foundation, TX 2014
Why do you always like having this element of sculpture or installation in your shows?
I find that it's very informative for the paintings to explore ideas that are concurrent, but at the same time counteract them as well. So you've got the paintings operating as backdrops and the objects becoming props to that. I enjoy that interaction in the space, to walk around and navigate the show as an installation. I see the objects as an extension to the painting, and they really effect the language of the painting, they're part of a contingent.
I'm a painter who makes sculpture, rather than a sculptor or anything else, so that kind of gives me freedom in my mind to work on those kind of things. One of my heroes is Sol LeWitt. I like that relationship with design and I think that translates through the idea of taking over a space and really occupying it.
What was the new motif you used for the wallpaper at your exhibition at Anat Ebgi in LA?
It's the Kappa logo – flipped Brancusi style. I like the idea of it being quite decorative, almost like a net curtain pattern that I associate with being something quite far away from sportswear. It came about quite naturally, operating in the same way [as previous works], but it just had something personal to it. I grew up wearing Kappa tracksuits, and I kind of liked flipping between sportswear and landscape painting in the same conversation. There was no idea, I just wanted to test it out and see if it would work.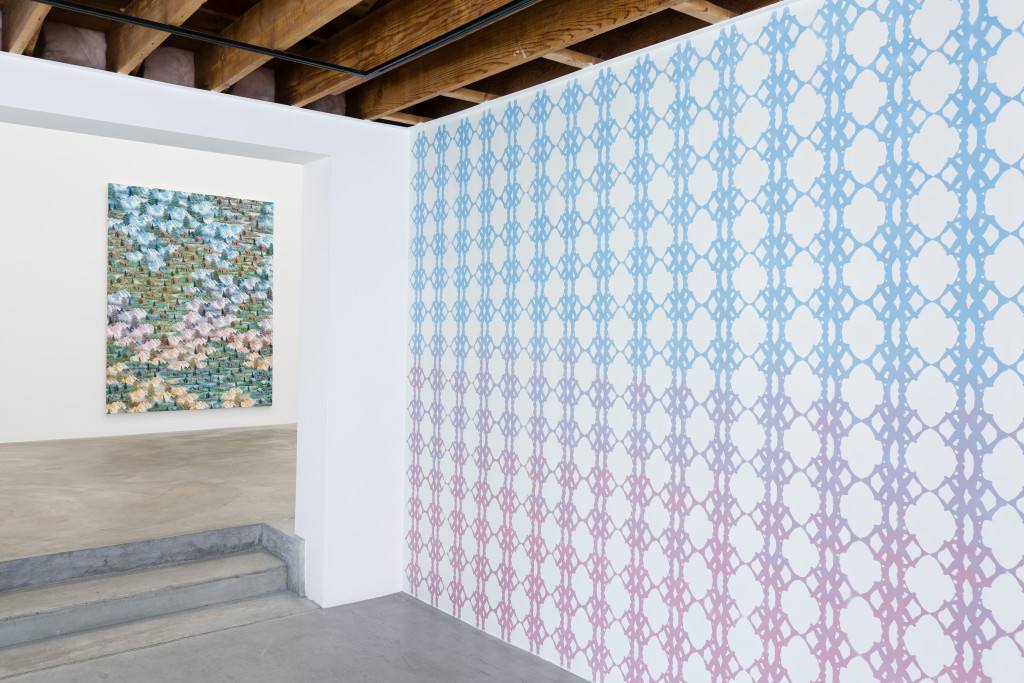 Neil Raitt, Happy Painting, Installation view, 2015 Anat Ebgi Gallery, LA
How have you been developing the Bob Ross motifs?
I've been using Bob Ross as a source material for two years. A lot of it is about exploring a motif – there's so many of them, I flick through [the books] and think about how each motif operates in a physical sense of the oil and the material. There's a science to it. When you repeat and overlap, it seems very simple, but it can be quite complicated.
I want to pull to extremes the figurative and the abstract and cross them over so it's like a journey. They're very formulaic and the steps become quite ingrained in the muscle memory, working through the canvas and painting the different steps. I want to translate that so they become less about the finished product and more about the individual steps, isolating a roof or a door. I'm interesting in abstracting them further.
How do you know when you want to move on from one motif?
There's no rules, its very intuitive. It's just what excites me or what I feel offers more questions. Once the questions run out, then I move on. To a lot of people, painting mountains feels like an uninviting task, but I feel like it's a really a fun thing that I get to do. For me it's an excuse – I see it as a real form of meditation. It's a space that you can carve out in your head that feels productive. It's just a job I want to create for myself.
For me there's an arbitrariness and there's a pointlessness to it that I really like and like with anything, once you really embrace that business and give it some kind of place then I think it's worth doing. I really think that translates to everything, whether its an office job or a recycling job.
I wish I liked to stay in the comfort zone, in an ideal world that would be the goal. Obviously it's important to challenge yourself though, that's the important part of anything, not getting lazy. Making paintings that are by definition repeated counteracts that, so it's a challenge in itself really.
With contemporary art and technology, and all the conversations around painting, and why I paint such an outmoded traditional activity that machines and technology can do for us… it's about rethinking something that may have been overlooked, finding that place that isn't on the tip of your tongue. I really enjoy justifying painting in such an exciting world of digital art, for me that's really fun.
Neil Raitt, Graceful Mountains (detail), 2015 Oil on canvas 140 x 100 cm
"To a lot of people, painting mountains feels like an uninviting task, but I feel like it's a really a fun thing that I get to do."
Neil Raitt will be showing soon at Nicelle Beauchene in NYC and Officielle FIAC in Paris.
Categories
Tags