When the swarms of faces you can't remember the names of become too much to handle throughout your art fair crawl, I highly recommend seeking refuge within NADA's following selection of incredible booths, and artworks: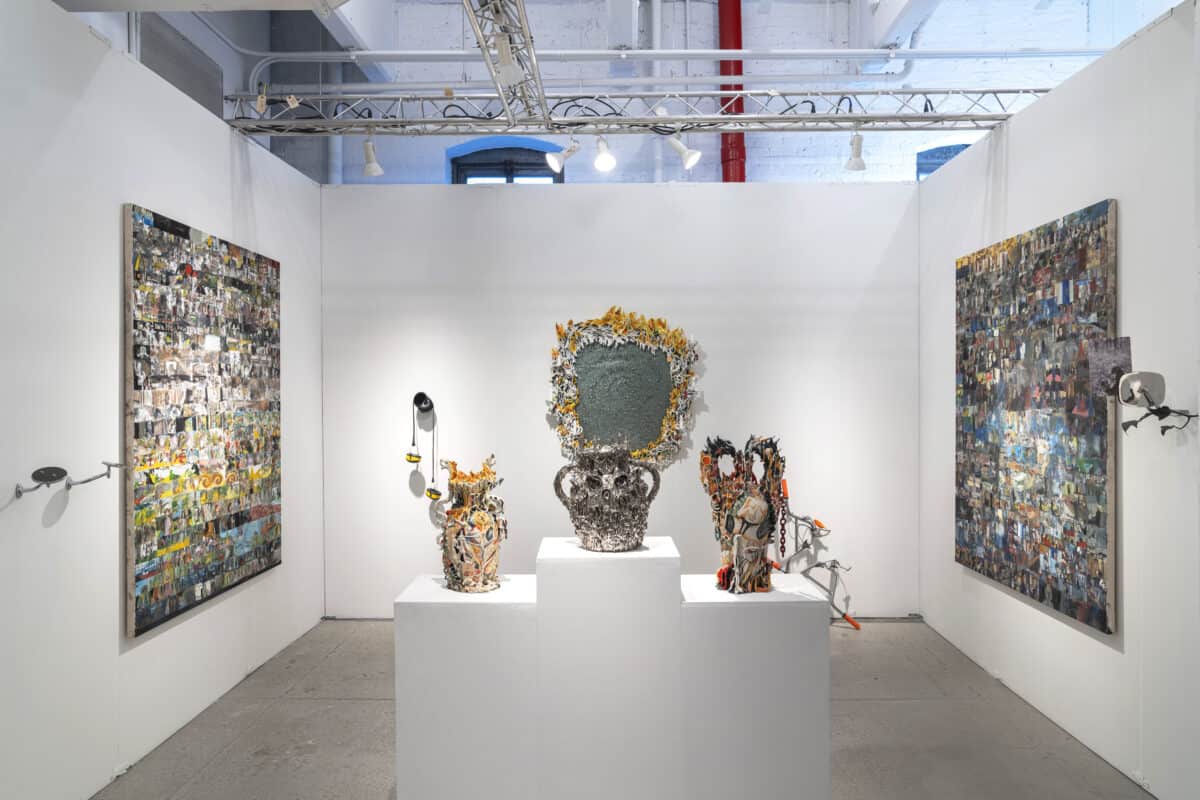 1. SWIVEL GALLERY, NEW YORK. BOOTH 3.15
Alejandro Garcia Contreras, Aris Azarmsa, and Christine Rebhuhn
The presentation's rawness, splayed across the booth in three various mediums and experimental formats, spotlights each artist's technical ability and area of expertise with a high and seamless level of sophistication. With Alejandro Garcia Contreras' promiscuous ceramics, Aris Azarmsa's grunge frame-by-frame oil paintings, and Christine Rebhuhn's protrusive handlebar sculptures, Swivel's first art-fair presentation to run alongside their brand new Bushwick gallery's inaugural flagship exhibition is, to put simply, on fire. A smiley Graham Wilson seems composed in his chaotic terrain of operations and clearly trusts in every artwork Swivel gallery's booth has on display this weekend. Perhaps his confidence could be a reason for the booth's spilling overpopulation. Dicks, tits, licks, and taxidermy could also be to blame. swivelgallery.com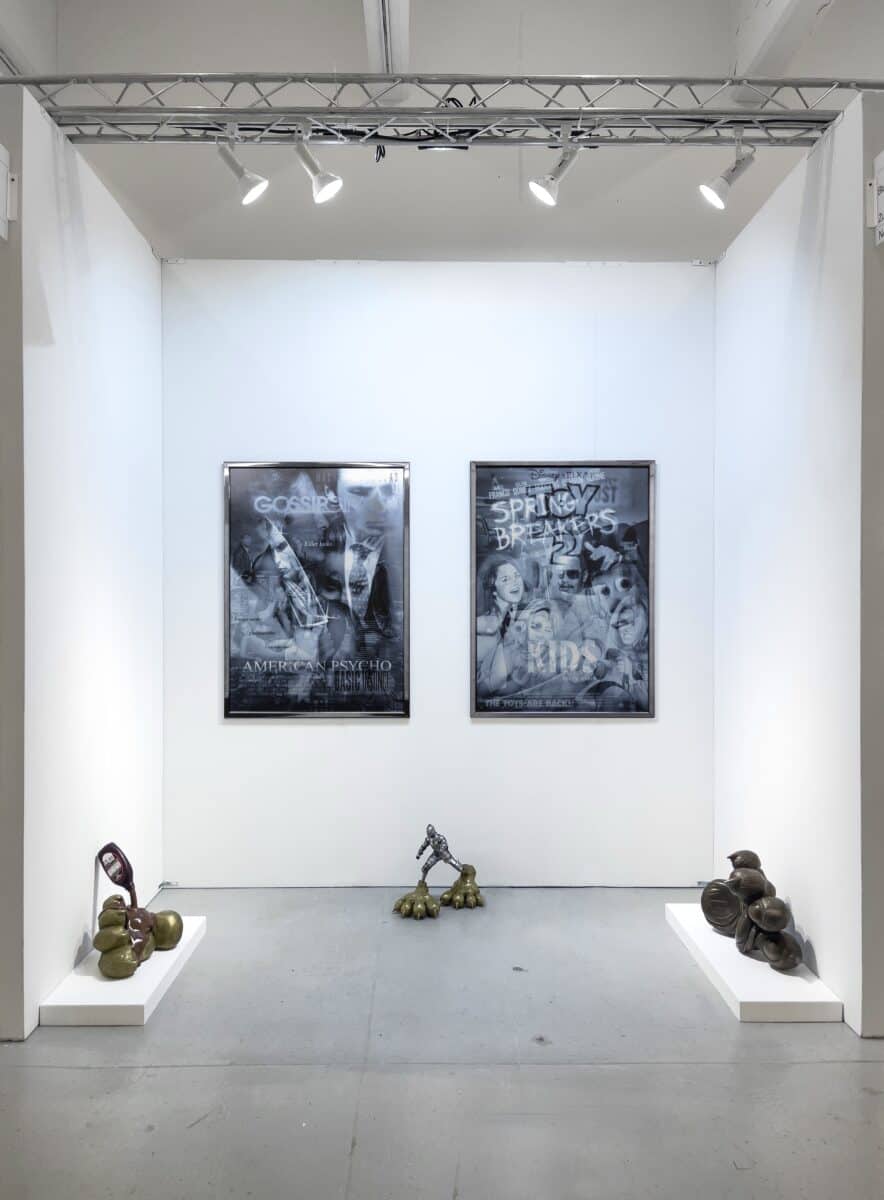 2. BLUE VELVET PROJECTS, ZURICH – P31
Anne de Vries, Julian-Jakob Kneer.
Walking into this booth as a wildcard suggestion led me right into the depths of Jerry Saltz striking up a conversation right in front of BASTARD (NEVERLAND, 7), a silver, misty, and morbidly reinvented movie poster made with UV-print on mirror-aluminum.
"Is she the artist?" he asked Pier Stuker of Blue Velvet Projects, pointing to me as I walked in. I thought I could leverage it for a second and say yes, just because…well…imagine finding Jerry Saltz in front of your sculptures– at an insane art fair no less – ready to applaud (or at the least engage) with your studio process."The artist is Julian-Jakob Kneer", Pier interjected immediately…
It feels to me the artist's use of multi-layered graphics from movies of various genres, combined with their playful manipulation of image opacity, is just as seductive and precarious as the Titanic sex scene where Kate Winslet dramatically slams her hand against glass, clearing a heavy Dicaprio flavored fog. There's sexuality, hope, existential dread, and hopeless tragedy in these reflective posters. To quote Shore Gallery's eloquent text about Kneer's BASTARD series: "In the reflection of the shimmering muck, stars are born, identities are lost, witches are burned by barbies, and ecstasy seamlessly blends into terror." bluevelvetprojects.com/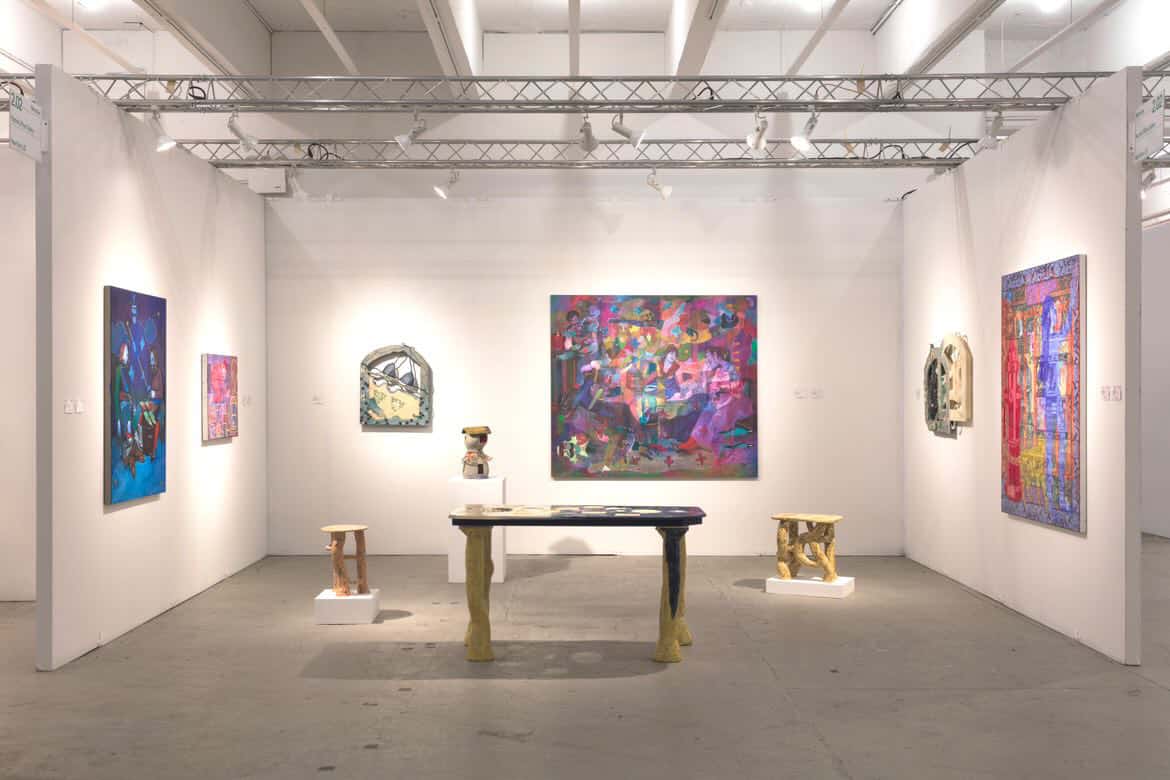 3. RACHEL UFFNER GALLERY, NEW YORK. BOOTH 2.02
Sacha Ingber, Talia Levitt, and Joshua Petker.
Sacha Ingber's sculptures at Rachel Uffner's second-floor booth reigned supreme across the fair, manifested as ceramic tables, stools, and more traditional, organically shaped sculptures. The artist's glazed earthenware furniture, most notably, Sheila's back from vacation, 2023 – a table constructed especially for the purpose of the gallery's fair experience – seems to set the scene for Talia Levitt's architecturally explorative wet medium tapestries, while offering a natural sense of grounding for Joshua Petker's tonally intelligible, and mood-defying paintings. racheluffnergallery.com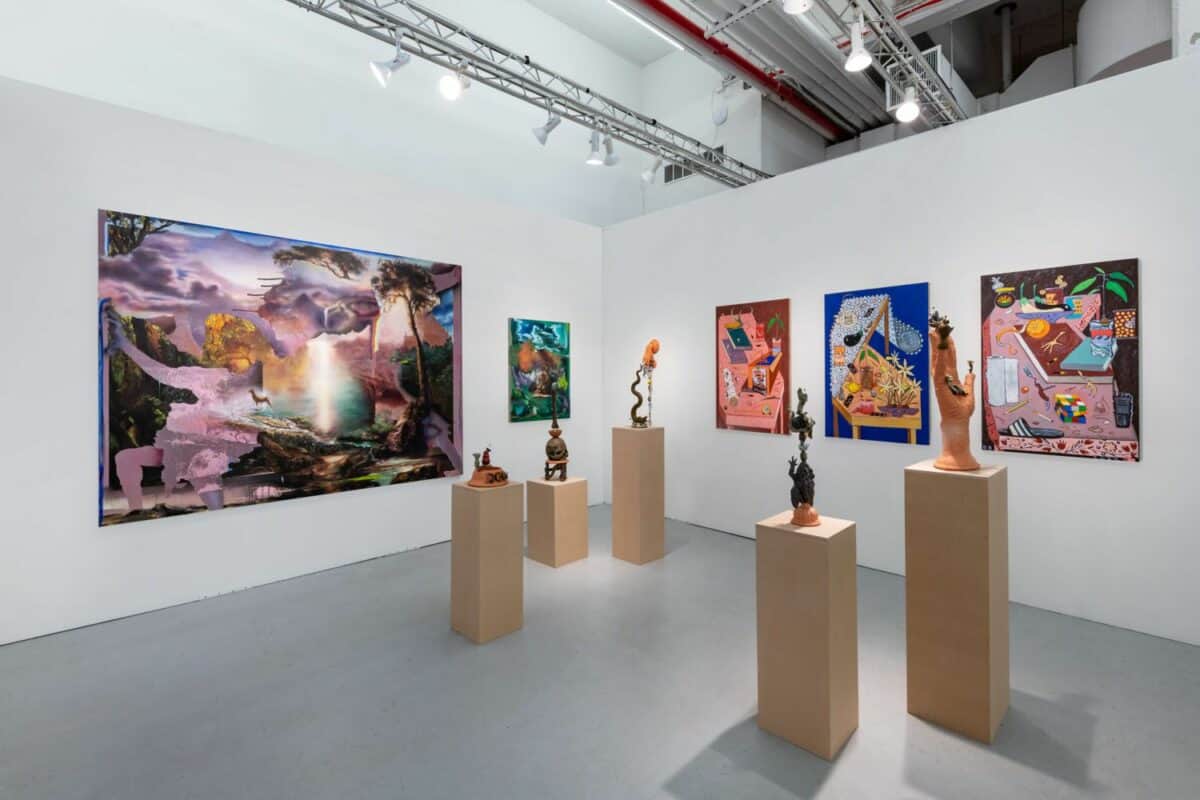 4. SHALUMIT NAZARIAN, LOS ANGELES. BOOTH 1.10
Wendy White, Annie Lapin, Dickon Drury, Daniel Gordon, Charles Snowden.
All of the work in Shulamit Nazarian's booth feels like a tease, but it really serves more as a reminder of why we must visit art fairs – every artefact looks so much better when there's no screen in-between. Fine spray dust and delicate shadows in Wendy White's sculptural paintings have intensified thanks to their lilac adorned install, whereas Dickon Drury's paintings ask for acknowledgement of their flax substrates, a dynamic only physically able to be accepted. Annie Lapin's Telescopic Simultaneous, and See A Sol, (both 2023) completely overpower viewers as ethereal trompe-l'œils, again, a relational situation entirely inaccessible online. Difficult to document, and overwhelmingly gorgeous paintings, sculptures and multimedia installations have been refreshingly celebrated by Shalumit Nazarian this year, and artwork justice has been signed, sealed, and delivered, but best received in person. shulamitnazarian.com
5. CHARLES MOFFETT, NEW YORK. BOOTH 1.06
Lily Stockman, Keith Jackson, Bari Ziperstein, Alec Egan, Sam Bornstein, Maggie Ellis, Miguel Ángel Payano Jr., Keiran Brennan Hinton, Julia Jo, Kenny Rivero.
Keith Jackson's paintings were the highlight of this booth for me. The self taught, Kenosha based painter's rich use of oils has clearly developed over the course of his astonishingly successful, albeit, reasonably early, painting career. His documentative, snapshot works depict his own life while growing up in Essex, Missouri in the early 70's, and can only be similarly matched in potency with Bari Ziperstein's impressive ceramic and walnut plinth sculpture, Wave Building, 2023. Along with Alec Egan's sombre but pretty striped paintings, the majority of the most impressive works were delightfully tucked away gems in Charles Moffet's booth, which is front-maned by a loud, and literally eye boggling multimedia work painted by born and raised New York painter, Miguel Ángel Payano Jr. charlesmoffett.com
NADA New York, May 18–21, 2023, 548 West newartdealers.org
Categories
Tags