The United Nations will host an International Ebola Recovery Conference in New York today 10th July, during which unique art created by African artists in response to the Ebola crisis will be exhibited. The exhibition has been curated by Kamba Fine Art, whose founder Leyla Simple engineered a partnership with the permanent Mission of the Republic of Sierra Leone to the United Nations, and commissioned 20 prominent African artists including Damilola Odusote to produce new work for the exhibition. The art will be auctioned off to benefit Excel and Street Child: both charities working in African communities effected by the Ebola epidemic. Lee Sharrock spoke to Damilola about his involvement in the initiative: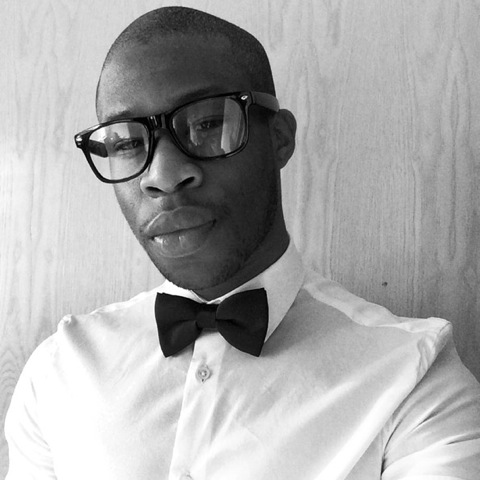 'Yellow Suits' Damilola Odusote Portrait, 2015
Lee Sharrock: How did you get involved in the project?
Damilola Odusote: Kamba Gallery told me about the Ebola-themed exhibition and mentioned that the proceeds were going towards helping people in the affected areas. To produce artwork on such an important, current theme and on such a platform was a perfect opportunity to spread positivity and hope to the region whilst also raising funds to help. I immediately knew I wanted to create a little happiness through my art, and just wanted to make people smile, to provoke reaction and emotion.
LS: Can you explain how you responded to the brief to create an artwork examining the Ebola crisis?
DO: On the whole my artwork has an underlining theme of questioning the norms, or all that is. In the artwork 'Yellow Suits' I was highlighting the role of the health workers, who put themselves in harms way to help others. The background is a blur of colour and this only enhances the role of the people in yellow suits.
In my other reveal artworks, they are about turning the page and showing themes of positivity for the future, be it a child's youthful optimism or a hope for a normal ebola-free environment for all.
LS: As an artist of African origin was it important to you to exhibit during the United Nations Ebola global recovery conference?
DO: Yes, on one level, I wanted to demonstrate solidarity, showing that Africans all around the world were thinking about the Ebola victims. Secondly, using art as a means to raise funds to help and thirdly, the donation aspect and using art as a vehicle for hope.
The underlining questions which run through my work apply to everyone, to question what can be achieved. There's always an element of humour through my works, so I tried to get this across while still trying to create a powerful series.
LS: Do you think it's vital to utilise your talents as an artist to raise awareness of global issues such as the Ebola epidemic?
DO: Yes, I feel art is underestimated. Artists have a unique way of communicating and educating without preaching. Art can shine a light on a subject which the media may have shuffled to the back of the pile. If the art is engaging it can, and will, provoke a debate.
LS: What other projects do you have on the horizon?
DO: I am currently collaborating with LinkedIn, Made.com, Converse and a few other companies on some larger projects in Zurich, London, New York and Hong Kong. I also have a few exhibitions coming up in October.
Categories
Tags