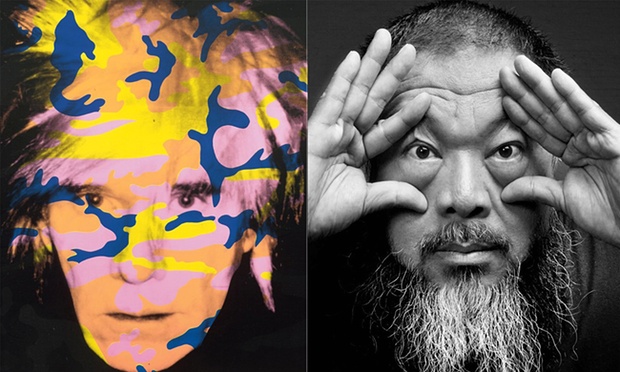 The works of Andy Warhol and Ai Weiwei will sit side by side in an exhibition at the National Gallery of Victoria. Photograph: Andy Warhol/ARS, New York/National Gallery of Victoria, Melbourne/Gao Yuan
This article titled "Andy Warhol and Ai Weiwei come together in Melbourne – with cats" was written by Nancy Groves, for theguardian.com on Thursday 2nd July 2015 01.43 UTC
Andy Warhol epitomised the pop art of the 20th century, Ai Weiwei embodies the Instagram generation and activism of the 21st. Now the two artists will be brought together in a major new exhibition at the National Gallery of Victoria (NGV) in December.
Developed by the NGV and the Andy Warhol Museum in Pittsburgh (where it will show in June 2016), Andy Warhol | Ai Weiwei will present more than 300 works, exploring the parallels and points of difference in their art and influence on contemporary culture.
The exhibition will span painting, sculpture, film, photography and social media – no surprise given the involvement of Ai, a prolific blogger who has 277,000 followers on Twitter, 108,000 on Instagram and claims to spend up to eight hours online every day.
The Chinese artist has spoken openly of the influence of Warhol and his "famous for 15 minutes" prediction on his work. When Ai moved to the US in 1981, The Philosophy of Andy Warhol (From A to B & Back Again) was the first book he purchased and in 1987, he took a photographic self-portrait in front of Warhol's own self-portrait at the Museum of Modern Art, showing both artists adopting the same gesture.
''I believe this is a very interesting and important exhibition and an honour for me to have the opportunity to be exhibited alongside Andy Warhol," said Ai of the Melbourne show. "This is a great privilege for me as an artist."
The curators call the artists "exemplary figures": Warhol representing modernity and the "American century" and Ai Weiwei contemporary life in the Chinese century" to come. The exhibition will feature new commissions by Ai, including installations from his Forever Bicycles and Chandelier series, as well as previously unseen works by Warhol from his small press books.
And it wouldn't be an internet-influenced show without some cats – as a large-scale installation in the NGV Kids space will show. Warhol lived with a herd of Siamese cats in the 1950s, who often make cameos in his work of the period, while more than 30 cats have the run of Ai's studio in Beijing and his social media feeds.
guardian.co.uk © Guardian News & Media Limited 2010
Published via the Guardian News Feed plugin for WordPress.
Categories
Tags