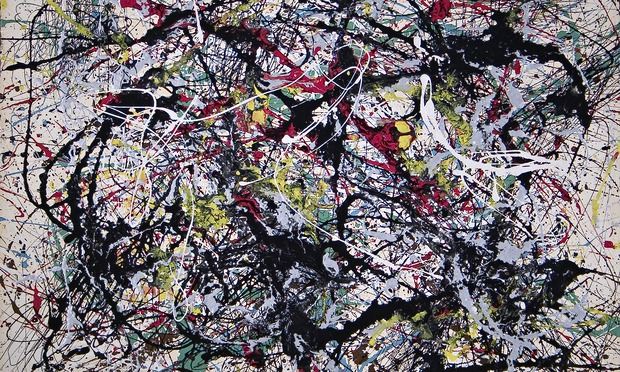 Number 34 (detail), 1949, by Jackson Pollock
This article titled "Jackson Pollock, Ben Rivers, John Waters: this week's new exhibitions" was written by Robert Clark & Skye Sherwin, for The Guardian on Friday 26th June 2015 12.00 UTC
Jackson Pollock, Liverpool
When the superstar abstract expressionist Jackson "Jack the Dripper" Pollock shifted to using more recognisable figurative pictures in the early 1950s, many thought it constituted a cop-out lack of nerve, perhaps occasioned by too much fame and too much well-lubricated fun. At last, this exhibition – the first in over three decades to survey his late paintings – puts the record straight. Ultimately, Pollock was too much of a wild card to pay much heed to the restrictive gameplan of the abstract art arbiters of the day, critics Greenberg and Rosenberg. A rebel to the last, he wrested his trademark action painting from art-historical acceptance and revivified it with autobiographical figurative elements – see Number 5 from 1952 and 1953's magisterial Portrait And A Dream, in which Pollock tears his psyche apart. These raw images touch a nerve: they are radiant, and certainly worth another look.
Tate Liverpool, Tue to 18 Oct
RC
Ben Rivers, London
Ben Rivers is putting the former drama block of Television Centre department to good use, interweaving layers of fiction and documentary in his Artangel-commissioned film installation, so that the fuzzy-edged threads of movies and reality become confused. The hand-processed 16mm films projected amid the Beeb's old sets have been shot in Tangier and the Sahara, and combine three elements. There's his own interpretation of Paul Bowles's savage short story A Distant Episode, in which a linguistics professor has his tongue cut out in the desert. He's also gone backstage on two other Morocco-shot films: Shezad Dawood's Towards The Possible Film, and Oliver Laxe's The Mimosas, exploring cultural imposition.
Television Centre, W12, to 31 Aug
SS
Taking Flight, Kendal
Subtitled St Ives In The 1950s, this is an introduction to a small town and a short period that once upon a time almost rivalled Paris and New York as the arty place to hang out. Taking refuge from a postwar metropolitan world in which culture seemed to be all sold out or worn out, this concentration of talents, struggling to catch up with European and US trends, produced one genius: Roger Hilton. Peter Lanyon is also here with his flights of aerial fancy, inspired by the gliding that was to result in his death. There are cubistic dislocations by Terry Frost, and Patrick Heron's minimalistic intimations dreamed up from his cliff-top Eagle's Nest base. Bryan Wynter gradually shadows his harbour scenes with nocturnal moodiness. But of the St Ives set it is Hilton who dares to get low down and dirty, dredging up things which are unashamedly and uniquely his very own.
Abbot Hall Art Gallery, to 3 Oct
RC
Phyllida Barlow, Edinburgh
Following last year's Tate Britain triumph, this new Phyllida Barlow installation is bound to prove a bright highlight of the art-world calendar. Just when it seemed that contemporary artists had wrung the last aesthetic surprise and audience affront from the century-old genre of junk assemblage, along comes Barlow with things unforeseen. There are few artists around capable of this degree of exuberant delight. Offcuts of wood, cardboard, plastic, plaster – seemingly any old stuff – are stretched, stacked and bundled up to achieve totems to life's unexpected twists and turns. Hardly some juvenile punk carrying a chip on her shoulder, Barlow is that very rare thing: a mature cultural sophisticate who apparently retains a virile sense of devil-may-care adventure and a life affirming generosity of spirit.
Fruitmarket Gallery, Sat to 18 Oct
RC
In Search Of The Miraculous, Penzance
Bas Jan Ader is a uniquely romantic figure in conceptual art. His final work, 1975's In Search Of The Miraculous, saw the young artist attempt to cross the Atlantic in a tiny boat. Perhaps inevitably, he was lost at sea. Was this suicide, or intended as his most audacious performance? It's a question that has haunted subsequent generations. This show explores responses to his legacy, from the self-navigating boat of Chris Burden's Ghost Ship to Guido Van Der Werve's film, in which he walks in front of a huge icebreaker.
Newlyn Art Gallery, Sat to 19 Sep
SS
John Waters, London
As a director, John Waters reigns resplendent as the moustachioed cult king of high kitsch and bad taste. When it comes to skewering the pitfalls of fame and conventional beauty, his B-movies-cum-art movies, from the musical romcom Hairspray to the Hollywood satire Cecil B Demented, have always been delivered in an unashamedly hysterical key. But what happens when he turns his hand to gallery art? His exhibition, entitled Beverly Hills John, includes using Photoshop to deliver a slap-up plastic surgery job on himself and vintage book jackets paired with their porn knock-offs (Clitty Clitty Bang Bang, etc). He's even turned his 1972 shockfest Pink Flamingos, which featured shit eating and sex involving chickens, into a new piece of video art, Kiddie Flamingos, with a clean script and a cast of children. Yes, the humour is crass and the images lurid, but would you expect Waters to deliver anything less?
Sprüth Magers, W1, Wed to 15 Aug
SS
Station To Station, London
Doug Aitken knows how to put on a show. In 2007, crowds of New Yorkers took in his glossy video installation Sleepwalkers, which featured an all-star cast including Donald Sutherland and Tilda Swinton, as it was projected on MoMA's exterior walls. And two years ago he travelled by train from New York to San Francisco, putting on performances with the likes of Carsten Höller and the Fiery Furnaces. Station To Station is Aitken's follow-up to that trip, featuring over 100 live art events, exhibitions and gigs throughout the Barbican. Contributors include experimental film maverick Kenneth Anger, Mexican art star Pedro Reyes (Sat & Sun), and US synth-punk greats Suicide (9 Jul).
Barbican Centre, EC2, Sat to 26 Jul
SS
guardian.co.uk © Guardian News & Media Limited 2010
Published via the Guardian News Feed plugin for WordPress.
Categories
Tags