Following on from his headline-grabbing solo exhibition 'Metamorphosis' at SCREAM gallery in 2012, and 'I Love You,' at Maurice Einhardt Neu Gallery in 2010, 'In Your Mind' completes Santini's holy trinity of corporal and mythological lenticular exhibitions.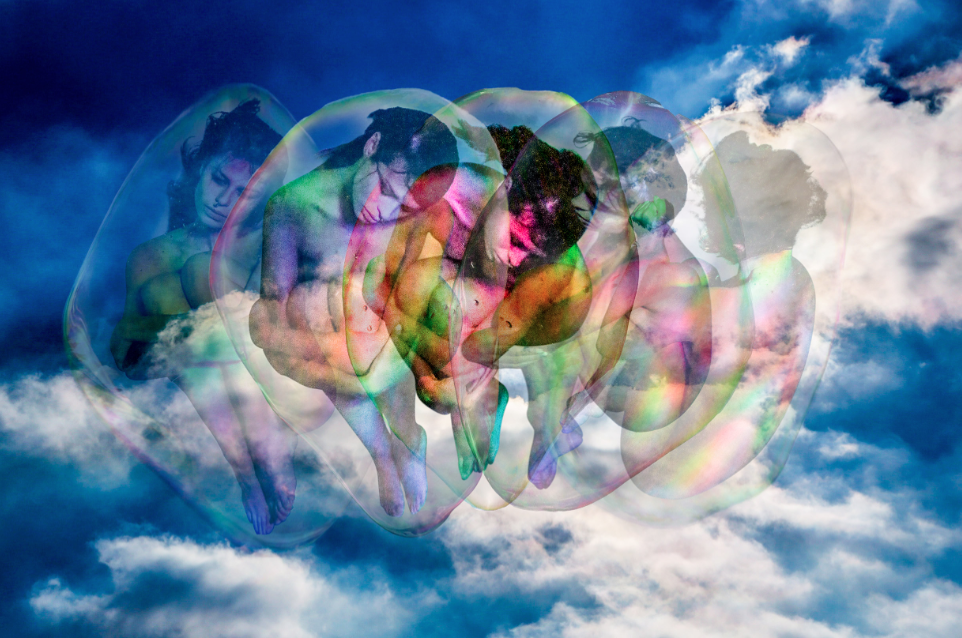 The complicated lenticular process of layering a series of still images into one merged file and then printing onto the back of a speciall ribbed plastic sheet, which acts as a lens, enables Santini to give life to his otherworldly ideas. Spending last year photographing his subject and muse (Katie Keight) in various swimming pools and the Majorcan ocean, before taking the traditional lenticular process to another level by creating animated loops from the edited sets of stills, and transporting the model into various scenarios: She becomes a Mermaid swimming in the depths of the sea, a naked nymph jetting through the sky in a rainbow colored bubble, a 90s rave chick in a Soul II Soul-esque video clip, and a 70s space cadet pirouetting through the galaxy in a Kubrickian space craft.
In this exhibition Santini's imagery truly seems to come of age after embracing digital photography – formerly a film purist, with the new Lenticular body of work he has found that digital techniques give him the freedom to experiment and create moving and still images, which facilitates his exploration of technical questions such as the diffraction of light, whilst answering much more cerebral questions about birth, life, death, creation, ultimately Love.
By shooting in water he has been able to continue the obsession with mythology and the human condition, that was evident in his Leda and the Swan and Magpie series featured in 'Metamorphosis', by creating a Mermaid who gives life to his new series of Lenticular prints. Santini's Lenticular of a naked woman with a Swan caught the attention of the Metropolitan Police when it was exhibited in the window of SCREAM gallery in 2012, who promptly requested it's withdrawal from the window. The Mermaid images have already caught the eye of Damien Hirst who purchased the first 3 completed works, and the mythological figure is experiencing something of a renaissance in popular culture this year with the imminent release of 'Pan', featuring Cara Delevingne as a Goddess of the Sea.
For the new exhibition Santini has also created fetal imagery that reference birth and rebirth, trippy cubist animations celebrating the joy of life, and the 'Love' image of a nude torso twisting and turning in an infinite loop against a black background, representing the circle of life, and Genesis – the beginning of life itself.
11th June – 22nd June Pertwee, Anderson & Gold gallery 15 Bateman St London W1D 3AQ www.derricksantini.com
Categories
Tags