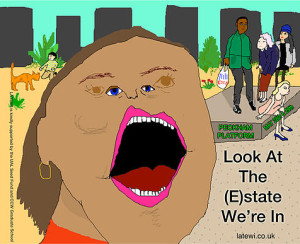 The irksome predictability and accelerated growth of London's gentrification has become a disheartening and complex beast. The surprising outcome of the recent general election highlighted the fact that we are now living in an age of individualism. A generation where a majority of people would gladly shun the idea of leveling the playing field a bit in exchange for saving a few quid.
It would appear that we are balls deep in to some sort of neo-'Loadsa' Money' culture and from the perspective of someone who has spent most of their life under the rule of a Tory government it doesn't look like it's gonna' get much better anytime soon.
One of the saving graces, if you can call it that, for times of political hardship and misrepresentation, such as these, is that people begin to get very, very pissed off and when they get pissed off they begin to get organised and when they get organised things can become interesting.
The tale end of the Thatcher era saw all sorts of interesting developments in British art and culture pioneered by a generation that had essentially been down trodden and F@£ked about for a long time. The parallels that can be made to todays climate suggest that there are huge possibilities for a new generation to develop into something as definitively angry and compelling.
Look At The E(s)tate We're in or LATEWI are a group of politically minded creatives focussing on the injustices occurring around social housing (or lack of it) in a city who's landscape is rapidly changing into a playground for monied yuppies. LATEWI have begun to address the issues faced by large communities being torn apart in the name of progress and redevelopment.
London's council estates have, for a long time, been reviled as the squalid homes of social miscreants, benefits scroungers, and criminals when the reality is that they are home to a massively diverse range of residents including professionals, homeowners, artists and private renters. The infrastructure of these communities is being dismantled leaving vast amounts of people displaced.
On the 28th and the 29th of May LATEWI ran a series of events and symposia, in South East London, led by artists, community leaders and students, from Camberwell College of Arts, concentrating on the issues affecting these communities and how they can be improved through means of art and creativity.
'Art and Gentrification. Do artists create great adverts?' was a talk and panel discussions held in the Peckham Liberal Club. An all female panel consisting of artist Lottie Child, Jen Harvie (author of 'Fair Play- Art, Performance and Neoliberalism), Eileen Conn (a long standing Peckham resident and community activist) and Rebecca Ross of the People's Republic of Southwark. Each panel member had a different perspective on the current situation, regarding these subjects, but each came from an overall similar standpoint.  There were varying degrees of severity in the sentiment but each member concluded that although one could argue that the artists and creatives adopting certain areas of london were a catalyst to kickstart gentrification this is simply not the case. The problems we are facing, as a disenfranchised minority, are far greater and more sinister than people getting chippy about how their favorite boozer is now over subscribed by the norm crowd. Artists, if anything, are the voice for an angry displaced generation that are integral to a logical, fair progression within society. Without this representation of people willing to shout at the top of their lungs it is unlikely that changes will be made.
There is also an exhibition at 137 Copeland Road, Peckham accompanying the events and and all other information about LATEWI can be found HERE.
Photographs by Jasmine Kear courtesy of LATEWI.
Categories
Tags