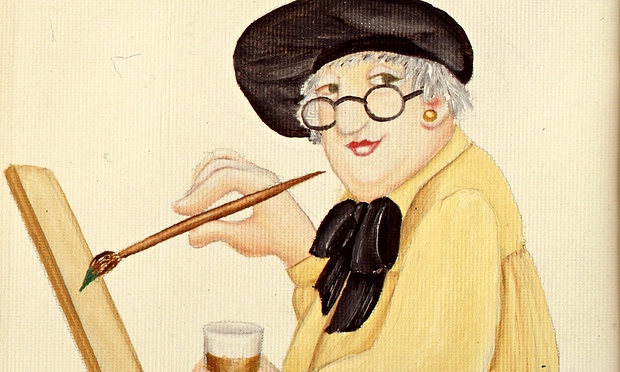 Should Beryl Cook's mug from her 1977 self-portrait grace the next £20? Photograph: The Portal Gallery
---
This article titled "Should the public vote for the artist on the new £20 note? No way – they've got terrible taste" was written by Jonathan Jones, for theguardian.com on Tuesday 19th May 2015 14.44 UTC
What's the matter with the Bank of England? Has it no opinions of its own? After getting bitten by online democracy over removing Elizabeth Fry from the £5 note – it had to put Jane Austen on the tenner to allay feminist criticism – the bank is now taking no chances with plans for an artist on the new £20. It is inviting us to suggest our favourites.
Oh great. Not only does our future in Europe hang on the whim of the great British public, but now we'll also get whatever artist can attract a tidal wave of nominations as the next heroic face on our currency. Will it be JMW Turner? Or John Constable?
Of course not. They may be the best British artists, but this is not about sound cultural judgment. It's about people blathering away on Twitter and drumming up sentimental votes. It's about populism and the national propensity for sheer ignorance and execrable taste in visual art.
I predict huge support for LS Lowry and Beryl Cook. The demand for "a woman" will also create enthusiasm for Barbara Hepworth and Laura Knight, regardless of their unimportance in the big picture of 20th-century art.
When it comes to art, democracy doesn't work, because not that many people in the population really have a view about it. And why should they? So the voting electorate is a self-chosen minority of art fans and cultural busybodies whose views will now be foisted on us all as a fake "people's choice".
Think I'm exaggerating? Last summer for the second year running, Art Everywhere put British works of art on billboards all over the UK. It was publicised as a democratic selection of Britain's favourite art. But read the small print. According to a Guardian report, a mere 38,000 people actually voted. How does that represent a consensus of the British people?
Because this was a small and self-selecting electorate of enthusiasts, it was obviously easy for passionate campaigners to get their choices – however eccentric or ideological – supported. Thus, the second most popular work of art in Britain, according to the Art Everywhere poll, is Dora Carrington's 1921 painting Farm at Watendlath. Er, that's, um, interesting. (Laura Knight also did very well.) These picks smack of groups of enthusiasts dominating a small pool of voters with choices that are whimsical and silly.
So good luck to the Bank of England in getting the "people" to nominate an artist for the £20 note. I bet the outcome will be a second-rate artist picked for second-rate reasons. How much do you want to put on it – a Henry Moore 20?
guardian.co.uk © Guardian News & Media Limited 2010
Published via the Guardian News Feed plugin for WordPress.
Categories
Tags