ART15 opens tomorrow and this year one of the most timely and important art commissions of recent years will be on display Kathleen Soriano's Freedom Audit.
Freedom Audit responds to recent world events that have challenged our notions of freedom in the broadest sense and have led us to question the boundaries of taste, of mutual respect, of tolerance and the politics surrounding them. Soriano conducts a curatorial enquiry into the ways in which artists from across the globe and from a wide-range of cultures are negotiating a path through such issues. Reflecting the unique global reach of Art15, Freedom Audit will present 15 artists, from countries including Tibet, Denmark, Spain, USA, Panama, Brazil, Bosnia and Herzegovina, Indonesia, China, Hong Kong, South Korea and Vietnam.
From Pablo Picasso in Guernica to Banksy in Gaza, the way that artists respond to social and political changes goes a long way towards setting the tone for wider conversations within society. As events ranging from ideologically-inspired wars to acts of terror in our cities come to dominate headlines, debates that pit security against freedom of expression have become more common. Indeed a recent piece of research by Techcrunch suggests that since the early 2000s, use in articles and books of Benjamin Franklin's famous quote about freedom
"Those who would give up essential Liberty, to purchase a little temporary Safety, deserve neither Liberty nor Safety"
has increased by almost 700%, a sign of a wider preoccupation.
Artists have long been considered society's most sensitive commentators. In 1969, the year of his novel Slaughterhouse-five about the bombing of Dresden during World War II, that the American novelist Kurt Vonnegut hit upon 'the canary in the coal mine' theory of the arts. This theory says that artists are useful to society because they are
"so sensitive. They are super-sensitive. They keel over like canaries in poison coal mines long before more robust types realise that there is any danger whatsoever."
In 2015, as we celebrate the 800th anniversary of the Magna Carta, a potent symbol of liberty and the rule of law, we are also confronted with an assault on our familiar freedoms, which leaves many feeling disempowered and unsure about a forward path.
Soriano presents artists as front line defenders and activists, exploring various areas of freedom – sexuality and gender, belief and faith, politics, crime, war and migration. Through sculpture, painting, photography, video, installation and live performance, Freedom Audit will be a discovery of unfamiliar artistic talent and an opportunity to find poetry and elegance in the commentaries around freedom across the globe. This timely exhibition attempts to make a difference, to change the status quo and highlight the importance of creating and protecting environments in which artists can work freely, rather than being hindered by political correctness or issues around censorship. As such, the exhibition intends to show art as both as a mirror to society and a conscience.
??
?Projects in the exhibition include MICE-IS by the artist Mimsy (UK) (a pseudonym). Her work, in the form of wallpaper similar to that which you might find in a child's bedroom, depicts scenes of the Sylvanian Families children's toy under threat from Sylvanian ISIS militants. Satirical and playful, the work is also commentary on the threat to freedom of expression that ISIS poses.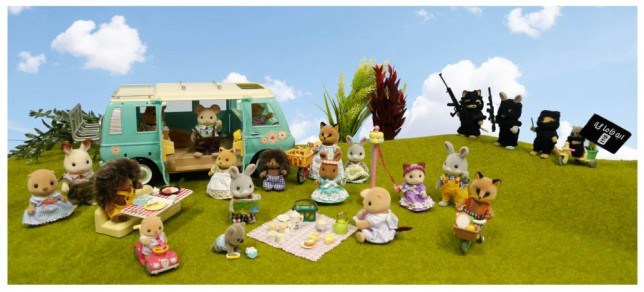 MICIS disturbing the idyllic land of Sylvania (Picture: Mimsy)
Ana Cvorovic (Bosnia and Herzegovina), will be showing an installation piece with mattresses referring to war torn countries and the displacement of people, refugees, particularly children.
This is shown alongside political photographic work by Berna Reale (Brazil), an expert in criminal studies and one of three artists chosen to represent Brazil at this year's Venice Biennale.
Jhafis Quintero (Panama), who was exiled to the Netherlands following ten years imprisonment in Costa Rica, will present 28 Dias Para Abandonar un Territorio (28 Days to Abandon a Territory), a large block of ice encasing government documents that melts throughout the exhibition. The work explores the artist's forced departure from the Netherlands after not fulfilling the country's minimum income requirements.
Work by Tibetan artist and activist Tenzing Rigdol (Tibet) will also feature in the exhibition. His work, the My World is your Blindspot (2014) will relate to the Tibetan struggle for independence.
Furthermore, Helene Lundbye Petersen (Denmark) will present work from The White Page Project, a performance, artwork and text project concerned with freedom of thought symbolised with a blank 'white page'.
Kate Bryan, Fair Director said
"This compelling exhibition presents a powerful and thought provoking selection of work by a truly global line up of artists. In many ways it acts as a microcosm of what Art15 stands for – a non-western centric attitude that challenges the status quo and encourages dialogue from a multitude of cultures. I am delighted to have Kathleen's sensitive curatorial enquiry into what artistic freedom means at the heart of Art15."
Kathleen Soriano, Freedom Audit Curator said
"Freedom Audit has afforded me the opportunity to look beyond the work of artists that I already know well. Its presence in a global art fair has demanded a broader reach that shows the shared interests of artists around the world in the conversations that they provoke through their subject matter. As the artist Kader Attia said recently 'At some point, freedom of expression defines art'."
Art15, 21-23 May 2015 VIP and Preview Day: Wednesday 20 May 2015 www.artfairslondon.com
@art15irl artfairslondon.com Location: Olympia, Hammersmith Road, London, W14 8UX
Read an interview with Kathleen Soriano over at the ART15 website
About Art15
Art15 is London's global art fair, showcasing leading contemporary and modern art from across the world for its third edition this May. In addition to the presentation of international galleries, the Fair hosts a parallel programme of curatorial initiatives, projects with institutions and non-profits, and educational programming. Art15 brings together works from both emerging and established art markets around the world.
About Citi Private Bank
Citi Private Bank advises the world's wealthiest, most influential individuals and families and has relationships with a third of all billionaires. Citi Private Bank offers clients products and services across their global network, covering capital markets, managed investments, portfolio management, trust and estate planning, investment finance, and banking in addition to art, aircraft and sports advisory and finance.
About Mark Westall