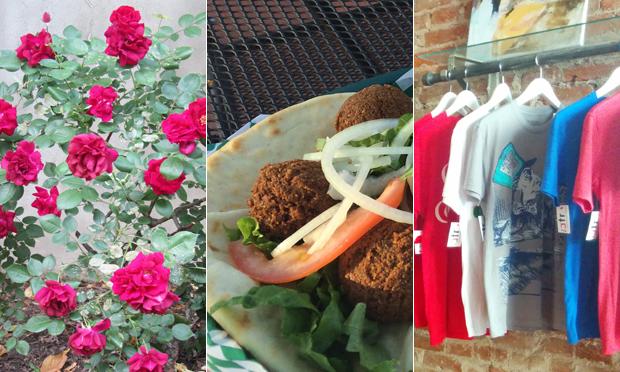 Items purchased for $10 from black-owned businesses for the project One Large. Photograph: One Large
---
This article titled "One Large: art project gives black-owned business a boost – $10 at a time" was written by Julie Schwietert Collazo, for theguardian.com on Friday 15th May 2015 18.52 UTC
When artist and poet Joy Katz learned that Ace Hotel was opening in the East Liberty section of Pittsburgh, a historically black neighborhood, she wondered whether developers of the trendy chain were employing black designers and craftspeople on their team. "I was familiar with their design aesthetic, which I find to be very white," Katz said, "and I brought this up." To the Ace's credit, they contacted Katz and asked if she knew of black cabinetmakers, woodworkers and other tradespeople and designers. Katz, who used to be a designer, was confident she could "just ask around and locate black contractors", so she volunteered to help.
But it wasn't that easy.
The fact that her search was not simple – "in fact, it was pretty much impossible," she recalled – was the impetus behind "One Large", an immersive, interactive art project Katz conceptualized along with Cynthia Croot, a theater director and activist. "I became interested in why I couldn't find black contractors," she said, "and at the same time, I was reading Maggie Anderson's book, Our Black Year, a riveting story about how one family bought only from black-owned businesses for a whole year. It's a dark, often despairing book."
Katz and Croot could identify with the despair. "There's a system of economic inequality affecting the whole country, and we could see it happening around us in our city," Katz said. Katz and Croot noted that in their own Pittsburgh neighborhoods, young people of color have few examples of successful business owners who look like them. "Black consumers spend a trillion dollars a year," the artistic duo said, "yet almost all money spent by black Americans leaves black communities within hours, flowing mainly to white business owners who do not live in or reinvest in those communities." The phenomenon even has a name: leakage. Perhaps they couldn't block that outgoing flow of cash, but Katz and Croot wanted, at least, to understand more about its movements and to draw other people into a conversation about money, race, and community.
They started by reading up on local history and learning more about the Pittsburgh economy, past and present. Then, they used money from a grant they received to implement a novel art project, in which they gave each one of 100 participating artists a $10 bill to spend at a black-owned business, whether in Pittsburgh or in their own communities, within two weeks. Participating artists agreed to document where the bills were spent and post text, photos and videos on a website Katz and Croot set up for the project.
What happened next was a fairly faithful reflection of just how complicated are conversations and interactions involving race in the United States. "We did expect pushback. We knew the project is uncomfortable, which is part of the point," Katz said. Along with Croot, she fielded questions and criticism: why weren't black artists – Katz and Croot are white – launching the project? How much of the grant were they distributing? Were they profiting from One Large? And at least one black business owner spoke out, saying he preferred to be known as a business, not a black-owned business.
Artists pushed back, too, some of them frustrated by the challenges they encountered while trying to discover whether a business was black-owned. Croot said she and Katz received an email from one artist who expressed feeling "vulnerable".
"Many were surprised by how difficult it was just to find a black-owned business. This in itself becomes an object lesson. I think One Large succeeds if this discomfort gets interrogated. It is not enough just to state 'I felt vulnerable.' You then have to think about why that was, and what history you brought to that experience that shaped that feeling. Nothing will improve if we don't have uncomfortable conversations. Discomfort is a way, often the only way, forward," she says, reflecting on the past month.
On 31 May, Katz and Croot will upload the artists' documentation to the One Large website. While they don't yet know what all the data will show, since artists are still sending in images and text about their experiences, Croot says she's curious to discover what the artists' experiences will reveal about "the relationship between what we believe and how we spend our money. Does how I spend my money make me who I am? Does how I spend my money create the world around me? Does how I spend my money reinscribe injustice? Does walking down a different street reframe my own neighborhood? How large is the place I call my community?"
Those answers should be compelling. So far, Katz and Croot know that artists have spent their $10 from Florida to Fargo and a smattering of points in between, including Jackson, Mississippi; Worcester, Massachusetts; Ann Arbor, Michigan; and San Francisco, to name just a few. Several artists have been so engaged in the project that they've asked whether Katz and Croot can launch iterations of One Large in their own cities. "People in Chicago, Cleveland, and the Bay Area have contacted us about this," Katz says.
Wherever it goes, Katz and Croot hope that One Large becomes an opportunity to do more than speak about race and income inequality. Ultimately, they expect it to also inspire people to pay more attention to their purchasing power and the impact it has. "It's our hope," Katz says, "that One Large inspires people to keep interrupting the flow of money out of black communities and to discover businesses in their own neighborhoods that may have been invisible to them.
"We're not daft enough to think that we are changing the world," Croot adds, "but we are creating a small interruption – a tiny conversation."
guardian.co.uk © Guardian News & Media Limited 2010
Published via the Guardian News Feed plugin for WordPress.
Categories
Tags