Loughran gallery has been exhibiting at pop-up locations in London over the last few years, but now they have a new space across two floors in Belgravia. I spoke to founder Juliette Loughran to find out more about the gallery and this decision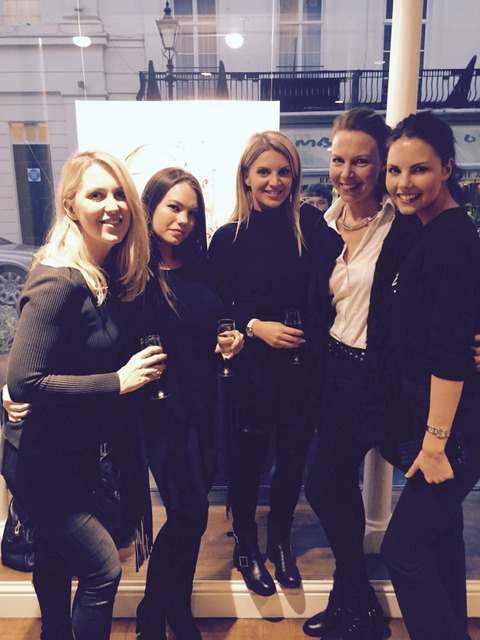 Juliette (centre) at the launch of her new gallery
Why did you choose Belgravia?
We've been roaming around the capital for two years bringing our eclectic exhibitions to equally various locations and over that time we've gained a real feel for what works and where we feel comfortable. Motcomb Street feels like a village street, with its cobbled road and mix of cafes, bistros and boutiques. It's a really unique street, with a real character I've not seen anywhere else in London. Everyone has been so welcoming and we feel right at home, which is the best environment in which to exhibit the art.
What are the pros and cons of a permanent space versus pop-up shows?
When we did the pop-ups, we didn't really follow conventional rules and just did what felt good for the gallery and artists at the time. As a pop-up we were able to explore new venues, meet new audiences and try new styles, but this isn't going to stop now we've moved to Motcomb street.
We plan to treat the new permanent space exactly like a pop-up, so we'll have a continually changing collection of works with each show, whether it's group or solo, embodying all the fun and spontaneity of a Loughran Gallery pop-up.
How do you pick the artists you show??
Loughran Gallery only shows work which we would ourselves have our own home. That's what collecting art is all about for us – it's about falling head over heels for something and just having to have it so that you can see it everyday and smile. One of our photographers Douglas Kirkland described to me in an interview that deciding whether you like a piece of art is "like a scent in the air, emotional and responsive" and I completely agree.
Loughran gallery is now open and can be found at 20 Motcomb street, SW1X 8LB.
Categories
Tags