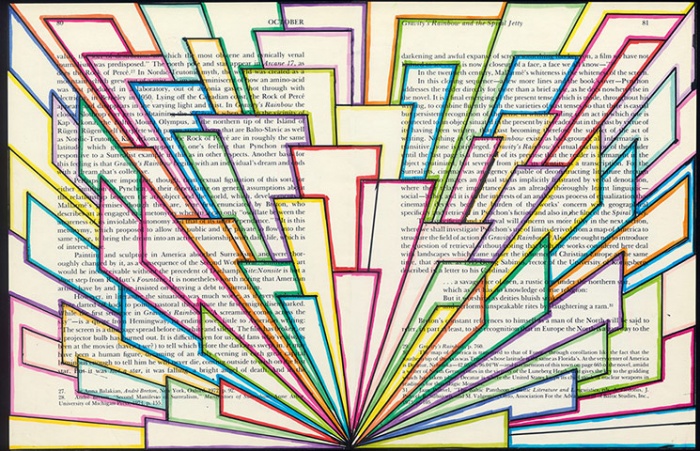 David Batchelor: from 'The October Colouring-In Book'
The Whitechapel's fascinating 100 artist 'Adventures of the Black Square' included a framed display of David Batchelor's version of the first ever issue of October magazine, now published as 'The October Colouring-In Book'. The magazine announced itself to be plain of aspect and devoid of colour, as befitting a heavyweight theoretical journal – so Batchelor* cocks a snook by colouring in one side of every page, adopting a range of circular, triangular and rectangular motifs to achieve a varied rhythm. That makes for 58 sheets of geometric rainbow interventions. It's unashamedly attractive in just the way October would have dismissed, and also undermines its template's textual intent by reducing readability to the margins. Batchelor's tactics here fit in with his widely-cited 'Chromophobia' (2000), a polemic in favour of colour as a serious matter too often dismissed as frippery. And Batchelor's 'Monochrome Archive, 1997-2015' remains at the Whitechapel to 3 May. His 2010 book 'Found Monochromes' collected 250 photographs of white rectangles. Batchelor now has 500, and has expanded his range to include black. They are superbly displayed as large slow slide shows in horizontal and vertical formats; small rapid fire screens; and the original slides backlit on a display table. They point to the origins of geometric abstraction in the city, represent a contemplative pause amidst its noise, and also call attention the peripheral surrounding views we might easily have ignored.
* See 'Chromophobia' (Reaktion Books, 2000 – £12.95), 'Found Monochromes, Vol.1, 1–250' (Ridinghouse, 2010 – £28) and 'The October Colouring-In Book' (Ridinghouse, 2015 – £12)
David Batchelor: 'Found Monochrome No. 57 – Stoke Newington, London 20-09-02'
Most days art critic Paul Carey-Kent spends hours on the train, traveling between his home in Southampton and his day job in London. Could he, we asked, jot down whatever came into his head?
Categories
Tags