We've just had some breaking news on some major plans to shake up the art world.
1. Anti-Frieze
Sick of the exclusivity and snobbery of Frieze art fair, a group of galleries has banded together and this October will be running Anti-Frieze at the same time as Frieze art fair. It will only feature galleries who have been unsuccessful in getting into Frieze, or just haven't bothered applying as they know they'll never get in. It will also be free to the public, as a nod to the exorbitant fees charged by Frieze.
2. A giant swing
The Hayward gallery recently announced giant slides in their Carsten Holler show this summer. In similar but grander vein an anonymous donor has commissioned Anish Kapoor to build a giant red swing that will be suspended between the two chimneys of Battersea power station. It's rumoured that up to 100 visitors will be allowed on the swing at any one time.
3. Damien Hirst merchandise
It's well known that Damien Hirst is opening his own art gallery this year. But it's just been announced that he will be branching out into a full set of merchandise that can be purchased in the gift shop. Confirmed items for sale include: spot pattern baseball caps and Oyster card holders, diamond skull mugs, butterfly greeting cards and cow and shark in formaldehyde paperweights.
4. One Direction for Art
One Directioner Zayn Malik may have left the band and embarked on a solo career, but he also wants to pursue a fledgling art career. He says he has been working on some paintings that express how he feels about the other band members and his relationships with them. They will be a set of portraits and self-portraits filled with the powerful emotions he can't translate into words. He's already on the hunt for a gallery to show the works in.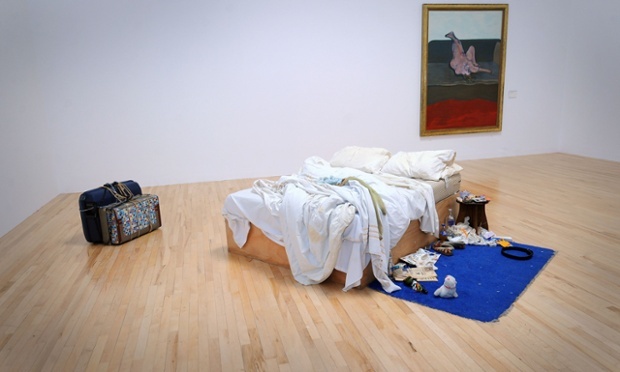 Photo: Lauren Hurley/PA

5. A second Tracey Emin bed
Tracey Emin's bed has gone back on display at Tate Britain, and though it's a part of Emin's past it does not represent the more stable phase of her life she has entered. To recognise this contrast she plans to place a made up and uncluttered bed next to the original to mark this transition.
About Tabish Khan