Fresh from last nights Leaders Debate on Sky News, where he asked the question of Labour Leader Ed Milliband:
"You've made it quite difficult for your supporters and undecided voters, because, you don't seem to be fighting for the values that your party stands for – for example; The fight to Save Cressingham Gardens in Lambeth, the closure of museums, decimation of the arts budget, austerity in general….."
Exclusive Interview with Jeffrey Louis-Reed (aka DJ Disastronaut)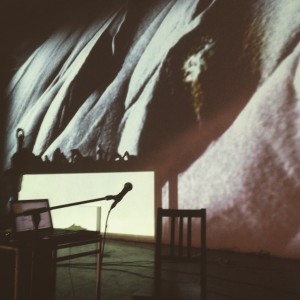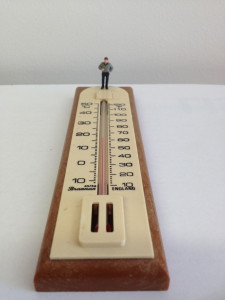 When Winston Churchill was asked to cut arts funding in favour of the war effort, he replied, "Then what are we fighting for?"
Like Churchill, Hastings based multi media artist Jeffrey Louis-Reed, aka DJ Disastronaut, feels very strongly that the arts are worth fighting for and intends to focus his energy towards this fight in the run up to the forthcoming General Election in May – His question at last nights Leaders Debate @skynews being just one of many planned actions.
He has also set up Art against Austerity – a political action group for artists to campaign against Austerity in the United Kingdom and support similar groups worldwide [Follow on facebook and twitter @AAAusterity] and will be actively encouraging people throughout Hastings and St. Leonard's to register to vote; setting up registration points outside the Dragon bar, at the art shop on station plaza and via a mobile cycling unit.
This coming April will also see the opening of Jeffrey's boundary pushing collaborative exhibition with gallery owner Lucy Bell. Lucy has taken the unprecedented step of turning her entire gallery, inside and out, into the canvas and handing control of it over to Jeffrey for the duration!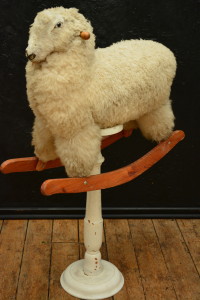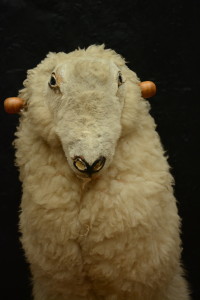 Nice Mid Sized Pieces for Nice Mid-Sized Walls will be much more than just an exhibition of artwork. It will be an immersive art experience; an artistic environment created for Everyman, whether they be spectator or collector.
The exhibition will feature 2D and 3D artwork, together with installation both inside and outside the gallery walls.
This will be an exhibition with a difference, of that you can be assured.
Some of the most groundbreaking artistic works are created when two (or more) creatives, with knowledge, experience and passion, collide, so prepare for magic, as Lucy and Jeffrey certainly have both of these attributes in spades.
As well as a gallery owner and curator, Lucy trained at London Metropolitan University as a fine art photographer under Rob and Roberta Smith. As a result she has a much deeper empathy with artists and a greater understanding of the need for a more fluid and progressive approach towards the arts in general.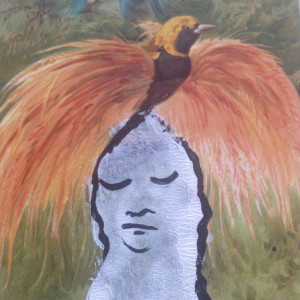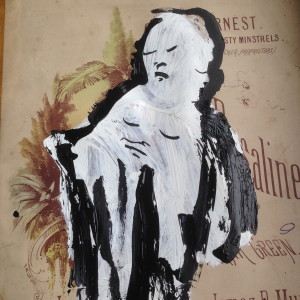 US born Jeffrey Louis-Reed is a prolific artist, swimmer, composer/musician/DJ, and writer who [in turn] writes national columns, composes film soundtracks and DJ's at some of the best clubs, festivals and events around the world.
Almost impossible to sum up in a few sentences; from his base on the seafront at Palace Court, in his adopted hometown of Hastings, Jeffrey is most likely to be found producing music for his new record deal on Fatboy Slim's label, Southern Fried; DJ'ing weekly at the iconic Dogstar club in Brixton – now in it's 20th year; or writing – he is currently the Culture Editor for Phoenix Magazine, contributor to Urban Junkies, Brixton Radio and The Industry where he is the music director, or of course making Art.
His artwork has had common themes for many years – the use of found objects, non art materials, found photographs, music and ephemera; the use of a restricted palette of off white gesso, black and red; heads drawn over heads – graphic bodies and corpuscular shapes – always referencing the materials painted on.
Here he tells me in his own words about his life and motivation – and we explore our shared obsession with cake!
Where were you born and raised? Educated?
I was born in a Jewish hospital in Cincinnati Ohio, but given up by young, unwilling one-night-stand parents. Later adopted by kind people, my education was a series of hilarious mishaps where my main question was when the fuck could I get out of what was called "the buckle of the bible belt." For a bisexual, leftist, atheist, radical with penchant for mohair and rakish haircuts, it couldn't come soon enough. Only a handful of teachers* had real impact – though it must be said I learned more from the dead Kennedy's than I could ever learn from biblical hermeneutics.
Please tell us about your young life, key influencers, significant moments…?
Going to New York City for the first time; My primary school art teacher Sarah Jane Bellamy*, who bought my first piece age 5 and opened up the possibility of getting paid for slightly wonky pictures of raccoons; My uncle William House, who was a well-known painter of the Detroit school who demonstrated even mildly talented idiots could make a living from scratching a few lines of oil on canvas; My first wife, who was a much older conceptual artist and icon, something I'd recommend to any aspiring artist; Learning the value of symbolic acts from activist Rev Maurice McCracken who, at over 80, threw himself into the White house fountain with packs of red dye to protest against the first Iraq war; My first visit to the outsider artist Rev Howard Finster at his compound in Georgia; Meeting Derek Jarman and working with him on his garden in Dungeness;  Seeing films from an early age at the local art house; Singing in the Cincinnati Boys choir – aside from the pedophilia scandal – a joyous time; I could go on…
Parental influence?
Significant, in the sense that they were absent.  I have recently done a project with my adopted father called, "broadcast to the future," which is a new 100-part audio piece of old and/or dying people.
As for my adopted mother, Lou ann wood, she was one of the heirs of the Wood family, however, Gar Wood III stole most everything from his other, younger 7 (!) brothers. They were left with nothing.  She is exactly 30 years older than me and we remain close, in spite of her blind, rabid Christianity.
She is now remarried to Chuck Wood – no relation, though in her profession as a psychologist/psychotherapist one might say she was destined to re-marry a "Wood'.
Do your adopted parents still live in the US?
Yes, they live in the same area of Northern Kentucky and Southern Ohio, though both are now separated and re-married.
Have they visited you in Hastings?
Yes my mother loved it. Who wouldn't?
Have you ever thought to try and find your birth mother?
I've campaigned with others in Ohio to reverse the adoption laws where I was born [parents could find you, but, not other way around] and thankfully last year the law was changed. On March 20th, I'll be applying for my original birth certificate in Ohio and can't wait to find my mother for the following reason:
On the day she signed the papers giving me up, a few moments later she changed her mind and wanted me back. The authorities at the time refused her request and she was disconsolate. I hope I can correct this and at least thank her for giving birth. Interestingly I petitioned the courts there six times for what is called "non-identifying" information and was also persistent with the adoption agency to the point, at one meeting that a now retired woman said, "your mother was Anna McLaughlin and she lived on Riddle Road." – Still working on that riddle. Hoping to solve this soon.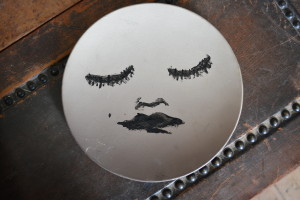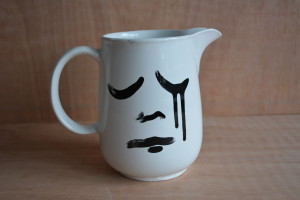 Did you visit galleries and museums with your adopted parents?
Where we lived there was one Museum and we went a few times a year, usually with school. It was only later that I started visiting and seeing all of the great public and, if I could arrange, private collections around the world.
Who would you say are your key artistic influencers and what aspects of each do you feel are the most influential and clearly visible within your own work?
My key influences aren't visual – as most of what I do – they relate to music. I'm instant, recycled and in music terms 3 basic chords. I would say I'm not even an artist. I'm nothing. The ephemeral moment is my greatest joy but also eternal sadness, as it can never truly be captured. The "art" is merely a byproduct of this process. Closest art would be the two Marcels – Duchamp and Broodthaers and the film director Raul Ruiz. The latter isn't as important now as I'm not making films at the moment.
Recycled music…?
Isn't Everything?
Was there a moment, person or place in your past that influenced you or you feel set you on the journey to where you are now?
There is a trilogy: A hermit, a science fiction writer and a gay film director almost forgotten in his own time, but, fêted after his death.
I met an outsider in the Pennsylvania woods called Mr. Funk who was a man who on the day his mother died moved into the family barn and lived as a hermit there – leaving the inside exactly the same. He painted on found objects in white enamel paint.
Next is the late science fiction writer Betsy Curtis, who was a colleague of L. Ron Hubbard [pre Scientology] and a polymath who I met in the last years of her life. She was 82 when I met her and closer to death than she would have liked [she finally passed away in 2002]. Her old house is nearly entirely covered by vines, forest and grasses now. She gave me an urgency and inspiration to cast off the irrelevant and concentrate only on what I wanted to do – regardless of what anyone thought. Female science fiction writers in the 1950's were rare and she was in many ways a pioneer.
Finally, in Ohio I was working with a local Film Society and we decided to invite the British director Lindsay Anderson over to mount his first ever career retrospective. To prepare, I had access to his archives, films, tv shows. At the time he was largely ignored. On one day, to give you an idea of how much he was loved, Malcolm McDowell [who starred in his "If, Oh Lucky Man" among others] flew in for lunch. Meeting Lindsay and helping him mount the first retrospective gave me a view of a political gay radical polemicist who made films, was ignored most of his life, yet on his death was called one of the best filmmakers Britain ever produced. We planned to do a project before his death, but like the director Ken Russell and Derek Jarman – they were all gone too soon.
What other factors/people/places have inspired or influenced you?
I find inspiration in almost anything… so that would be a myriad of things.
Influence? Perhaps harder to define as I'm a voracious reader, viewer and thief.
One key place/scene was Monte Verita – which was the place where modern dance, socialism, naturism, psychoanalysis and many other things were developed. I regret not being able to visit there in its moment. The downtown New York Art scene of the late 80s was electric and artists, junkies, socialites, bohemians, musicians – sometimes all in one person – remain an inspiration.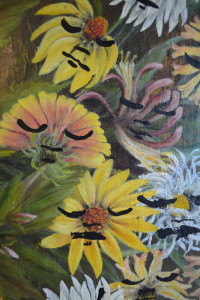 What drew you to the UK?
My first wife SJ Curtis was born in London and after meeting her accidentally in a snowstorm in the American woods – she was 35, I 18 – we decided to move back. London had always represented to me the pinnacle of the English speaking world and centre of what I do. As Hastings is within a short train ride, that would do for me.
Are you still friends with your first wife? Second wife? Mother of Atom?
Yes/all of the above – Atom's mum lives in St.Leonard's and we are still good friends. She's a perfect mum. Literally.
How did you arrive in Hastings?
As I had lived both in Dungeness, and Brighton; Hastings was in the mid-point and better for "failed" artists than Brighton, as that was becoming too expensive and Hastings, obviously was much better anyway. How I actually arrived? I first arrived in Hastings in a battered old Blue Mercedes that was stolen by Nigerian pirates in Kentish town and shipped to Lagos in a shipping container from Port of Tilbury, Essex.
Do you have a car now?
Yes, an old Mercedes…
Swimming? What's that all about?
For me to swim offshore – is the opposite of my life as a DJ and performer – as you can obtain almost complete silence and solitude. I really love it out there. A mile offshore and the landscape and your worries melt away. I have a few close friends who swim long distances – including the English Channel last summer. I swim for hours in the summer as Hastings' sea is mostly benevolent and swimming to Rye or Bexhill gets me out of the house.
Do you often crave solitude, peace, silence?
Yes the opposite of everything else is very attractive and a golden ideal.
Do you have any personal ambition relating to swimming?
I do, but I'd be a fool to tell anyone. Perhaps after.
Have you tried other forms of solitary exercise?
Yes. I was a national runner and swimmer in both school and college… I was quite good at long distances and liked to get away from it all…
Cake – Your obsessed with Cake – So am I ! What's your favourite cake
and favourite place to eat cake?
To answer the second part first – in London it must be Maison Bertaux – I love it so much my son Atom's middle name is Bertaux. There might be better cakes, but not a place that mean more to me. Vienna, New York, Paris also have good cakes. My favourite cake would have to be – The next one.
Where does this cake thing stem from do you think?
I think desserts of your childhood remain with you forever. Mine would be rice pudding, Grandmothers lemon cookies and anything with crème patisserie.
Do you have a favourite cake venue in Hastings?
Not specifically – recently I have been going for the Lemon Meringue at Penbuckles Delicatessen in the Old Town and Michaela's Cute Cakes in St.Leonard's. Impossible not to love Di Paolo's as well.
Does Atom share your cake obsession?
A child named with a patisserie as his middle name, that might be an obvious answer, no?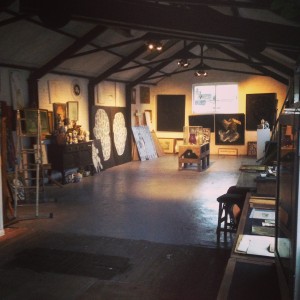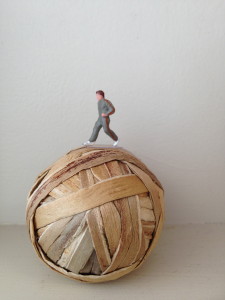 How does your art life and music life co-habit?
That's pretty easy to answer; to me, they are the same thing.
Your very busy. Can you describe a typical week?
I suppose its perceived as busy and if you write it down on paper it is busy, but for me it is a really slow thing. Generally I start my week DJ'ing all night on Friday and Saturday – I've done this for over 30 years now – so that keeps me grounded and to prepare for the sets I make and listen to as much music as possible. On Sundays I tend to go away to do gigs abroad if I can fit it in – one week it might be Paris, the next Marrakech or LA. I have a wanderlust and travel as much as I can. I find things as I travel and tend to compose best on the move; the moving landscape is sublimated into notes and phrases, ideas and actual pieces. Depending on the production/release schedule, I'll work in one of the studios on whatever is at hand. To return to the first thought, as its the only thing I do – I don't feel busy at all. If anything, things creep.
Wanderlust…
A passport is my most treasured and important possession.
What advice would you give to those aspiring to make a living in the arts?
That such aspiration is incompatible with any realistic notion of "making a living".
But, that is the very definition of being an artist. To know you'll never make it, be fraught with financial problems, rejection and ignominy and still persist – that is my definition of a contemporary artist.
Also, better to use your own hands, own physical being in the work, whatever that is – I see too much manufactured work that cannot be tied to a living hand. One of my
favourite stores in the world is Tokyu Hands – a store devoted to things to do with your hands. It is important to somehow put yourself in the work. It's too easy to order a sculpture, make a giclée print or photo, scan an image or use the obvious.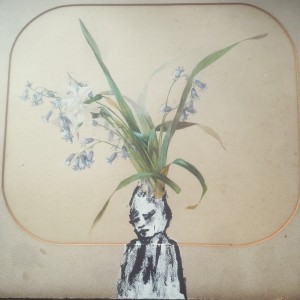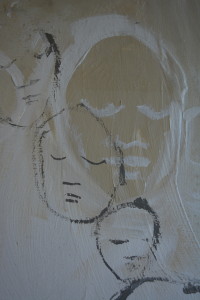 What do you think of our " instant celebrity culture" – 5 minutes of fame…reality TV?
I don't mind it at all. It's just another incarnation of shadows on a cave wall.
Do you own a TV?
Yes several. The moving image – films especially are something I watch alarmingly many of – sometimes 2 or 3 a day – and more at film festivals.
What advice would you have given your younger self?
Mainly – that it is really simple and meet Noam Chomsky sooner.
And History is being made all around you – wherever you look – wherever you visit – and if you're curious enough you can be apart of it in a small way. The little things now will still be little things in the future.
That right now – that someone who is dying needs you, the forgotten are waiting to be contacted and today's Kierkegaard's, Warhol's and Gertrude Stein's are alive and well and having tea somewhere as we speak.
Don't ignore your whims and do only what is necessary to achieve your desires.
To be careful what you ask and wish for as you usually get it.
If you had to choose – art or music – which couldn't you give up?
I think music – as music for me is a subset of art. Though I could give them both up.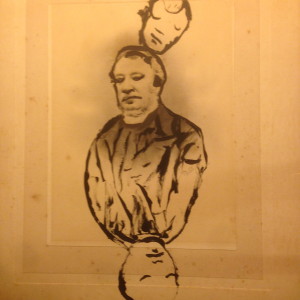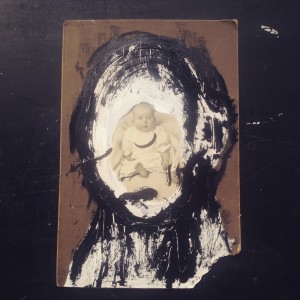 Where in the world would you most like to live?
Happily I am. Out of all of the countries, cities, places I've visited – East Sussex is where i'd most like to live.
Who would you most like to meet (dead or alive)?
I have – Screamin' Jay Hawkins [now that he's dead] I would love to see
him again.
What work of art would you most like to own?
Again, I think I have found the one and I am happy with. I found a little mid-30s John Melville of the Birmingham Surrealists. Its a perfect painting – as good as any Picasso and proof if any were needed that great works are still out there, if forgotten. I recently found a Bram van Velde at a country auction and years ago a Constantin Brâncu?i drawing in a thrift store that said "$6.00 – as is."
What local artists have you connected with and admire?
I put on 25 artists at my studio during the last Coastal Current festival and will try every year to put at least one show on for the locals artists I love and follow. There are some really great artists here – I love musician photographer Kirsten Reynolds, the sculptor Hermione Allsopp, the psychedelic Grande Dame who lives in my
building, and Pop/Street artist Shuby who I am most connected with as she's my SO. Predictably, I invited Kirsten, Grand Dame and Shuby to visit here – and they all loved it so much they stayed.
Local Hero?
For me, that must be Robert of Robert's Rummage. He's been incredibly important to me [in the last 8 years and provides many of the ephemera and found objects. His is an incredible life, working all around the world, running some of the world's best hotels, collecting African Art and even having his own private museum, aside from his collection of Art on loan at Bexhill Museum. Not only a hero, but, also a remarkable character that has one of the most interesting shops anywhere.
What is the one thing we should know about you?
The obvious answer is that you'll never know the very important, core things. I think especially in this world of social media, self-aggrandisement and egotism constructed as imaginary projections onto a fantasy machine of illusion – it is important to retain and cultivate privacy, have isolation and also be open to the un-publishable, the un-say able and indeed at times the un-reportable.
What does the future hold exhibition wise?
I have solo shows this year in Tokyo [2nd year running], Paris, London, Berlin. Things like the RCA Secret 2015, Venice Biennale, Art Car Boot Fair, 2 more shows penciled in for 2015 at my own gallery/studio, local festivals like Artwave and Coastal Currents and the Big Deal series.
In a perfect world, I would just show at my studio and leave it at that.
Street-art-wise I'm continuing to do projects in Morocco and hope to go to both Russia and Ukraine soon to work on walls. Finally I'm doing a ceramics show in March at Butler's Emporium.
Your forthcoming exhibition at Lucy Bell Gallery – How did this come about?
My work appeared in Lucy's Christmas exhibition completely unbeknown to me.
I have never shown any artwork in St.Leonard's before – I normally show in the old town (and beyond), so this was a novelty to me. As a result, Lucy approached me about having a solo gallery show. I considered the idea for quite a while but after talking to Lucy we found there was quite a lot of synergy between my photography and multi media work and the gallery and she was also completely accepting of my doing whatever I wanted with the gallery – which is very indulgent and hard to refuse.
I know the building freeholder really well; I have known him for about 30 years and he has always been keen for me to do something here, but its never seemed appropriate. However, when the Christmas exhibition happened I saw that the time might be right.
I'm quite superficial really; I'm very concerned with how my work is seen – the context and making sure this is right. But the fact is, as Lucy has changed direction with the gallery, there has been a natural confluence and we have collided.
I don't consider this a local gallery. A lot of my contemporaries; D*Face, Banksy, Ben Eine, Shuby – were in the Christmas show. So in that context, it now all makes sense – the time is right.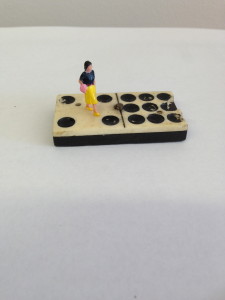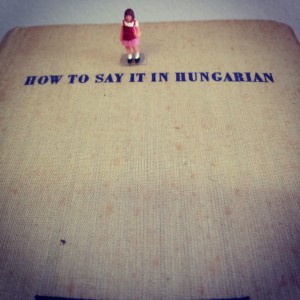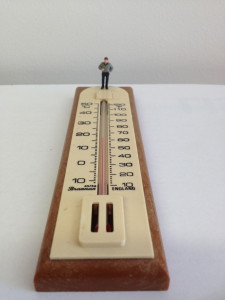 What do you hope for this exhibition?
Generally, I don't hope for exhibitions – It will go up one day then come down a few weeks later.
What ambitions do you have for the future?
I don't have any. Being here is enough now.
Categories
Tags