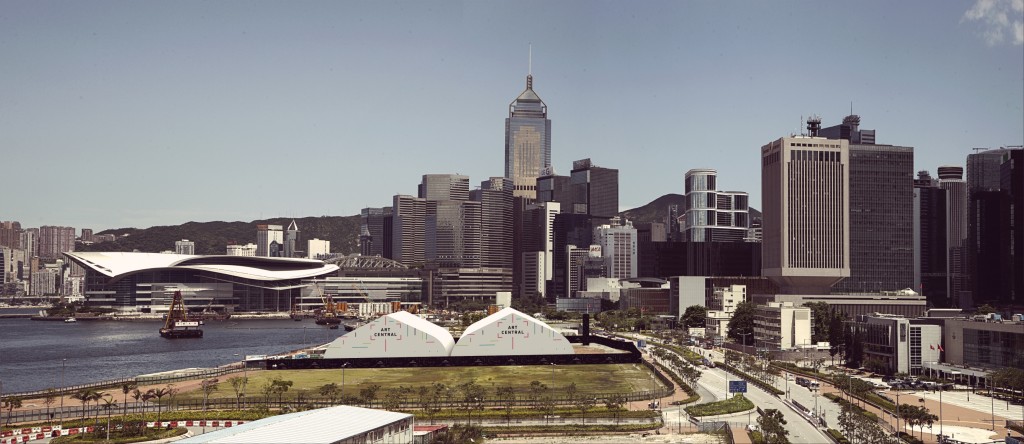 The inaugural Art Central welcomed almost 30,000 art collectors, buyers and the public from Hong Kong and around the world.
Art Central took place on the weekend at the new Central Harbourfront in a 10,000 square meter architecturally designed temporary structure with 77 galleries exhibiting work by more than 400 artists. With Art Week's hottest pop-up restaurant The Continental along with street eats, an engaging educational program of talks and tours, Hong Kong graffiti art and ambitious installations, it proved to be an important and relevant addition to Hong Kong's booming art scene.
Top collectors from Hong Kong and around the world descended on the fair, including art collector Alan Lau who said,
"I believe Art Central marks a very exciting development for the Hong Kong art scene. The custom-built space is a new landmark and focal point for Hong Kong to build a collective identity, whilst asserting its presence within the international contemporary art market."
Tim Etchells Co-Founder of Art Central commented,
"The amazing turnout has confirmed our belief that Hong Kong was ready for an international standard satellite fair. The feedback that we've received has been extremely positive from both visitors and exhibitors, with participating galleries reporting strong sales." "We are delighted that people are pleased with the investment in the style and visitor experience. It has re-energised people and attracted a diverse visitor mix. We have big plans for the growth of Art Central and are looking forward to the 2016 fair,"
he said.
Lee Cavaliere of the Fine Art Society in London said,
"We've had huge crowds come through with some really interesting people, good conversations and great sales. Buyers are being brave and considered. We have connected with a huge amount of new buyers. We didn't really know what to expect but our artist Jacky Tsai who is a Mainland Chinese artist based in London has been a runaway success with significant sales over the past few days."
Johnny Davies of Flowers gallery London said,
"Art Central has managed to attract the same quality of collectors as Art Basel. We've had moderate to strong sales to Hong Kong and Mainland Chinese buyers, and we're really pleased that we sold our work by Patrick Hughes."
Art Central was brought to Hong Kong by the team behind ART HK, which went on to become today's Art Basel. Tim Etchells, Sandy Angus and Will Ramsay, founders of ART HK, and Charles Ross who was Managing Director of ART HK, oversaw the new fair.
Art Central was headed by Fair Co-Directors Eve Share Banghart and Maree Di Pasquale who brought impressive global art fair experience to the team. Eve Share Banghart joined ART HK in 2009 and went on to become Gallery and Project Manager for Art Basel. Maree Di Pasquale is the former Melbourne Art Fair Assistant Director, having previously worked on the launch of Sydney Contemporary.
Hong Kong artist Vivian Poon, shown by Mur Nomade, was awarded the Rise Award sponsored by J.Crew. The Rise Award recognizes the exceptional work of an emerging artist shown within this sector dedicated to galleries established in the last five years, and positions them as a talent to look out for.
About Mark Westall