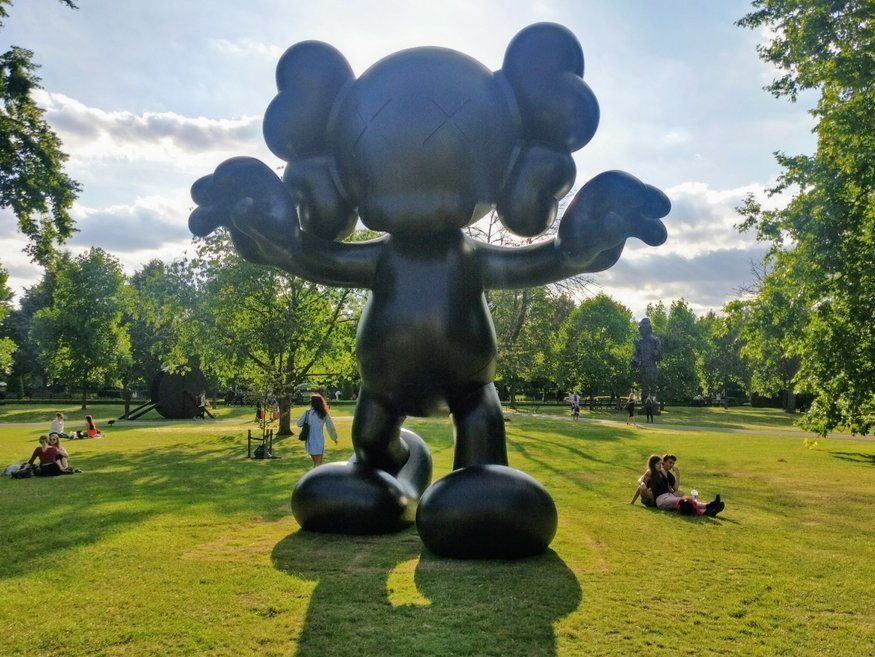 Frieze has revealed details of Frieze Sculpture 2022 in The Regent's Park, curated by Clare Lilley (Yorkshire Sculpture Park Director) for the tenth consecutive year. Featuring a line-up of 19 international artists, the celebrated public art exhibition opens September 14th through November 13th, 2022.
Frieze Sculpture runs alongside Frieze London and Frieze Masters, which both take place October 12th to 16th 2022 in The Regent's Park, bringing together the world's leading galleries to celebrate the creative spirit of the city.

Frieze Sculpture will also collaborate with two major public art initiatives, the 11th edition of Sculpture in The City and the Mayor of London's Fourth Plinth Programme in Trafalgar Square. Together, they will form Sculpture Week London, a city-wide celebration of public art featuring work by 38 artists. The three initiatives will present an unmissable opportunity for the public to engage with major sculptural works throughout the city, in some of London's most iconic sites.
Frieze Sculpture 2022 embraces more than two generations of artists, diverse materials and a multitude of approaches to thinking about and making sculpture for the public realm. Situated throughout The Regent's Park's historic English Gardens, this year's exhibition will present artists Péju Alatise, Shaikha Al Mazrou, Matthew Darbyshire, Ida Ekblad, Tim Etchells, John Giorno, N.S. Harsha, Emma Hart, Robert Indiana, Jordy Kerwick, Alicja Kwade, Beverly Pepper, Pablo Reinoso, George Rickey, Ro Robertson, Ugo Rondinone, Marinella Senatore, and John Wood and Paul Harrison. The display will be accompanied by a
free audio guide narrated by Lilley and available from Frieze.com
'This is my tenth year as curator of Frieze Sculpture. It's been a wonderful decade of working with the Frieze teams, installation crews, galleries, and with a range of exceptional artists. Since 2012, Frieze Sculpture has gone from being a week-long display alongside the fair, to a substantial summer and now autumn exhibition for London. Each year I set out to make a show that serves one of the world's leading art fairs, as well as those who might never before have considered looking at sculpture. No two Frieze Sculptures are the same but all are a paean to sculpture in the open air.'

Clare Lilley, Director of Yorkshire Sculpture Park
The 2022 display engages with a number of themes; works by Robert Indiana, John Giorno, John Wood and Paul Harrison, and Tim Etchells are structured as texts, conveying messages that merge poetry and political messages. The poetic-political plays out further in the work of Péju Alatise and Ro Robertson, whose gazes turn to female and non-binary healing in nature, and Shaikha al Mazrou, Beverly Pepper and Ida Ekblad create ambitious sculptures that are charged with the sensibility of women. The importance of coming together – as community and as a social voice – is conveyed in works by Marinella Senatore, Pablo Reinoso, and Ron Arad. Finally, as our world looks with uncertainty into the near future, works by Alicja Kwade, George Rickey, Emma Hart and NS Harsha conjure the universal and spiritual, whilst folklore and mythology are explored by Matthew Darbyshire and Jordy Kerwick.
Participating artists and galleries, Frieze Sculpture 2022:
Péju Alatise Sim and the Yellow Glass Birds, 2022 kó Art Space
Ron Arad Dubito Ergo Cogito, 2022 Osborne Samuel Gallery
Shaikha Al Mazrou Red Stack, 2022 Lawrie Shabibi
Matthew Darbyshire Hercules Meets Galatea, 2022 Herald St
Ida Ekblad BOOK OF BOREDOM, 2022 Galerie Max Hetzler
Tim Etchells Don't Look Back, 2022 Vitrine
John Giorno SPACE MIRRORS MIND, 2022 Almine Rech
N.S. Harsha Desired for – Arrived at, 2021 Vadehra Art Gallery and Victoria Miro
Emma Hart Big Time, 2022 The Sunday Painter
Robert Indiana Imperial LOVE, 1966-1971 Waddington Custot
Jordy Kerwick Vertical Plane Me, 2022 Vigo
Alicja Kwade Tunnel-Tell (Ceci Sera), 2020 König Gallery and Pace
Beverly Pepper Curvae in Curvae, 2013-2018 Marlborough
Pablo Reinoso Speaker's Corner, 2022 Waddington Custot
George Rickey Five Lines in Parallel Planes, 1966 Kasmin
Ugo Rondinone yellow blue monk, 2020 Gladstone
Ro Robertson Drench, 2022 Maximillian William
Marinella Senatore Bodies in Alliance, 2022 Mazzoleni
John Wood and Paul Harrison 10 signs for a park, 2022 Galeria Vera Cortês
Clare Lilley has selected and sited Frieze Sculpture since 2012. She is Director of Yorkshire Sculpture Park, where her curated and published work includes Ai Weiwei, Fiona Banner, Alfredo Jaar,Giuseppe Penone, Sean Scully, Yinka Shonibare CBE, David Smith, James Turrell, Joana Vasconcelos and Bill Viola.
Lilley sits on the Advisory Committee of the Government Art Collection and is a Board member of Art UK, London and the George Rickey Foundation, New York. She lectures worldwide and regularly contributes to publications,including the contextual essay on the history of ceramic sculpture for Phaidon Vitamin C, 'Clay and Ceramic in Contemporary Art'. In autumn 2021 she featured as an expert in SkyArts' sculpture commissioning series, LANDMAR
Categories
Tags