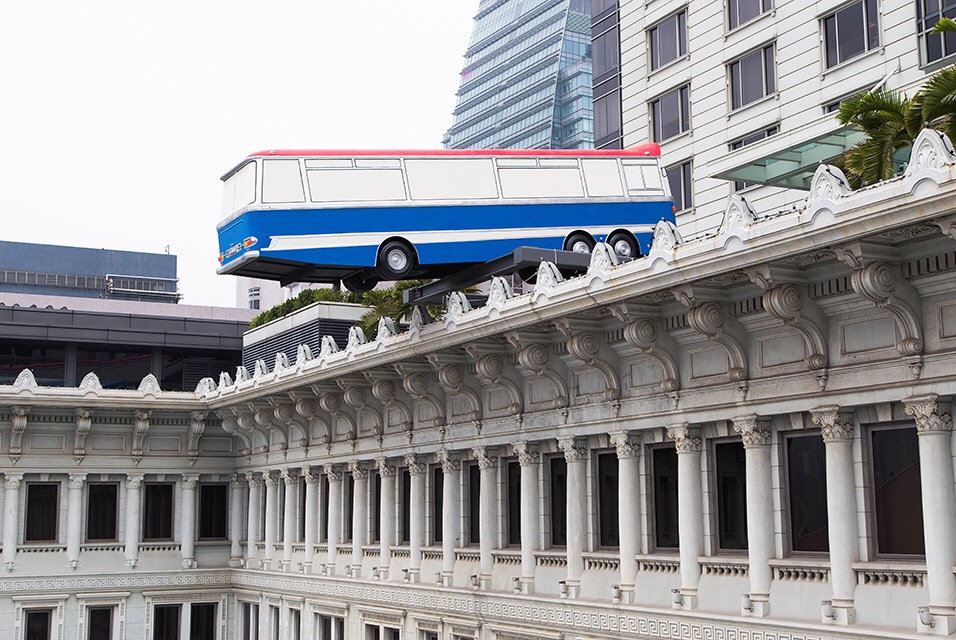 ?


You may remember this coach from Richard Wilson's installation at The De La Warr Pavilion
Now The Royal Academy of Arts, UK, and the Peninsula Hong Kong unveiled today a public art installation by leading British sculptor Richard Wilson RA. The first initiative in a three-year partnership between The Peninsula and the RA, Wilson's work coincides with the third edition of Art Basel in Hong Kong.
The work, Hang On A Minute Lads, I've Got A Great Idea, features a full-sized replica of a vintage twin-axel Harrington Legionnaire coach that appears to be teetering on the edge of The Peninsula's seventh-floor Sun Terrace on the hotel's iconic Grade I listed heritage façade. Inspired by the final line of the seminal 1969 British heist movie The Italian Job, as spoken by British screen legend Michael Caine, the work will be on display until 8 April 2015. 
Tim Marlow, Director of Artistic Programmes at the Royal Academy of Arts said:
"The Peninsula Hong Kong is one of the world's historic hotels. Situated in Kowloon, it is located at the heart of Hong Kong's vibrant developing arts scene, where the Hong Kong Museum of Art will soon be complemented by M+, the city's hotly anticipated future museum for visual culture. The Royal Academy is a place where art is made, restored, exhibited, discussed and debated. As an artist-led organisation, we are increasingly interested in presenting British artists and architects abroad and contributing to international dialogue about how art can be presented within the fabric of cities. Richard Wilson RA, one of Britain's most renowned sculptors, is a phenomenal artist to launch this programme. His work develops in dialogue with its environment, enlisting buildings as part of the sculpture. In effect he explores the boundaries of where sculpture ends and architecture begins – and vice versa – and he does so in ways which are at once playful, inventive, analytical and profound."
This year's partnership builds on the RA's recent collaborations with cultural and educational institutions across Asia. These have included exhibitions in Singapore, Japan, Qatar and Australia, an artist exchange programme in partnership with Hong Kong-based not-for-profit Arts in Heritage Research Limited and the Central Academy of Fine Arts, Beijing, and a student exchange programme with Tokyo University of the Arts. In 2014 the RA collaborated with Art Basel to provide an art-handling training scheme in Hong Kong. Prior to this, the RA initiated a professional development programme for Hong Kong arts professionals in partnership with the Hong Kong government in 2012, and it has been behind a number of high-profile artist's talks in the city over the past two years.
Categories
Tags