Currently showing at the Jerwood Gallery, Hastings until April 2015, here, in her own words, highly acclaimed contemporary figurative artist Chantal Joffe, gives us a unique insight into the inspiration and motivation behind her art practice:
Please tell us about your early years and growing up
 My parents are originally from South Africa. I was born in Vermont, USA. As a child we moved around a lot – We moved around in the US and then eventually to the UK.
I think the nomadic nature of my growing up has made me very much an observer of life – a people watcher.
One of my favourite places in the US is New York. I love New York – It's urgency. You feel like your stepping into something exciting and completely alive – the sounds and smells; heat and rush. It conjures up unexpected joy within me; nostalgia for good times passed, like rolling skating in the park and wearing shorts!
One of my oldest friends lives in New York. She is a painter – Meg Lipke and I think this friendship keeps my connection with New York very much alive and real.
Did you like to draw and paint as a child?
I always loved drawing and making things, my sister and I made a lot of paper dolls of our friends. I liked the stories we told each other about the character while we made them.
I also loved baking. Baking cakes with my mothers Kenwood Chef; you can completely absorb and loose yourself – Its very conducive to day dreaming.
Where did you receive your formal art training?
I completed my Foundation studies at Camberwell College of Art (1987–88). I then attended Glasgow School of Art in 1988–91. I completed my MA in painting at the Royal College of Art.
My contemporaries at the Royal College were Jonathan Monk and Jenny Saville – I was so lucky to be surrounded by such amazing talent.
You are often described as a massive fashion fan?
I like observing fashion; looking at fashion magazines and visiting shows, but, I'm not a Fashionista!
I have friends who are designers and they have been kind enough to invite me to their shows in Paris. I like to experience the noise and the frenetic drama back stage – I find this stimulating and inspiring.
For myself I like clothes that are more practical and comfortable. I'm currently a big fan of uniqlo; I like bright colours and bold designs. I hate dull, muddy colours.
For everything I like clean, true colour and in my work I generally use pure pigment. My preferred source being Michael Harding hand made paints (www.michaelharding.co.uk).
Who would you say are your key artistic influences?
I love Soutine, El Greco, Munch, Modersohn-Becker, Cassat, Manet, Courbet, Van Gogh….
Was there a moment, person or place in your past that influenced you or you feel set you on the journey to where you are now?
My school art teacher – Stephanie Newland.
She was completely bohemian – I distinctly remember her wild red tangled hair and vintage clothes! She taught me to paint watercolour. Her husband was also an artist and I admired them both very much.
Stephanie took us to the Renoir exhibition at the Hayward Gallery in 1985. It was an incredible show – pivotal for me. I was 15 and I new from that moment I was going to be a painter.
My mother is a painter and she has also been a big influence, as have my whole family to be honest. They are all quite unimpressed by my work. They are always brutally honest – which I am very grateful for. It makes me try harder.
You have an attachment to Hastings. Please can you tell us about this?
I have a lot of family there so I come down a lot. I like living in London but I love visiting Hastings.
I don't drive, so we come on the train. We make up amusing name based stories for the stations we travel through on our way down – Frantic in Frant; Battling through Battle….
The majority of the Jerwood exhibition works were made as a result of intimate moments during my visits; My sister walking her dog on the beach; my daughter and mother, my nieces…
What does the future hold exhibition wise?
This is proving to be a very busy year for me – the busiest to date. It's great as I really enjoy painting, however, I don't enjoy the meetings so much and I really hate emails! I find them really distracting; pestering and annoying.
At the moment I am working on a group of self-portraits for a show I am doing in New York in the Spring – my focus gets narrower and narrower. These will be big in scale – I love working big.
I am also working on a show for the Jewish Museum in New York in April. I was invited by curator Jens Hoffmann, with whom I have worked previously. For this exhibition I am making lots of tiny paintings – really small – which will all be hung together.
My Dad is Jewish which has given this exhibition added significance.
I am also working on an exhibition to take place at the National Portrait Gallery in June, provisionally titled "Friendship Portraits". This exhibition will be with my oldest friend from Glasgow art school – Ishbel Myerscough.
The exhibition will be of work we have gifted to each other over the years and sketchbooks. It will include some new work but mainly older pieces.
The exhibition will be photographed by on old boyfriend of Ishbel; Richard Learoyd.
I am loving the journey creating this exhibition is taking us on – down memory lane; lots of gossiping together about the past.
What advice would you have given your younger self?
Be less scared – be braver!
Have no regrets –Say yes more.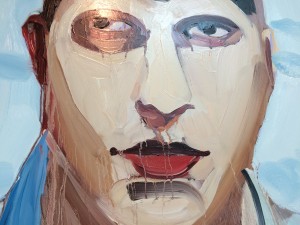 What is your ambition for the future?
To achieve complete honesty within each painting. I value honesty above all else.
What work of art would you most like to own??
Leon Kossoffs -Childrens Swimming Pool 12 O'Clock Sunday Morning.
I find Kossoffs work so evocative; you can literally hear the children chattering and squealing and smell the chlorine.
What is the one thing we should know about you?
I hate washing dishes!
Link to Royal Academy Video: https://www.royalacademy.org.uk/article/chantal-joffe-ra-at-jerwood-gallery
Author/copyright: Lesley Samms – This Interview cannot be reproduced in part or whole without the express prior permission in writing of the author.
Categories
Tags