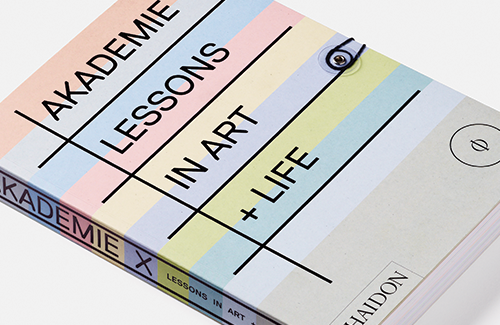 Our Friends at Phaidon have a new book coming out called AKADEMIE X which is a guide to living a creative life and we have one to give away as a competition all you have to do to be in with a chance of winning is answer this question:
What type of bow is Sandford Biggers looking for?
We will be choosing the winner on Friday 20th at 10am so send in your answers ASAP
Email your answer to mark@FADemail.com putting AKADEMIE X in the header- Good Luck More about the book below and make sure you watch the video (HINT) 🙂
The following artists and writers have contributed to Akademie X:
Marina Abramovi,Walead Beshty,Sandford Biggers,Dara Birnbaum,Carol Bove,Tania Brugera,Mark Dion,lafur Eliasson, Harrell Fletcher, Charles Gaines,Liam Gillick,Piero Golia,Michelle Grabner,Dan Graham,
Katharina Grosse ,Joan Jonas ,Miranda July, Chris Kraus, Thomas Lawson,Dinh Q. Le, Won Ju Lim,Jonas Mekas,Carrie Moyer, Wangechi Mutu,Bob Nickas, Raqs Media Collective, Neo Rauch ,Tim Rollins,Michael Smith, John Strezaker,Stephanie Syjuco,Shirely Tse, James Welling, Richard Wentworth,Christopher Williams,Krzyztof Wodiczko.
From The Press Release:
'Crucial wisdom from leading artists and writers – an unprecedented insight into 21st-century knowledge production and life as an artist today.' – Hans Ulrich Obrist, Co-Director, Serpentine Galleries
AKADEMIE X is a guide on how to live a creative life by some of the world's most thought-provoking artists and writers. Thirty-six 'tutors', including Marina Abramovid, Miranda July, Dan Graham, Richard Wentworth and Ólafur Eliasson, share their experiences, wisdom, techniques and philosophies on both art and life.
The 'lessons' in the book range from autobiographical tales to practical assignments and advice the artists would have given their younger selves. AKADEMIE X is an art school without walls, unrestricted by geography and open to anyone interested in, and inspired by, the creative process.
The book has links to top international art institutions such as CalArts (Los Angeles), Yale University (New Haven), School of the Art Institute Chicago, Royal College of Art (London), Rijksakademie (Amsterdam) and Kunstakademie (Düsseldorf). The 'tutors' have been given the freedom to instruct and guide according to their individual style – some have shared their own experiences and personal reflections whilst others have set structured tasks. Organised A to Z by artist, each entry presents examples of the artist's work alongside the lesson, a biography, and a resources list for guidance on self-directed further study.
The AKADEMIE X educational philosophy is that students need preparation for professional life – in practical, financial and ideological terms. This new publication prepares them for the real business of thinking, seeing and living as an artist in the fast-changing contemporary world.
Creativity is an organic and whimsical entity and it's essential that every artist decide what works naturally and own it. Chances are that you will not spend every day sitting in outdoor cafés smoking Gauloises, wearing a beret, sipping espresso and riding off on your Vespa. You will, however, work so hard and long that your friends and relatives will have to send out search parties for you.
Sanford Biggers
Your life right now is as real as it will ever be. It won't be more real in the future, when you get into or out of college or into or out of a relationship or a job or a financial quagmire or a health problem. In fact, the things keeping you back – these embarrassing, boring, stupid obstacles – are the heart of what it is to be human. They're the whole reason for making and needing art. So you might as well go ahead and begin in whatever way you can right now.
Miranda July
With a group, stand in a circle in public space. Laugh out loud for five minutes. If you have to, fake the laughter until you make it happen on its own.
Ólafur Eliasson
If you're having a hard time getting the creative juices churning, try starting with what you know, whether it's a story from childhood, a collection of buttons or marbles, an old drawing or an anecdote – the objective is to get busy.
An AKADEMIE X event will be held at Tate Modern on 11th April 2015.
Categories
Tags