Self Portrait with Fried Eggs, 1996,
Rack 'em Up: British Contemporary Editions, 1990 – 2000 Shapero Modern 32 St George Street, London W1S 2EA 4th March – 27th March, 2015 Private view: 3rd March, 6pm – 8.30pm
Rack 'em up: British Contemporary Editions, 1990 – 2000 focusses on editions produced by the so-called YBA generation of artists. The survey, the first of its kind ever staged, brings together works by all of the leading figures of the period, including Keith Coventry, Damien Hirst, Sarah Lucas and Gavin Turk, and seeks to capture the irreverent and exuberant flavour of the era.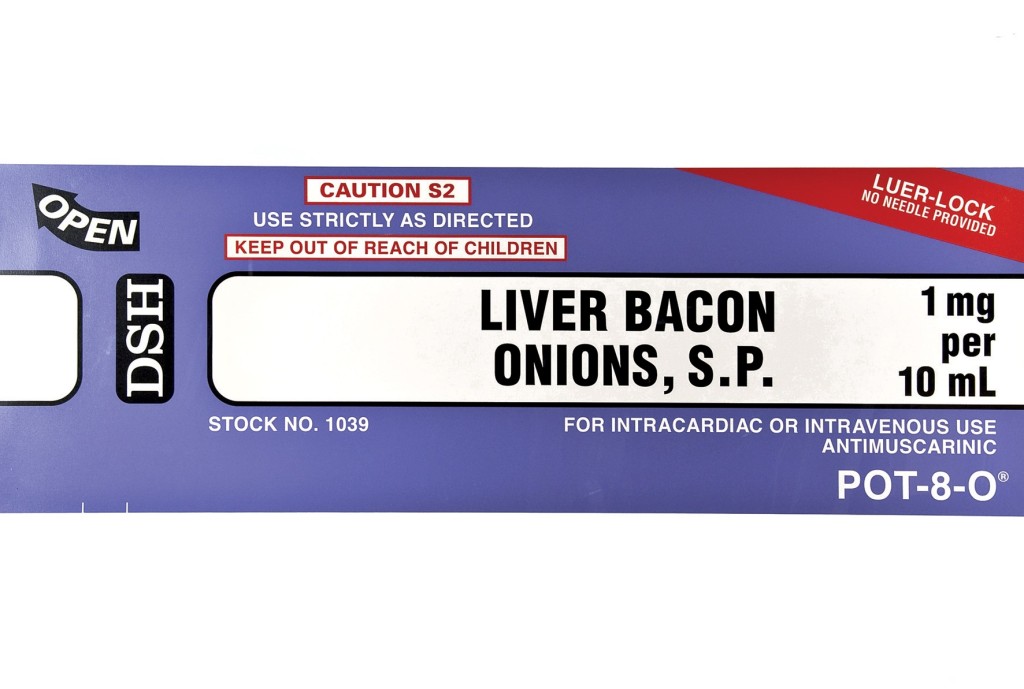 Damien Hirst The Last Supper series Liver Bacon Onions
While Hirst is now renowned for his editioned works, a process he feels democratises art, he in fact made very few at the start of his career. A highlight is The Last Supper series, 1999, 13 large screen- prints which take as their inspiration the clean graphical form of pharmaceutical packaging.
For these, Hirst replaced the name of the drug with that of a food traditional to working-class British cafe culture, such as 'corned beef' and 'sausages', transforming them into a brand by the addition of the insignia ®, TM or decorative typescript. Such variations on the artist's name, such as 'Hirst', 'HirstDamien', 'Hirst Products Limited', also set in a range of typescripts, take the place of the usual drug manufacturer's logo. On the print 'Chicken,' a penis-shaped logo in a black circle above Hirst's name parodies the brand logos that companies commission to reflect their corporate identities.
From Sarah Lucas, who this year represents Great Britain at the Venice Biennale, is a compelling set of 12 self-portraits, including Self Portrait with Fried Eggs, 1996, a nod to one of her most famous sculptures, Two Fried Eggs and Kebab 1992, in which a reclining naked female body is constructed from a table with two eggs and a kebab.

Keith Coventry White Abstract Painting Kit, 1995
Keith Coventry, who like Hirst and Lucas featured in Charles Saatchi's legendary Sensation show
at the Royal Academy in 1997, created many objects in this period, two of which feature in this exhibition. Inhaler, 1998, appears at first glance to be a true-to-size plastic model of an asthma inhaler, however closer inspection reveals it has been adapted for a darker purpose; as an instrument for smoking crack cocaine. Meanwhile, White Abstract Painting Kit, 1995, is a box which contains everything needed to create one of Coventry's celebrated white abstract paintings.
Other featured works include: Bring Me the Head of…, 1995, one of Jake and Dinos Chapman's classic mannequin works; Gavin Turk's £50, 2000, a silkscreened handkerchief with a fifty pound note; Jeremy Deller's History of the World, 1997, a graphic and textual portrayal of the history, influence and context for acid house and brass band music shown in the form of a flow diagram; Tim Noble and Sue Webster's hair dye boxes, Simply Natural, 2000.

Angus Fairhurst When I woke up in the morning the feeling was still there, 1997
Rack 'em Up also includes editions by Angus Fairhurst,Richard Billingham, Mat Collishaw, Tracey Emin, Michael Landy, Sam Taylor-Johnson and Gillian Wearing, as well as photographs taken by Johnnie Shand Kydd, who documented the heady YBA scene of the 1990s in his book, Spitfire (1997).
Says Tabitha Philpott-Kent:
"The 1990s were an incredible time for British art, and this show brings together most of the artists who came to be known as YBAs (Young British Artists). Although these editions were produced twenty or more years ago, they all retain a certain freshness and perfectly capture the fizz and vitality of the era."
List of Artists:
Jake & Dinos Chapman, Mat Collishaw, Keith Coventry, Jeremy Deller, Tracey Emin, Angus Fairhurst,Damien Hirst, Gary Hume, Johnnie Shand Kydd, Michael Landy, Sarah Lucas, Tim Noble and Sue Webster, Chris Ofili, Richard Patterson, Sam Taylor-Johnson, Gavin Turk, Gillian Wearing.
About Shapero Modern:
Shapero Modern focuses on contemporary prints and works on paper, and was launched under the guidance of Tabitha Philpott-Kent in the spring of 2014. Philpott-Kent brings ten years' experience in this field, having worked in the print departments of Bonham's and Sotheby's, and more recently at the Marlborough Gallery. Shapero Modern will stage four to five exhibitions a year,each with a curatorial theme.
Categories
Tags