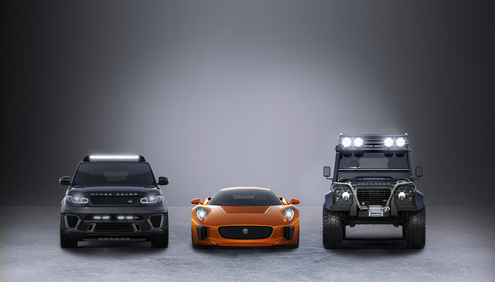 Hurrah for the car as Brit-based Jaguar Land Rover is once more to provide the cars of Bond.
Earlier this week the company announced that a line-up of vehicles is set to feature in SPECTRE, the 24th James Bond adventure, including Jaguar C-X75s, Range Rover Sport SVRs and Defender Big Foots which have been provided by Jaguar Land Rover Special Operations.
The Jaguar C-X75 will feature in a spectacular car chase sequence through Rome alongside the Aston Martin DB10. The C-X75 vehicles have been built in collaboration with Williams Advanced Engineering facility in Oxfordshire, England.
Scenes including the heavily modified Land Rover Defenders & Range Rover Sport SVR have already been filmed in Austria.
Get the popcorn ready, we can't wait.
Categories
Tags