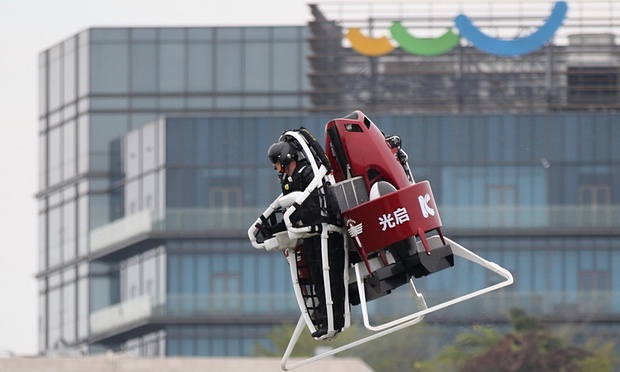 Named as a Time magazine top 50 invention for 2010, the Martin Jetpack is more a personal helicopter. Photograph: ChinaFotoPress via Getty Images
---
This article titled "Move over, James Bond and Iron Man, here comes my jetpack …" was written by Stuart Clark, for The Observer on Monday 11th January 2016 08.15 UTC
Who hasn't wished at one time or another for a jetpack? Ever since James Bond used one in Thunderball in 1965, they have been a talisman of the hi-tech future. In every decade since, jetpacks have threatened to lift off. The world watched during the opening ceremony of the 1984 Los Angeles Olympics, when a pilot used a jetpack to zip from one side of the stadium to the other.
But limited flight durations and the sheer danger has stalled progress. Now times are changing – and not just because Iron Man is the latest cinematic character to wear one. Several companies are racing to bring a practical jetpack to the market. "The technology is improving all the time, engines are getting smaller and becoming more powerful," says Yves Rossy, aka Jet Man, who has spent 20 years developing a personal jetpack.
Rossy is a commercial pilot and his epiphany happened during a skydive. "It was freedom," he says. It prompted him to develop something that would recreate that sense of liberation but also restore the control that he was accustomed to as a pilot. His dream came true in November 2015 when he flew in formation with an Emirates A380 airliner over Dubai. "I call that the magic moment. It was unreal: a parallel world of perfection and beauty. There was no past, no future. I was completely part of the moment," he says.
Rossy is not the only one pursuing the dream of the jetpack. Mike Tournier of New Zealand-based Martin Jetpack says: "We have spent the last 34 years developing the world's first practical commercial jetpack that people can own and fly."
They aim to begin shipping in 2017 with a price tag of about $150,000. Training will be essential, however. "It is fun when it works but dangerous when it doesn't," he says.
The first public use is likely to be at "flight clubs", similar to the way people can hire microlights and be taught to fly them. Emergency services could also use jetpacks for fast deployment across urban environments. But putting your money on jetpacks is still a leap of faith.
"You don't make money doing this, you do it just for the love of it. I've never seen anything as cool [as a jetpack flight]," says Troy Widgery, CEO of Jet Pack International, whose company stays afloat by selling displays to shows.
There is a long way to go before we see people jumping into a jetpack to nip off to work but, for the few, the era of jetpacks may finally have arrived.
Employing the same engineer who worked on early jetpacks such as the one flown at the LA Olympics, Jetpack Aviation has developed the JB-9. The company claims that it is the smallest and lightest jetpack ever created and intends to show it off at as many airshows and other events as possible in 2016. As yet, they are not for sale; the company wants to first develop computer stabilisation to enhance the safety of the jetpack for inexperienced fliers.
Named as a Time magazine top 50 invention for 2010, the Martin Jetpack is not dissimilar in appearance to the drone that Lady Gaga wore on stage in New York in 2013. Targeted at first responders, such as fire, police and ambulance services, the company has reached an agreement with Dubai's directorate of civil defence to supply up to 20 machines. According to the company's Mike Tournier, Martin Jetpack is also starting Iron Man clubs, "where private individuals can come along and fly the dream". It runs on petrol, so you can fill up at your local garage.
Commercial airline pilot Yves Rossy says he gave up having a nice new car every two years to invest in developing his jetpack. The result of this work is more like a personal aircraft, with a wing that sits across your back, as well as two engines. Rossy hopes that the product will become commercially available but, for now, he is happy to have attracted sponsorship to help with the development work. In exchange, he flies daredevil stunts that go viral on YouTube.
On 24 November 2015, Jet Pack International showcased its product by flying across the Royal Gorge Canyon in Colorado. It has also been attracting interest from US television news, from ABC News to Fox News. The company is selling jetpacks, but only to those who have undergone extensive training in its flight simulator. The jetpack comes in two versions: one can fly for 23 seconds and the other for 33 seconds.
In space, jetpacks come into their own and not just for getting around. Just reaching for a tool or turning a screw will set the astronaut in motion thanks to the "equal and opposite reaction" that is masked on Earth by friction and gravity. Push a component into place in space and the astronaut floats backwards. The Draper research institute in Cambridge, Massachusetts, is developing a pack that senses this motion and fires small thrusters to precisely counterbalance it.
guardian.co.uk © Guardian News & Media Limited 2010
Published via the Guardian News Feed plugin for WordPress.
Categories
Tags