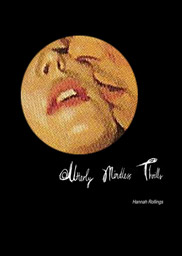 "It was the covers of Mills and Boon romantic novels that first caught my eye," says Hannah Rollings referring to the inspiration for her new book Utterly Mindless Thrills.  Entertained by the idea of unsuspected women secretly devouring these steamy novels, Rollings produced her take on the genre.
Her own book is vibrant with illustrations that recall scenes from 1960's movies, with direct visual references to James Bond, some are more reminiscent of Jean Luc-Godard's Le Mepris, or even the Doris Day and Rock Hudson comedy Pillow Talk.  The saccharine nature of matinee movie imagery is subverted by the naughty snippets of text Rollings selected from the Mills and Boons novels.  Utterly Mindless Thrills is laced with eroticism ranging from the lightly suggestive to the downright graphic; hidden within love-hearts are some X-rated images for the observant reader.
Brimming with allusions to wanton behaviour, the book is an exuberant bounty of entertaining and manifold images.  The clippings used in her montages no longer recall the prints of floral wallpaper and candy-stripe gift-wrap, but more closely the fabric of the libidinous characters' discarded knickers.
Rollings' finely detailed style depicts fragments of narratives, glimpses of lovers' trysts and clues to lewd behaviour; the spirited good-humour of her work prevails in this adroitly crafted book.  The closing image depicts a table of haughty looking ladies, awaiting their afternoon tea, with astonished but knowing expressions; 'Ooh, that's a bit saucy!' reads their doily…and Utterly Mindless Thrills is precisely that.
Available at: Magma Books, ICA, Whitechapel Gallery, Transition Gallery  and Koenig Books.
Hannah Rollings will be exhibiting at the Manchester Artists' Book Fair 2009, November 7
www.hannahrollings.com
Categories
Tags