Tabish Khan brings you five art exhibitions in London that you should visit during the week. Each one comes with a concise review to help you decide whether it's for you.
1. Michael Kenna: France @ Beetles + Huxley
Fantastically composed black and white images from across France. A sublime greatest hits of his French photographs will make you want to jump on a place and fly over to see the real thing.
2. Astronomy photographer of the year @ Royal Observatory, Greenwich
This competition delivers every time and this year's is no exception with fantastic shots of distant nebulae, our solar system and the northern lights.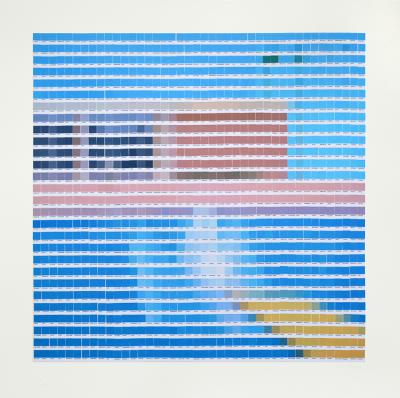 Copyright Nick Smith (after David Hockney)
3. Psycolourgy: Nick Smith @ Lawrence Alkin
Smith recreates masterpieces using colour swatches that have been renamed to either include a relevant narrative or what each colour means to the artist. A great mix of the personal and the accessible.
4. Thomas Allen: Contemporary Cave Painting @ Rebecca Hossack, Charlotte St
Allen has created a cave at the back of the gallery that he has been slowly populating with a mix of surreal and primitive imagery. Visitors can watch him work and make their own scribbles, which will be integrated into the final piece.


Copyright Royal College of Surgeons


5. War, Art and Surgery @ Hunterian Museum
Drawings showing the harrowing injuries incurred during war and how surgeons used to reconstruct body parts to best repair their injuries.
Categories
Tags