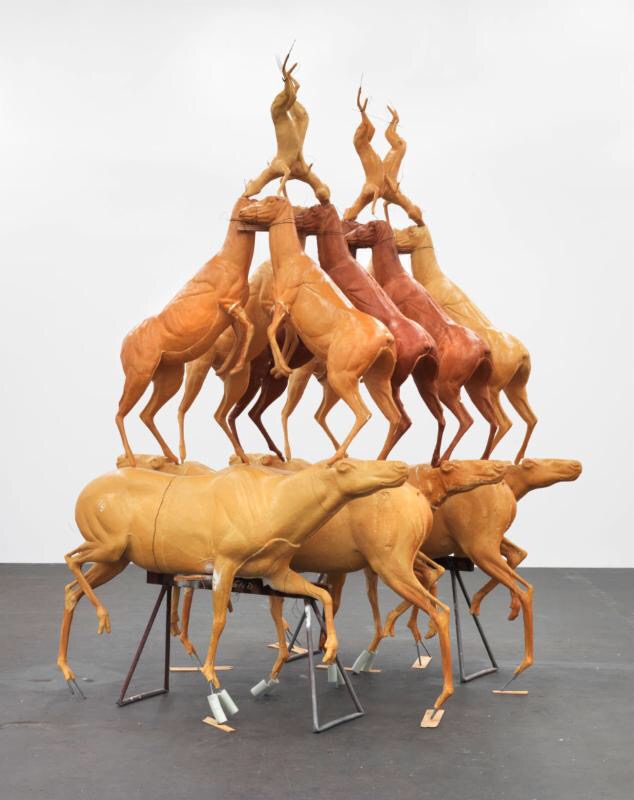 Gagosian New York is pleased to present Bruce Nauman's Animal Pyramid of 1989.
Animal Pyramid, 1989, polyurethane foam, iron, wood, and wire, 144 x 84 x 96 inches (366 x 213 x 244 cm) © 2015 Bruce Nauman/Artists Rights Society (ARS), New York
January 29th – February 21st, 2015 Gagosian 821 Park Avenue New York, NY 10021
Bruce Nauman presents 'Animal Pyramid' at Gagosian this week, a stack of seventeen taxidermy molds rising to twelve feet.
The carnivalesque arrangement of these alien creatures made out of acid-yellow polyurethane evokes the dichotomy of nature and sport: four upside-down foxes crown graduated rows of deer and caribou, eerily featureless–even ambiguous–without their prized pelts and horns. The entire ensemble is visibly cobbled together with wire, the work of a morbid puppeteer. Like the preceding work Carousel (1988)–where dismembered taxidermy forms hang and drag from a steel axis that turns in an agonizing danse macabre–Animal Pyramid disturbs with its vision of carnage submitted to an artificial and bloodless geometric order.

The work's stemmed violence also probes the unsettling gap between real and surrogate, a common cultural obsession from the fetish objects of West Africa to the dismembered mannequins of Hans Bellmer and Cindy Sherman, and Maurizio Cattelan's melancholy take on the Bremen Town Musicians. With Animal Pyramid, Nauman's meditations on the fraught human condition within a larger world ecology take shape in the very materials by which living nature is transformed into still life.

In 1990, the Greater Des Moines Public Art Foundation commissioned a cast bronze version of Animal Pyramid. It is installed in the grounds of the Des Moines Art Center, Iowa.
About The Artist
Bruce Nauman was born in 1941 in Fort Wayne, Indiana. His work is represented in public and private collections worldwide. Major solo exhibitions include "Bruce Nauman: Inside Out" Museo Nacional Centro de Arte Reina Sofía (1993-94, traveled to Walker Art Center, Minneapolis; Museum of Contemporary Art, Los Angeles; Hirshhorn Museum and Sculpture Garden, Washington, D.C.; and Museum of Modern Art, New York, through 1995); "Bruce Nauman: Mapping the Studio I (Fat Chance John Cage)," Dia Center for the Arts, New York (2002); "Mapping the Studio," Museum für Gegenwartskunst, Basel (2002); "Bruce Nauman: Theaters of Experience," Deutsche Guggenheim, Berlin (2003); "Bruce Nauman: Raw Materials" Unilever Commission, Tate Modern Turbine Hall (2005); "A Rose Has No Teeth: Bruce Nauman in the 1960s," UC Berkeley Art Museum and Pacific Film Archive, Berkeley, CA (2007); "Notations/Bruce Nauman: Days and Giorni," Biennale di Venezia (2009, traveled to Philadelphia Museum of Art; and Museum of Modern Art, New York (through 2010); "Bruce Nauman: Dream Passage," Hamburger Bahnhof, Berlin (2010); and "Bruce Nauman's Words on Paper," Art Gallery of Ontario (2014). His work has been included in the Whitney Biennial (1977, 1985, 1987, 1991, and 1997); and the Venice Biennale (1978, 1980, 1999, 2005, and 2007). Nauman lives and works in Northern New Mexico.
About Staff