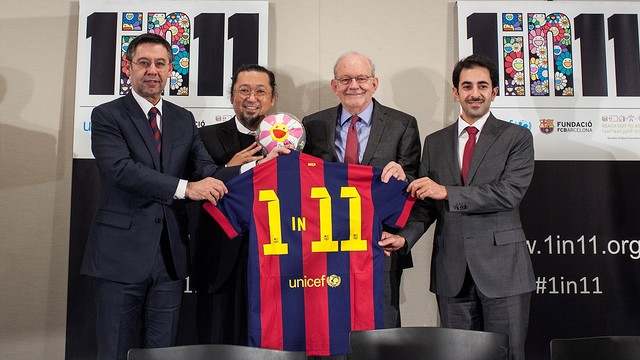 From left to right, Josep Maria Bartomeu, Takashi Murakami, Anthony Lake and Essa Al Mannai / PHOTO: FCB
FC Barcelona Foundation, Reach Out To Asia (ROTA) and UNICEF have launched the '1 in 11' campaign to extend educational opportunities to marginalized children in Bangladesh, Indonesia and Nepal, with the goal of expanding to more countries.
Globally, one in 11 primary school-age children – or 58 million out of 650 million children – are out of school. The majority are among the most disadvantaged and vulnerable: children living in areas affected by conflict; children in extreme poverty; children with disabilities; children from indigenous communities. In addition, in many schools, sports programming does not exist, even though studies have shown that including sports in school curricula can inspire children to attend and stay in school, lead to better physical health, and help to improve their grades.
The '1 in 11' campaign will raise funds through individual donations and a major art auction at Sotheby's in London on Thursday 12th February, featuring donated works by renowned artists including Takashi Murakami, Damien Hirst, Jeff Koons, Richard Serra and Shirin Neshat. Hirst and Murakami have created specially commissioned works of art featuring Lionel Messi, FC Barcelona player, UNICEF Goodwill Ambassador, and President of the Lionel Messi Foundation. Murakami designed the campaign logo.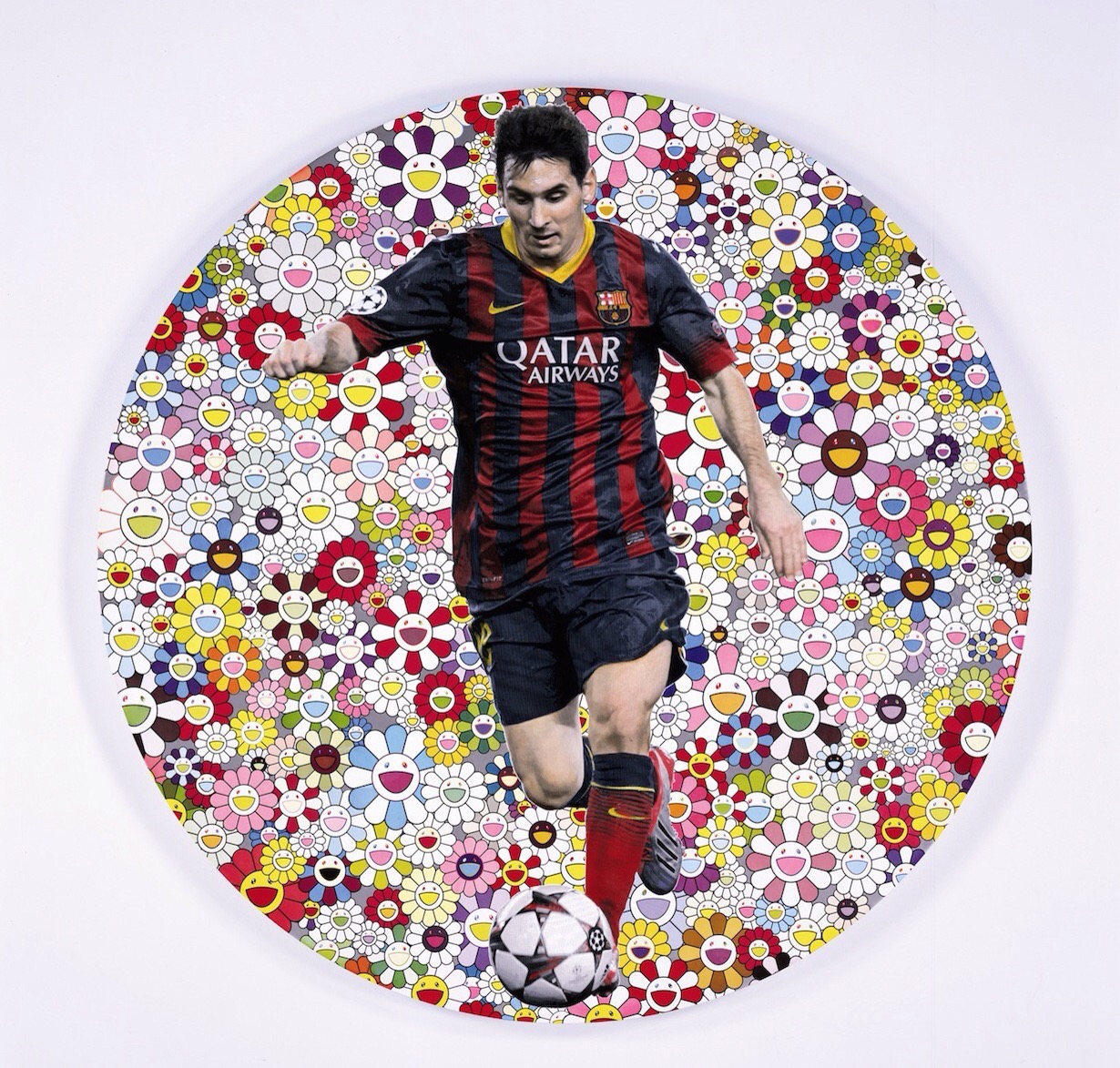 Lending their voices, and their athletic ability, to '1 in 11', Messi and international tennis champion and UNICEF Goodwill Ambassador Serena Williams launched the #1 in 11 campaign film and 'Keep Ups' challenge – challenging people to keep a ball up in the air for at least eleven touches.
The funds raised by '1 in 11' will focus initially on pilot education programmes in the three countries. In Indonesia, the campaign will support schools in six districts to include children with disabilities. In Nepal, UNICEF has worked with the government to identify 10 priority districts that will offer sports programming for children up to secondary school, particularly aimed at breaking down the societal barriers for children with disabilities and including them in school. In Bangladesh, the campaign's focus will be on reaching out-of-school children.
Through the 'Keep Ups' challenge, Messi and Williams are inviting their fans and followers to join, donate to the campaign and share their own 'Keep Ups' via social media and at www.1in11.org.
The following artists have contributed their time, talent and works to the 1 in 11 auction at Sotheby's, in support of the campaign:
Cai Guo Qiang, Damien Hirst, Dia Azzawi, eL Seed, Etel Adnan, Francesco Vezzoli, Jeff Koons, Jenny Holzer, Luc Tuymans, Manal Al Dowayan, Marc Newson, Richard Serra, Shirin Neshat, Takashi Murakami, Wael Shawky, Yan Pei-Ming, Yousef Ahmad.
Categories
Tags