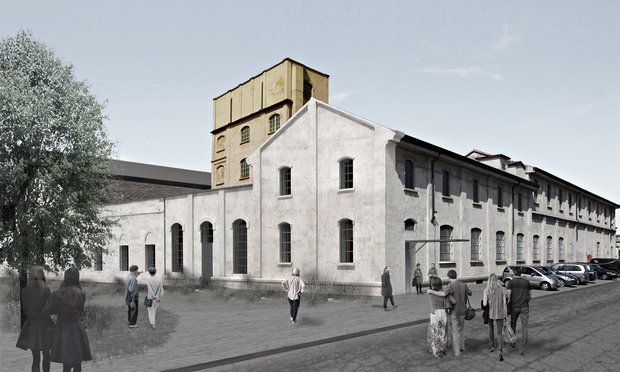 ---
This article titled "Prada brings artistic spirit into Milan's industrial centre" was written by Hannah Ellis-Petersen, for The Guardian on Friday 5th December 2014 18.38 UTC
It was once home to a distillery in the industrial heart of Milan. But a sprawling warehouse that for decades sat crumbling into disrepair, the paint peeling and the windows boarded up, is to be transformed into the city's newest and largest contemporary art gallery.
The ambitious project is the vision of the Fondazione Prada, the art foundation set up by fashion designer Miuccia Prada and her husband Patrizio Bertelli in 1993.
While the foundation has championed numerous arts projects over the past two decades, including Carsten Höller's Double Club installation, a pop-up club and restaurant in Islington, north London, the expansive gallery will be its first permanent home accessible to the public. Other notable projects backed by the foundation, which operates independently from the commercial side of the Prada fashion brand, include works by Anish Kapoor, director and artist Sam Taylor-Wood, and Turner prize winner Steve McQueen.
"This new opening is an act of responsibility towards present times," said Miuccia Prada. "Fondazione Prada will not be a museum, but rather the continuation of an intellectual process founded on the exploration of doubt and on extensive research."
The foundation's expansive arts and exhibition space is to be designed by Dutch architect Rem Koolhaas, blending the building's original industrial character with several extensions, including an eight-storey tower described as a monolithic sculptural mass which they hope will become "a new landmark in Milan's urban landscape".
The 10 buildings that will be gallery spaces for the Fondazione Prada's contemporary art collection, as well as a rolling series of specially commissioned exhibitions, include a cinema, a library and a cavernous hall, divided by classical columns. At the heart of the building will sit the gold-plated "haunted house", accessible to limited members of the public, which will house a selection of art chosen by Miuccia Prada.
Speaking about his complex design, Koolhaas said: "The fondazione is not a preservation project nor a new architecture. Two conditions that are usually kept separate here confront each other in a state of permanent interaction – offering an ensemble of fragments that will not congeal into a single image, or allow any part to dominate the others.
"The complexity of the architecture will promote an unstable, open programming, where art and architecture will benefit from each other's challenges."
Astrid Welter, project director of Fondazione Prada, described the project as a pivotal moment in the organisation's history. "This is our transformation, our phase two of the foundation," she said. "We have already become a platform for art exhibitions and other disciplines like architecture, cinema and philosophy, and the new exhibition site in Milan will allow us to amplify all the activity which we have done so far on grander scale. It will ensure the foundation will keep on investigating, just on a bigger scale and with the help of various disciplines, what is useful and relevant for cultural discourse today."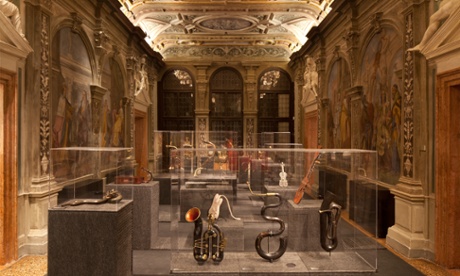 Welter said the foundation was refraining from calling the expansive exhibition space a museum in order to emphasise it is open to all cultural projects and art forms. She also acknowledged that, at a time when public art galleries and museums in Italy continue to suffer from a lack of investment, institutions such as the Fondazione Prada had to carry the arts mantle. In 2012 the public contemporary art gallery in Rome, the Maxxi, was almost forced to close just two years after it opened after its funding was cut by almost 50%.
She said: "Public arts institutions in Italy are severely suffering because of a lack of funding so entrepreneurs like Miuccia Prada are taking up the responsibility for promoting culture but also protecting heritage.
"Private arts organisations are filling a gap which the public arts organisations now cannot. Milan does not currently have a public museum for contemporary art and we believe the Fondazione Prada's exhibition space will be a really interesting, thought provoking and important addition to the cultural discourse, not only in Italy but in general."
Massimiliano Tonelli, editor of Italian arts magazine Artribune, said Milan had failed to establish a connection between contemporary art and the other cultural fields of design and fashion that had put the city on the map internationally.
He added: "Incredible as it may sound, Milan doesn't have a proper contemporary art museum, even if there are multiple institutions working in the field, both public and private, such as Hangar Bicocca, Pac and Palazzo Reale. The project for the new museum in the CityLife district has also been suspended. So, I think that a new institutional venue, designed by a great architect, could be really important for Milan's museum landscape."
guardian.co.uk © Guardian News & Media Limited 2010
Published via the Guardian News Feed plugin for WordPress.
Categories
Tags