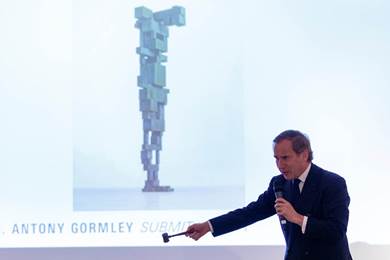 Artworks from some of the world's most influential contemporary artists went under the hammer last night (11th December) at Unicef UK's first ever contemporary art auction SyriART, raising vital funds to help protect Syrian children from danger.
The event, which took place at Phillips Auction House (London), raised over £750,000 made possible by a number of generous bids during the live auction and through an online sale on Paddle8.com. The final total could increase significantly as the UK Government will match all UK public donations and successful bids to SyriART pound for pound.
Internationally renowned auctioneer, Simon de Pury, conducted the live auction which included lots from Hugh Scott-Douglas, Dan Rees, Antony Gormley, Anish Kapoor, Grayson Perry, Martin Creed, Olafur Eliasson, Urs Fischer and Juergen Teller.
The highest price of the evening was realised when Antony Gormley's SUBMIT IV sold for £300,000. Dan Rees' Wales-Syria Solidarity in Pebble Dash went for more than double its estimate at £32,000.
All funds raised from the sales will help Unicef, the world's leading children's organisation, provide children in Syria and refugee children in five neighbouring countries – Jordan, Lebanon, Turkey, Iraq and Egypt – with vital aid and support, as part of the largest humanitarian operation in history. Over seven million Syrian children are in urgent need of humanitarian assistance.
The UK Government will match all UK public donations and successful bids to SyriART pound for pound.
Unicef UK's Executive Director, David Bull, said:
"Millions of Syrian children are in danger and Unicef is working tirelessly to keep them safe. Art can be incredibly powerful in Unicef's work with Syrian refugee children, helping them come to terms with their experiences and express themselves. And now through SyriART, artists from around the world are helping too by raising vital funds for the children of Syria. We are hugely grateful for the generosity and support of all the artists, to everyone who bought the artwork and to the UK Government for matching all UK public donations and successful bids pound for pound. The money raised is vital to enable Unicef to continue our life-saving work for Syrian children in danger."
To find out more about Unicef's work to protect children in danger or to donate, visit unicef.org.uk/Syria
About Unicef
Unicef is the world's leading organisation for children, promoting the rights and wellbeing of every child, in everything we do. Together with our partners, we work in 190 countries and territories to translate that commitment into practical action, focusing special effort on reaching the most vulnerable and excluded children, to the benefit of all children, everywhere.
Unicef UK raises funds to protect children in danger, transform their lives and build a safer world for tomorrow's children. As a registered charity we raise funds through donations from individuals, organisations and companies and we lobby and campaign to keep children safe. Unicef UK also runs programmes in schools, hospitals and with local authorities in the UK. For more information please visit unicef.org.uk
Categories
Tags