The Guardian have showcased Lucky PDF considering they curated Frieze a couple of years ago strange they say they didn't climb the greasy art- world pole !
---
This article titled "Lucky PDF, the DIY art agitators" was written by Skye Sherwin, for The Guardian on Friday 5th December 2014 14.00 UTC
Forget climbing the greasy art-world pole, schmoozing dealers to get your work inside a white cube's protective walls. The young art collective Lucky PDF – James Early, John Hill, Oliver Hogan and Yuri Pattison – have, with the aid of social networks and cheap, readily-to-hand technology, set about toppling the tired old hierarchies.
The foursome first started working together in 2008, when they met as students through south London's squat scene. They built up a local following staging warehouse parties which raised money for their work, as well as providing "a great way to meet DJs from New York", as Hill puts it. The first project to properly put them on the map however was Lucky PDF TV, an online space where, Early says, "We accidentally became a congregating agent for a scene we didn't recognise until after the fact."
Lucky PDF TV offered an alternative to showing art through the usual gallery channels or creatively strangled mainstream telly. "We don't feel it's relevant to participate in distribution models outdated by technology," is the way Early puts it. Instead, this series of artist-created high- (and low-) concept programmes was recorded live and broadcast simultaneously online. In conjunction with 50-plus collaborators, it explored entertainment's outer reaches, with shows ranging from ESP experiments to wacky wrestling. Contributors have streamed live shows from artists' studios and project spaces across the world. In 2011, this unruly operation was invited into the heart of the commercial art world and the Frieze art fair. There, episodes were presided over by a presenter dressed as a giant tomato.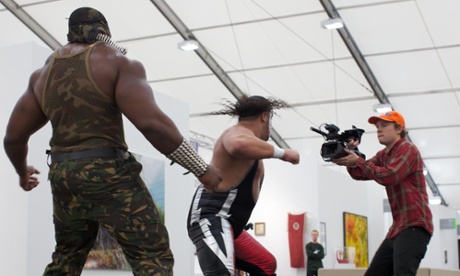 On the one hand Lucky PDF have used affordable tech to do it for themselves, creating projects with their friends and peers without the need to ask the powers that be for permission. At the same time they're also happy to subvert commercial, corporate strategies to their own ends.
The collective's School of Global Art is both an online school anyone can sign up with (and make connections through) and an evolving series of real life education projects. It was partly inspired by "the prevalence of summer schools – offsite spaces that generate income for universities," explains Early. "They export the brand name and it's big business." While its impetus might have been tongue-in-cheek, it was also a response to rising college fees. Hogan says their experience of art college had been that it was largely just a means of building a network of contacts. "Our MAs in particular were about creating a peerage of artists," he says. "We could do that for free over the internet." Under the school's banner they've staged everything from Skype studio visits to lectures and wellness classes streamed from art spaces they've visited worldwide. They've also taken Towie star Chloe Simms on a tour of the ICA.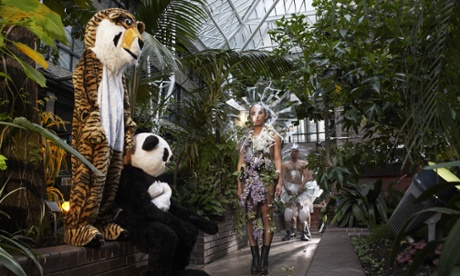 For their contribution to the "fashionable" 2013 survey show Young London, Lucky PDF tackled the idea of being trendy artists themselves. Aping the process of cultural co-option, they produced a fashion collection of digitally printed silk scarves and tees using "stolen" JPegs of their mates' art. "We were anticipating the appropriation of their work into mainstream culture by stealing pictures, which are freely available online, and turning them into fashion," says Hill. "At the same time, we're not like, 'This is all a sham'. We're really actively trying to participate in culture at large."
They've been tagged post-internet artists thanks to tech-savvy projects like these and their pioneering use of retro digital graphics beloved by the likes of MIA. (Lucky PDF's sometime animator, Daniel Swan, has worked with the singer.) But they say it's the message that's important, not the medium. "We wanted to provide new infrastructures," says Hill of their group projects. "We're using these tools so we can reach out and do things with lots of people".
Lucky PDF are exhibiting work at the Hayward Gallery until Jan 4th as part of MIRRORCITY.
See more at luckypdf.com
guardian.co.uk © Guardian News & Media Limited 2010
Published via the Guardian News Feed plugin for WordPress.
Categories
Tags