The Assembly Rooms, 8 Silver Place, London, W1F 0JU from Monday 1st December until 19th December. Opening hours Monday-Friday 9am-6pm. Free admission.
After a stellar launch party at Saatchi & Saatchi London on Thursday 27th November, the VivaWomen! Exhibition 'There's a Good Girl' (TAGG) moved to the Assembly Rooms in Soho where it will be on view to the public until 19th December.  The exhibition takes its name from the 1980s bestseller written by Marianne Grabrucker, a German high court Judge who kept a diary detailing her attempts as a mother to override gender stereotyping of her daughter, and encourage her to "reach for the stars".
TAGG features new and unique artwork created by; Alison Carmichael, Alison Jackson, Arvida Bystrom, Cassandra Yap, Hattie Stewart, Jessica May Underwood, Jillian Lochner, Kathryn Ferguson, Malika Favre, Mary Nighy, Michela Picchi, Miss Cakehead, Nancy Fouts, Natasha Law, Pam Glew, Rhea Thierstein, Sara Pope, Soozy Lipsey, Toni Gallagher and Veronique Rolland.  These women have created iconic commercial work as well as innovative fine art, either way they are making their mark on contemporary culture.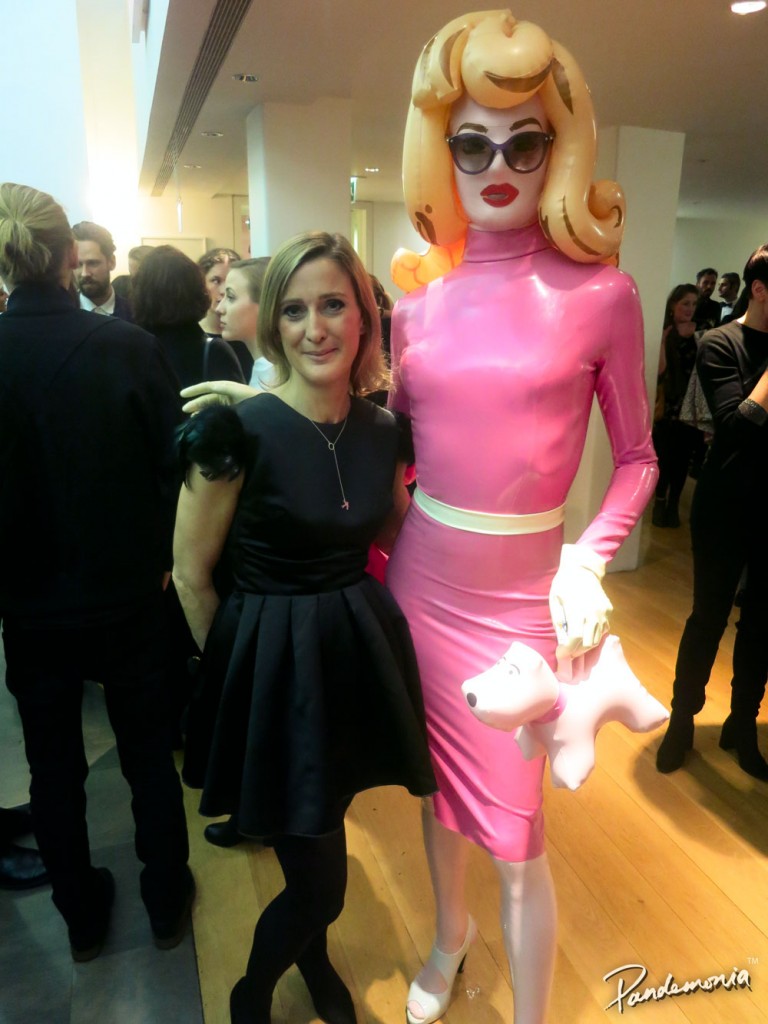 Saatchi & Saatchi Creative Director Jo Wallace came up with the original idea for an exhibition intended to showcase women creatives, after she attended an event organized by VivaWomen!, a Publicis Groupe initiative that strives to raise the profile of women in advertising.   When team TAGG – Jo Wallace, Suzie Quill, Camilla McLean, Layla Boyd, Shelley Dobson and Lisa Robbins – explained the initial concept of the exhibition to me, I was thrilled to be asked to get involved as a co-curator, and I invited some artists to exhibit whose work I felt fitted in perfectly with the theme; Alison Jackson, Nancy Fouts, Natasha Law, Pam Glew, Soozy Lipsey and Toni Gallagher.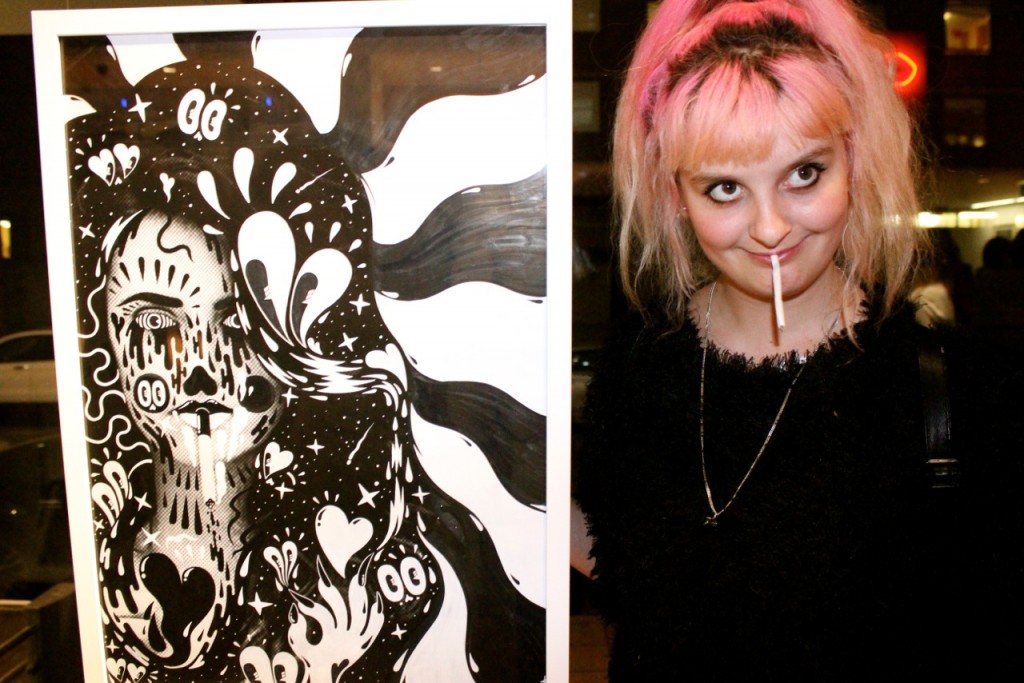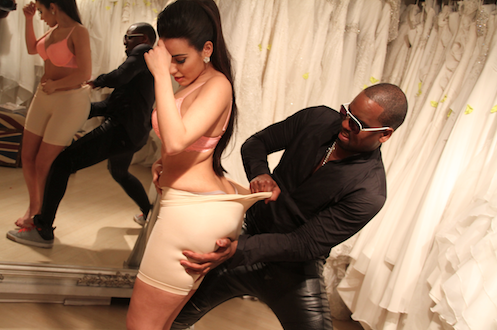 Several of the women featured in the exhibition started out as creatives in the advertising industry and later carved out successful careers as artists, exhibiting in galleries all over the world.  For example Alison Jackson who created a memorable campaign for Schweppes with a Camilla Parker Bowles lookalike sipping a G&T, and went on to exhibit extensively in galleries and create a signature style of voyeuristic photography of celebrity lookalikes, exploring the contemporary obsession with fame and the cult of celebrity, and in 'There's a Good Girl' her paparazzi-style photo of a Kim Kardashian lookalike being squeezed into a pair of Spanx by Kanye captures the zeitgeist and perfectly sums up how women are constantly trying to attain what is perceived as physical perfection.  Nancy Fouts, who was one of the original high-powered women creatives, known for her seminal Silk Cut ad in the 90s featuring an iron and a length of silk, has transformed the iron from that campaign into a sculpture with a delicate Turin-shroud like figure of the Madonna on its underside.  I discovered Soozy Lipsey's work at the Other Art Fair, and Lipsey's flying retro feather-covered hoover 'Hovering Between the Two' (2014) is a fabulously ironic twist on the exhibition's title.  Fouts and Lipsey's sculptures not only comment on stereotypical roles of women and domestic chores, but also perfectly demonstrate the relationship between art and advertising that goes as far back as to the Surrealists when Salvador Dali made an advert in 1978 for Lanvin chocolates.
Toni Gallagher began her career as an art director, before making a move into fine art.  For the TAGG launch at Saatchi & Saatchi she created two beautiful lightboxes of an x-rayed ostrich, and at The Assembly Rooms her ostrich x-ray etchings will be on display.  Pam Glew is exhibiting an American flag screen printed with an image of Vogue editor and beacon of female power Anna Wintour – Glew has created her signature flag portraits for commercial clients including Ralph Lauren, and her image 'Afghan Girl' was featured on the cover of Le Monde.  Natasha Law, who has made some beautiful illustrative commissions for clients including Mulberry, is exhibiting an Ink and Gloss painting from her new series 'Stretch (I)' (2014), a more abstracted version of her familiar languid female torsos.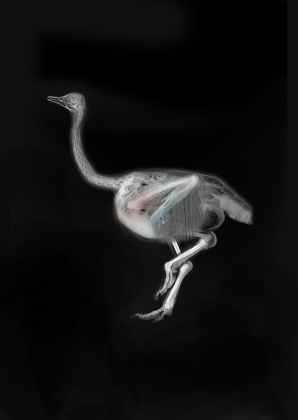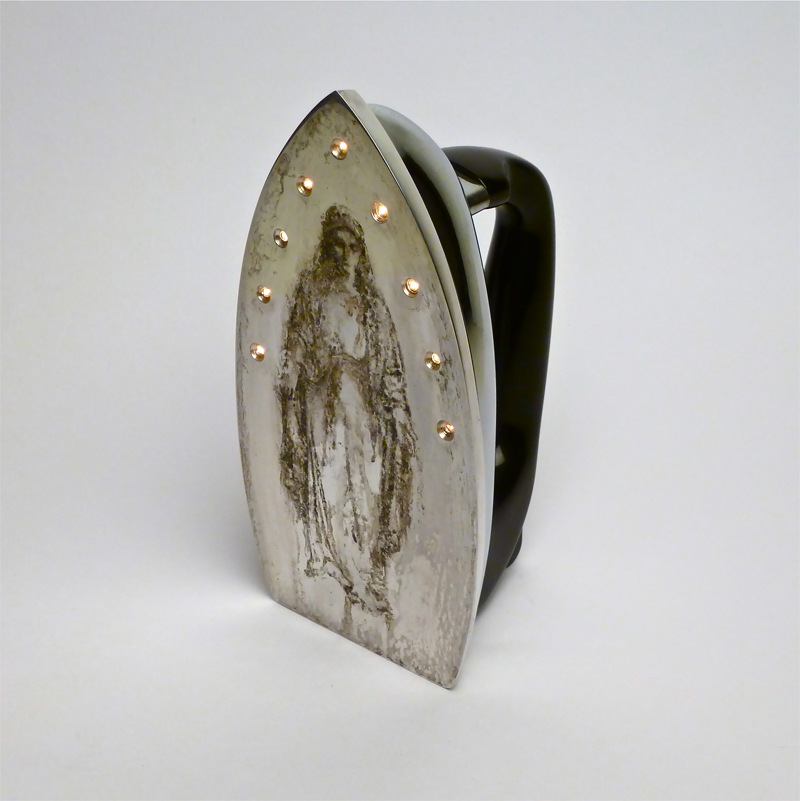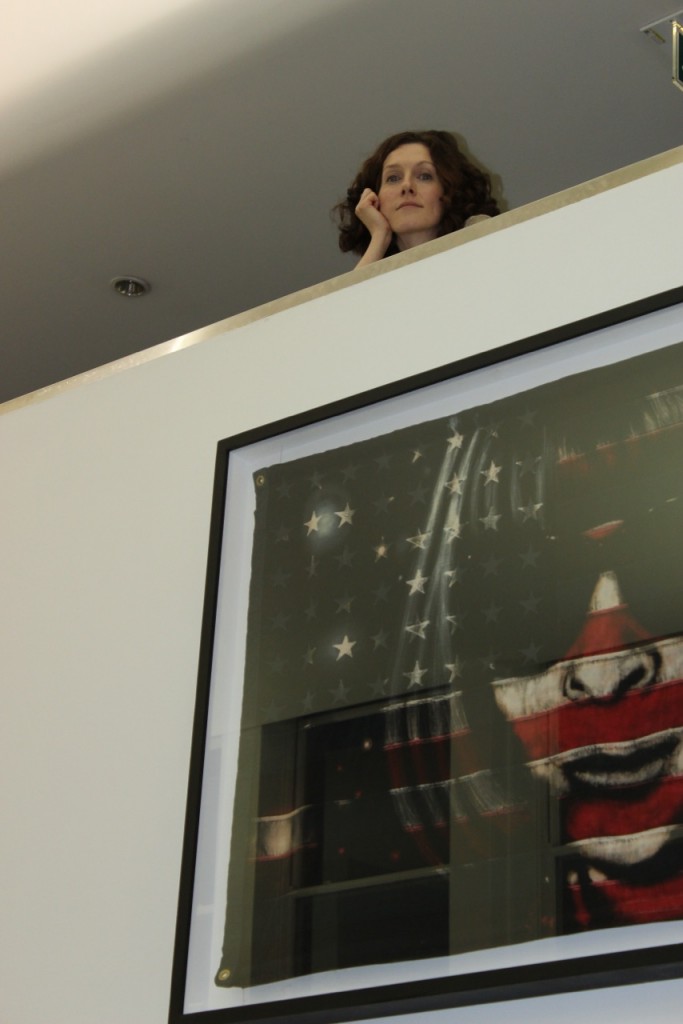 The exhibition features some unique and disruptive sculpture, photography, illustration, drawing, film, and even edible art in the form of Miss Cakehead's slug-covered cake titled 'When I'm Good, I'm very good.  But when I'm bad, I'm Better'.  Alison Carmichael created a clever typographic twist on the exhibition's title, covering a giant billboard in Saatchi & Saatchi's car park featuring the words 'Good Girl' spelled out with hundreds and thousands.  Three films are included in the exhibition, all examining issues concerning women and young girls in today's society; Veronique Rolland, whose work is featured in the collection of the National Portrait Gallery and is known for her seminal Dove campaign showing real women, is showing her film 'Tree in Fog' (2009), created during a trip to her native Scandinavia where she experienced a personal epiphany; Mary Nighy, who recently made a powerful short film for the Thomson Reuters foundation about child slavery, is exhibiting her 2011 film 'Small Town Glory; and Kathryn Ferguson who was recently appointed filmmaker in residence at Selfridges, and is well known for her fashion and short films, is screening 'Rear Guard' (2013) which examines the hyper-sexualisation of women in music videos.
Cassandra Yap 'Diamonds are Forever'
Copyright the artist
Rhea Thierstein, known for her collaborations with photographer Tim Walker, created a fragile sculpture of a Queen Bee 'Bittersweet' (2014), a gentle twist on the notion of struggle and isolation experienced by women today, and the vulnerability of motherhood.  Sara Pope, who was fabulously invited to the Vatican to present her portrait of the Holy Father to him personally, created a striking neon image of a pair of pouting red lips, a comment on the symbolism of red lipstick.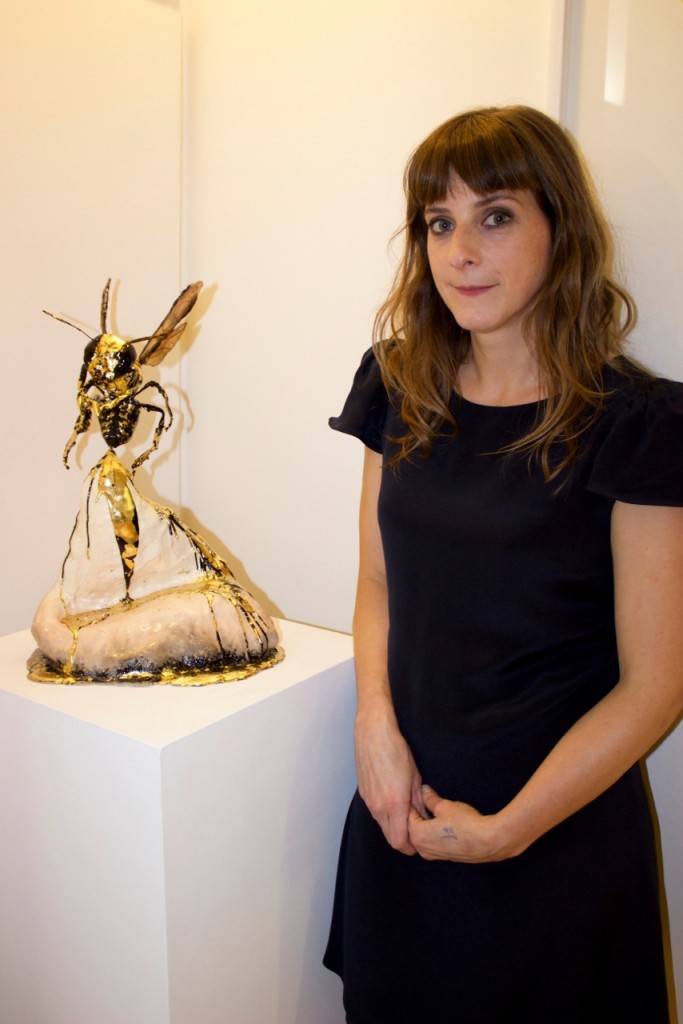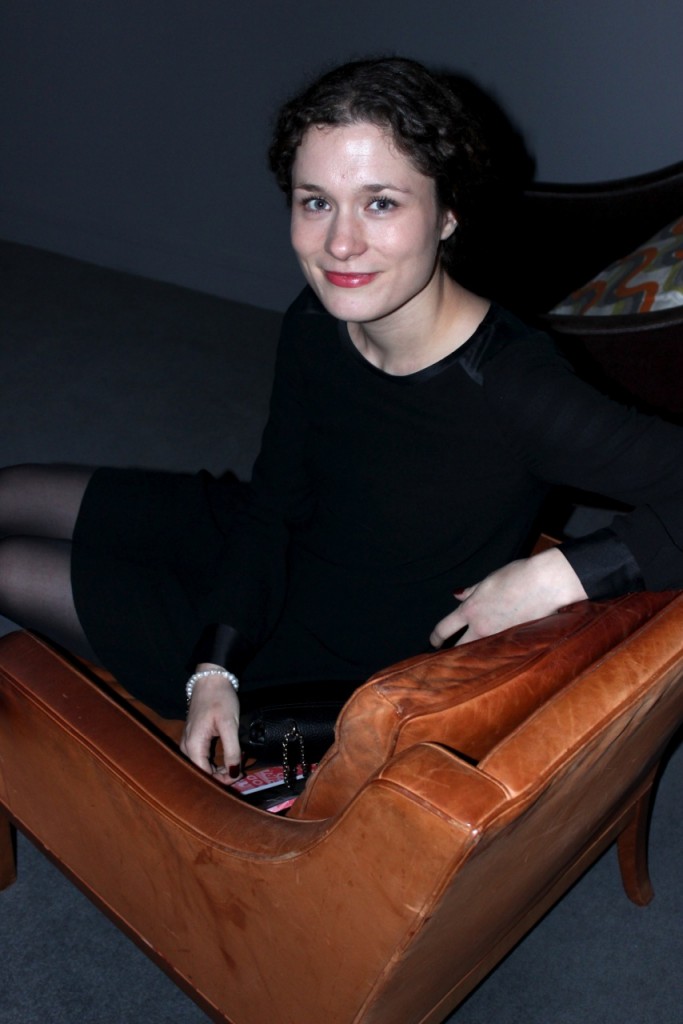 Arvida Bystrom, whose photography was commissioned by VICE at the tender age of 16, created a new installation 'Not in Her' (2014) for TAGG, featuring digital work and imitation skin, and examining notions of contemporary feminism.  Cassandra Yap, an art director whose work explores the juxtaposition of darkness and beauty, exhibits  'Diamonds are Forever' (2014), a limited edition screen print created from vintage pin ups and erotica.  Photographer Jillian Lochner's photographs 'Study in Pink 1' and 'Study in Pink 2' examine similar themes to Bystrom, depicting what appears to be skin being manipulated by surgery.  Jessica May Underwood, a Central Saint Martins graduate whose career began drawing in house at Alexander McQueen, is showing her delicate drawing 'Olivia'.  French artist Malika Favre has a distinctive Pop aesthetic, as seen in her illustrations commissioned by Aldo, and the personal piece 'Office Supplies' that she is exhibiting in TAGG.  Michela Picchi, an Italian creative based in Berlin, has created exquisite, colourful collaged illustrations for clients including Nike, and in TAGG we see her print 'Divination' (2014).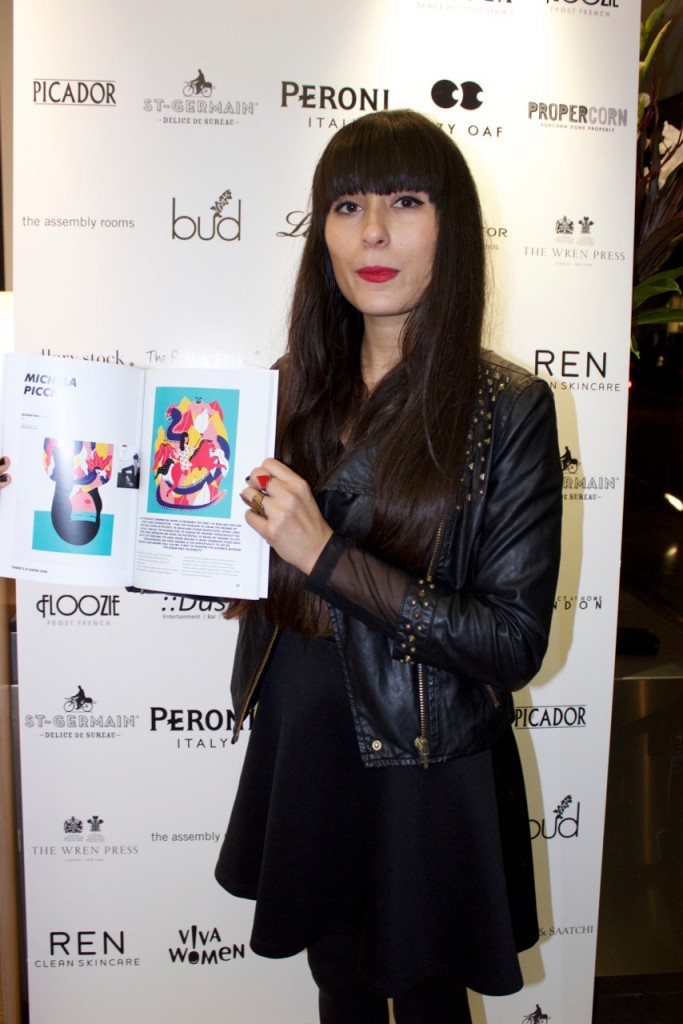 All 20 women featured in the exhibition are making an indelible mark on contemporary culture, and pushing the boundaries of traditional perceptions of feminism and creativity.
A percentage of any artwork and exhibition merchandise sold during the exhibition will be donated to charity Plan UK, who work with the world's poorest children so they can move themselves from a life of poverty to a future with opportunity.  They help girls around the world who are threatened by poverty, gender inequality, violence, poor education, conflict and disasters.  www.plan-uk.org
The exhibition will be on display at The Assembly Rooms, 8 Silver Place, London, W1F 0JU from Monday 1st December until 19th December.
Opening hours Monday-Friday 9am-6pm. Free admission.
#TAGG #TheresAGoodGirl #VivaWomen #SaatchiLondon
Categories
Tags