Art on a Postcard (AOAP) host its 4th International Women's Day, with a new format for 2023. AOAP have invited seven female curators; Beth Greenacre, Louise Fitzjohn (Liminal Gallery), Bakul Patki, Lee Sharrock, Mollie Barnes (She Curates) Sandra De Giorgi and Carrie Scott, to each curate an exhibition featuring female artists. Each exhibition will run as seven concurrent auctions, all raising money to support The Hepatitis C Trust's work with women affected by the criminal justice system both in prison and local communities.   
Curator Lee Sharrock has featured Nadine Talalla in her auction and spoke to her about the project, her artistic practice and her experiences in a gender-biased art world.   
Lee Sharrock: 7 women curators have selected artists for a special International Women's Day 2023 Art on a Postcard auction, which will raise funds for the Hepatitis C Trust. Who is your curator and how did you get to know them/ get involved with the project? 
Nadine Talalla: My curator is Lee Sharrock. I have known and admired Lee for many years because of her prolific creative output and her tireless championing of the work of women artists and also broader equality and inclusivity in the Arts. As a Woman artist who identifies and is passionate about engaging and supporting woman artists, I have orbited around Lee's curatorial practise and read her published writings for a long time. It was a lucky chance encounter in the BMW lounge during Frieze Week 2022 that led me to be involved in the International Women's Day Art on a Postcard Auction 2023. I am absolutely delighted and honoured that Lee has invited me to be involved in the IWD auction, especially as it is during International Woman's Day and my work is preoccupied with the feminine experience.
Could you tell me a bit about your artistic practice, the materials you use, and your path to becoming an artist? 
A bit about my artistic practice: I am a painter and work in the traditional media of oil painting. My paintings are usually inspired by vintage found images and you can find me constantly trawling markets and libraries for found photos and news clippings. 
Beginning with a black and white or sepia monochromatic image gives me the artistic license to inject photographs with a bright and playful colour palette and I often find myself layering several images together in a palimpsest, introducing incongruous flora and fauna, and other whimsical surrealist imagery as the spirit moves me, resulting in canvases that are a homage to Baroque and Rococo yet also exist in the whimsical and disturbing subconscious dream world of the hyperreal. 
Ever since I can remember, I have been haunted by women on the walls of museums and anonymous women pictured in vintage photographs. My work reclaims theses unknown women that were for centuries forgotten or relegated to subordinate roles and re-imagines their stories from a woman's perspective. The paintings that result act as a tacit investigation into the lives of women who, like me, exist on the porous boundaries between race, culture and class. Women who perhaps transmit one thing but are in fact something more subversive, aberrant and interesting – to me at least. 
What was your path to becoming an artist? 
I have always wanted to be a painter and paint the fascinating stories I heard as a child in the jungle of Malaysia and the outback of Australia. At the same time, I have been equally preoccupied with the bodies and faces of my sex (in strictly biological terms) and the material aspects of the more fluid concept of gender and the way these two concepts have, throughout history, worked together to "feminise" [people that identify as female] into the increasingly amorphous cultural construct known as "woman." 
Needless to say, I was hellbent on attending art school so I could dissect my identity in paint. Unfortunately, being brought up by my Malaysian relatives, it was expected that I would follow the rest of my family and study a vocational degree like Law. My family were appalled by my mad endeavour to pursue a feckless career as an Artist and declined to support me financially or otherwise. I ended up in Melbourne at the Royal Melbourne Institute of Technology where, as an Australian passport holder, my degree was heavily subsidised. Melbourne was a wonderful and transformative place to study art and instilled in me strong cultural values.
After University, I returned to the UK and completed the Turps Banana Studio Programme under Neal Tait and Anne Ryan and have also been mentored by the painter Peter Ashton Jones. Over the past decade, I have exhibited extensively and I currently work from my art studio in Mayfair and have amassed a body of work that combines aspects of my own life experience and identity with the experience of my sex as a whole, throughout history and into the present day.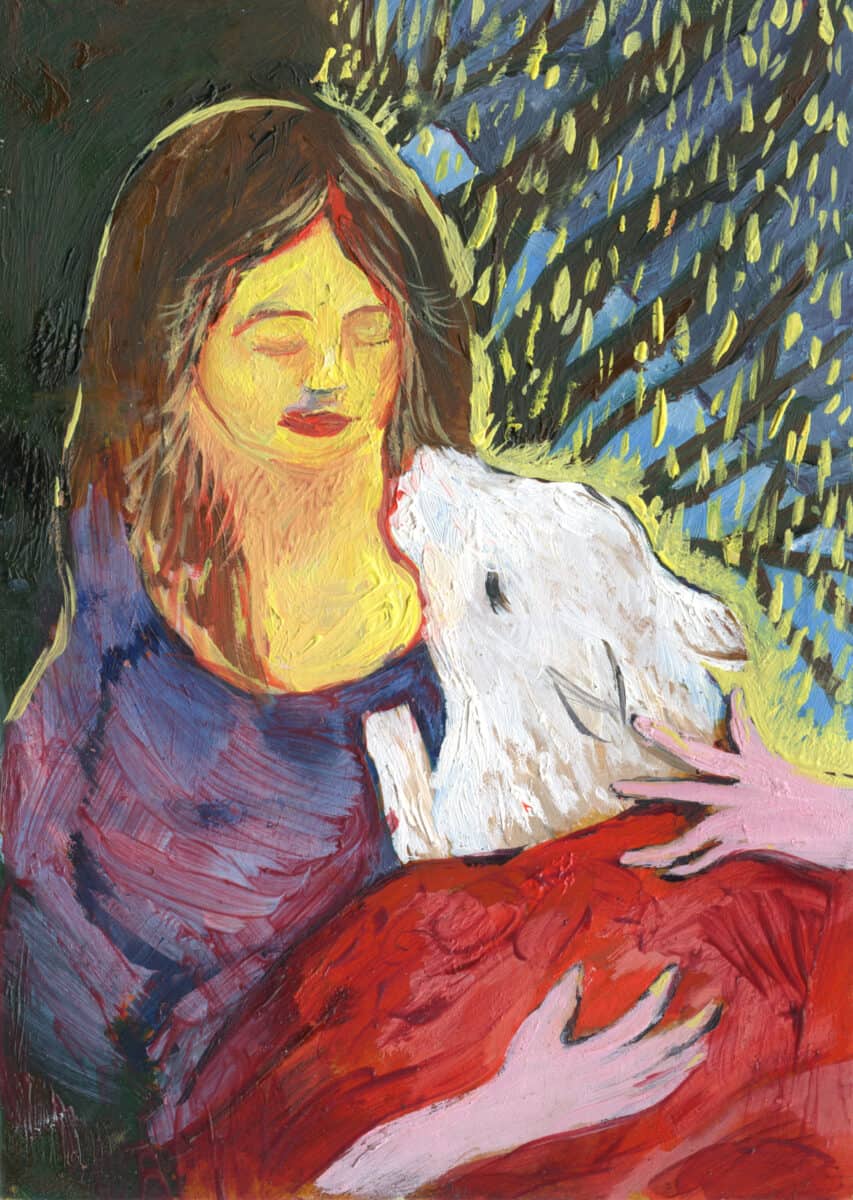 Can you explain what you've created for AOAP?
The postcards I created for the International Women's Day 2023 Art on a Postcard Auction were made under the theme of 'Mother Nature'. For this series, I investigated the cycles of womanhood from youth to middle age likening them to the four seasons to express the magical and mutable qualities of womankind. I am fascinated by how, through history, women have dieted and submitted themselves to the strictures of beauty and how this intersects with the biological reality of our bodies as we experience puberty, pregnancy and menopause.
I was also inspired by Ancient Greek Mythology where womanhood was summed up in three phases: The Maiden which represented Spring, The Mother which represented Summer and The Sage which represented Fall (Autumn).
I think it is important to add that all these postcards echo the tradition of Vanitas Painting and render the transitory nature of life and its folly reminding us that the earthly pleasures of Mother Nature's gifts are only temporal.
Who are the artists that inspire you the most? 
This is a hard question to answer, as I am inspired by so many artists in the Western Canon of Painting but for the purposes of International Women's Day, I would like to deviate from the usual famous white male artists and to concentrate on the great women artists being reinserted into Art History as institutional demarcations subside. 
As these previously unheard-of women artists come to the fore, I am inspired by how throughout the centuries these female artists have articulated female psychology and gender identity within a pictorial framework. My influences range from – but are not limited to- the Renaissance painters Sofia Anguosola and Artemesia Genteleschi as well as Maria Lassnig, Marlene Dumas and Leonora Carrington 
 I am also inspired but contemporary women artists of extraordinarily diverse backgrounds who are enjoying real visibility and discernment today like Tschabalala Self, Nicole Eisenman and Jadé Fadojutimi.
As a woman artist, have you come across many obstacles that you don't think a male artist would face? 
Being a bouncy, buxom and over-excitable young female painter preoccupied with the taboo of the feminine was career suicide when I started painting twenty years ago. From lecturers making moves on me after private views, to fellow peers rebuffing my work as 'too girly' and others patronisingly ignoring anything that came out of my mouth while intently staring at my large breasts – I have definitely experienced my fair share of gender barriers and prejudice in the Art World.
Much like today, when I was at art school, they were predominantly attended by women but almost all the artists that became successful were men. Furthermore, in my experience, works concerned with the feminine gaze, or the domestic and interior world of motherhood and pregnancy were relegated to 'low art' and there was significant pressure on women artists to veer from these themes in order to be accepted and taken seriously in the art world. It is awe inspiring to see how much this has changed and to see so many Women Artists finally receive the career progression and accolades that they deserve. As a mother of a young daughter, it is critical for me to see my daughter reach maturity in a world that accepts equality and diversity and is committed to social justice.
On that note, the greatest obstacle I have encountered -and also my greatest gift- has been motherhood. Mothers/ Primary care-givers are still expected to provide the majority of childcare and often feel excluded and isolated from the art world at art world events i.e. art fairs which are not currently designed for new parents. There is also a misconception in the art world that true women artists choose their art over having children which is deeply prejudiced against artist mothers.
I feel the art world needs to start implementing strategies to include parents in professional networking events, such as art fairs, and designate breastfeeding stations and children's play areas. 'How Not to Exclude Mothers' by Hettie Judah is a fantastic book that seeks to bring awareness and remedy this issue.
What exhibitions do you have coming up in 2023 that you're most excited about? 
I have a lot of exciting projects in the works. I will be exhibiting more postcards for the A4 Postcard Show later this year and also have an exciting new solo show in the pipeline. Watch this Space.
View and bid on Lee Sharrock's Art on a Postcard International Womens Day auction here: artonapostcard.com/
Categories
Tags