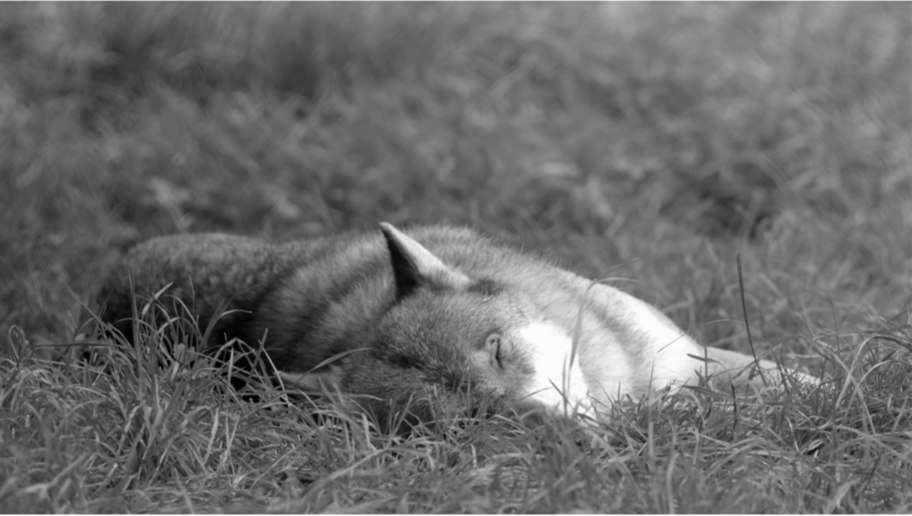 From the Mountain (video still), 2014, single-channel HD video
Lupus is a site-specific work in so far as it conjures a specific place. The topography of this place is present: precise in objects, artefacts, here in real life, in black and white. Or so the cliché would have you perceive it.
Which place then? The major work is a film, From the Mountain, which documents the death of the last wolf in Ireland, killed in 1786. The historical context is given to us, the implication is that we are seeing the wolves as they once were. Meanings are transposed and curious details are added, first a wolf, then a wolfhound, not 1786 but the present as cars slide past on roads, and a symbol revealed hidden in a field somewhere.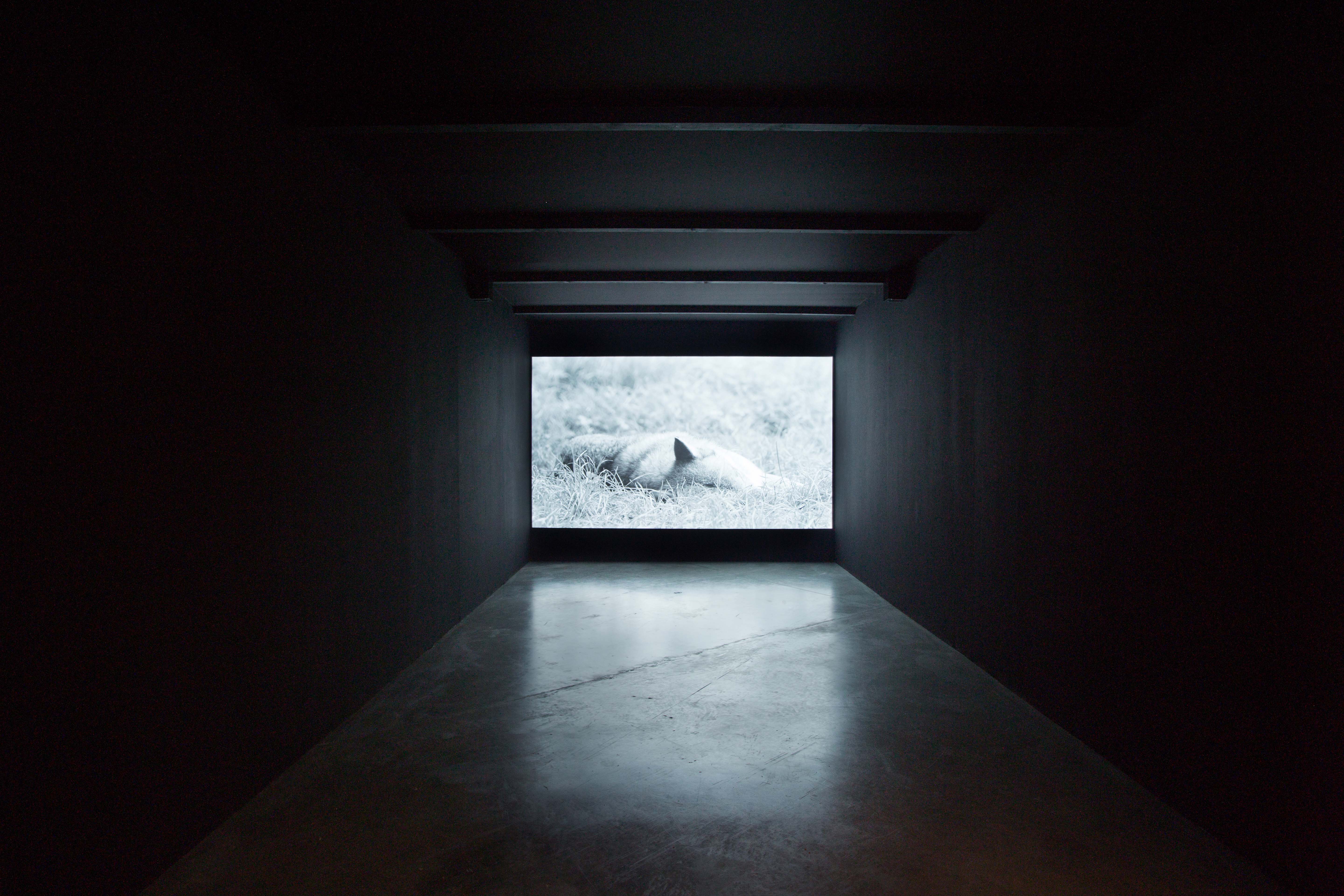 The impossibility of the documentation is the crux, we are lulled into an anticipated observational state, and the site slips, at once we are on Mount Lennister, Ireland, 1786 (but how could we be?) and then we are stood within the inscrutable cipher of an abandoned missile base, somewhere in the German countryside, though this is never signposted. Both are present with immediacy – here in the heightened sensory environment of a blacked-out room – looping on film remarkable in acute details.
The edits in this film: cutting time, moving from one place to another, its very directorial quality, is a departure. Whelan's previous film work insisted on the durational through fixed focused observation. The sun rose on the nothing new laid two time frames over one another – that of the film, and that of the viewer – jointed them to heighten the durational experience by duplicating it. That piece borrowed its name from Samuel Beckett's Murphy and its title implies a kind of passive inevitability of time and experience, which we can actively participate in – via observation – or have it happen at us.
From the Mountain (video still), 2014, single-channel HD video
From the Mountain invokes duration and time too, but with a more complex, dynamic and engaged structure. If duration is time felt as experienced, though impossible to quantify and measure, the multiplicity of times and places here would suggest an inauthentic, impossible experience. This is not a recreation then, the details are here, the attempt at verisimilitude is not. Instead, a new kind of experience making takes place, with hyper-real fragments gathered to forge something else.
Other documentary artefacts complement this; here is a tool kit to assimilate the experience of some other place.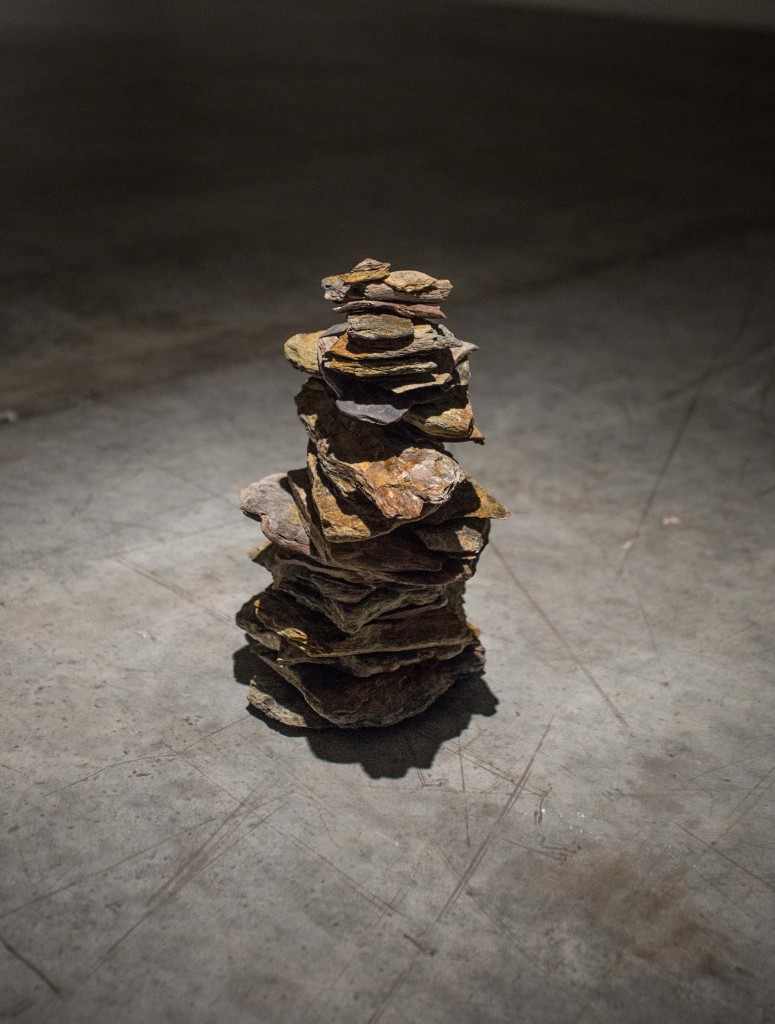 Cairn, 2014, foliated metamorphic rock (Phyllite), 43 pieces, 28 x 20 x 20 cm
Stones stacked invoke the very physical experience of extracting them from the mountain, yet here they are a construct, different every time. Their precariousness is this moment, always on a point of tipping into something else, a kamikaze construct that becomes a site of différance – gesturing to other works within the space, or other memories to grant it meaning.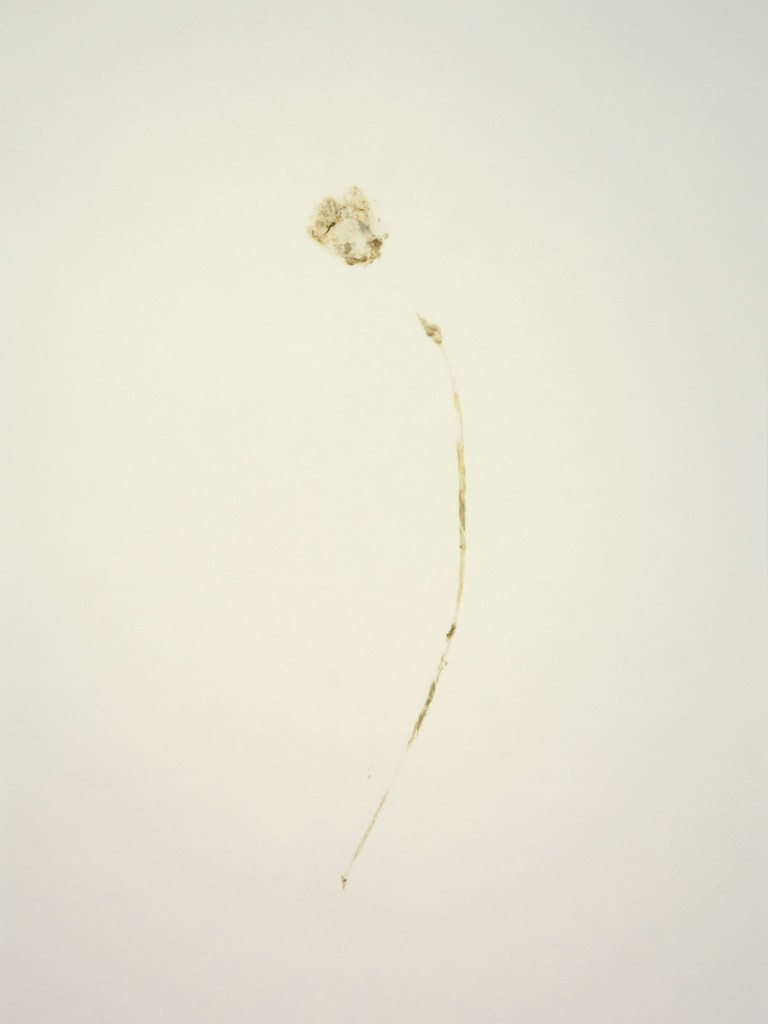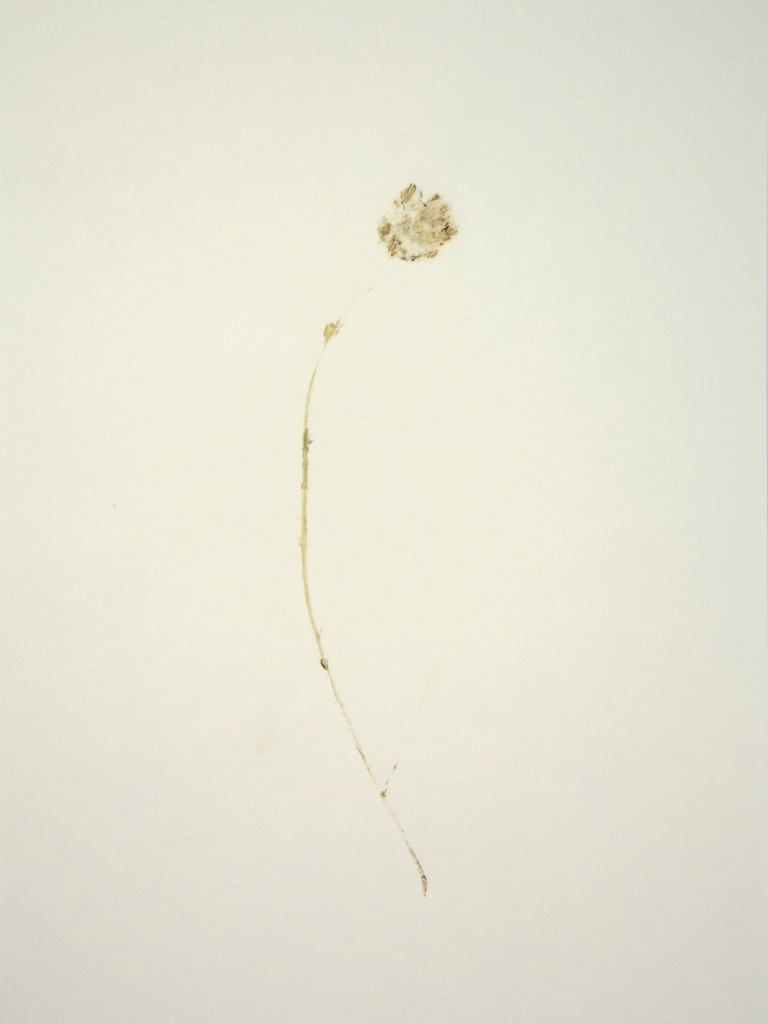 Crepis biennis No. 1, 2014, flower pressing diptych on Hahnemühle Bamboo paper 105g, framed, 47.5 x 67.5 cm

Pressed flower prints are diptychs of deferral, which surround and gesture to the absent flower and use this absence to invoke another place. Or a multi-exposure of layered trees, with its dark points of intersection at once imply permanence and structure fleeting time – the soft movement of the background and the faded edges of the trunks documenting a durational impermanence.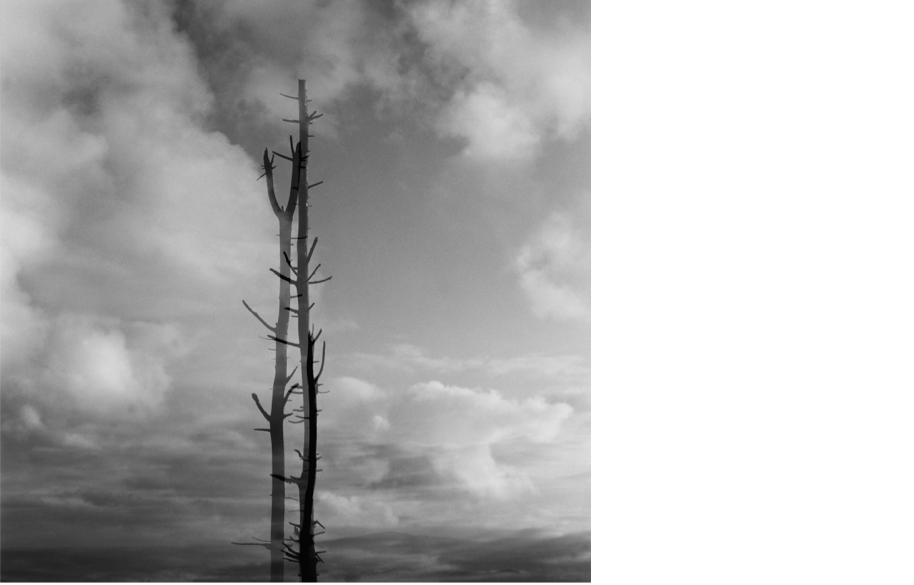 A Parallel Impossibility, 2014, silver gelatine print, 45 x 45 cm
These little assemblages, in this context, are a humbling experience of the mountain, bigger than what we are, more ancient, and outlasting us. This is modest mimicry in the face of that force of ancient nature, a reverential distillation not an attempt to make real, avoiding romanticisation.
These myriad moments are laid out, palimpsest like, to create something else. When we assemble them the place can only be the one that we are in, now, but imbued with the sense of these other, distant, irreconcilable places. The place we conjure is outside of real lived time, real lived experience but these sites of invocation draw together moments of meaning making.
That the viewer is bringing meaning here is significant – the film is provocative for some with explicit Cromwellian associations, that lend different points of entry depending on when and where it is shown and the individual contextual experiences brought by the viewer.
There is a faulty meaning making at play, self-consciously summoned – none of this is 'real', and none of this can distill nature or experience. We are shown how first we intervene and mark the landscape physically, the missile base, or the destruction of last wolf. Then our attention is called to that shape of meaning we attempt to impose to quantify and understand nature, like the Lupus constellation that does not look like a wolf yet has that name artificially ascribed, as if it is something with mythic relevance.
These meanings and these memories are all borrowed from another place and another time, and are the only tools we have to assimilate or understand an experience, though their authenticity is complicated. It reminds me of another Beckettian hero beleaguered by time, not Murphy but Krapp, who assimilates his experience via spools of tape, props recorded year on year, artefacts to amass his experience. Like the intermittent lasers Whelan cast to the sky to transpose Lupus from the southern hemisphere to the north, projected from that place where the last wolf was, we project memories and accumulate meanings in an attempt to see better, see more.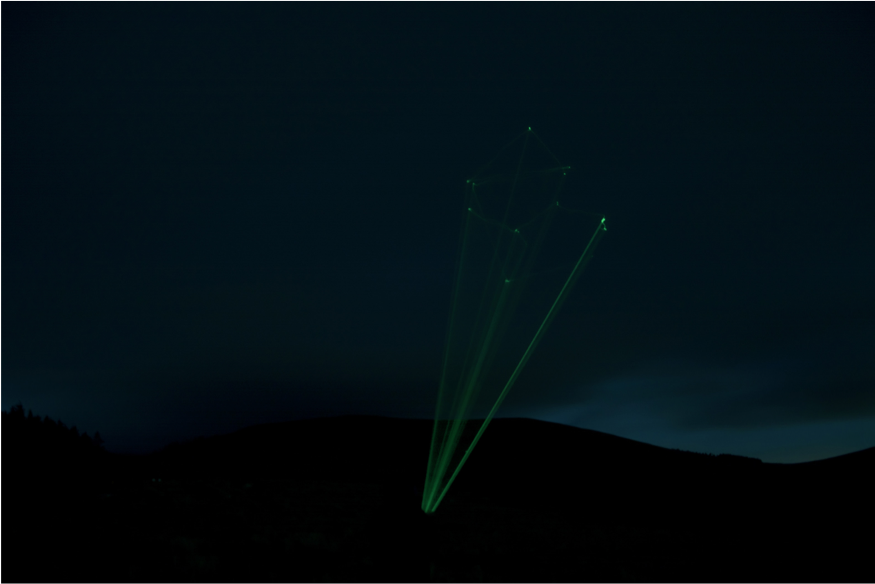 The illumination of the constellation Lupus, 2014, C-Type print, 60 x 90 cm
Stars above Mount Leinster, 2014, C – print (alubond mount), framed, 41.5 x 60 cm, edition of 3 + 2AP
This is not an attempt to recreate authentic, durational experience, something that Henri Bergson, that grand mechanic of duration and experience, showed to be impossible anyway. This is a body of work that effectively gestures at the experience of duration, showing the complicated multiplicity of aspects that shape it. Whelan has moved outside of time to assemble fragments that imply its shape. This is usefully summarized with the artificial 'seeing' technology facilitates, which he shows in magnified images of the stars – it's there, but we couldn't see it without that artificial intervention. Lupus and the associated artefacts, situate us just beyond the real to artificially construct experience more acutely. Bergson concluded that durational time was utterly ineffable and that it could therefore only be shown through fragmented sidelong glances, 'indirectly through images that can never reveal a complete picture… it can only be grasped through a simple intuition of the imagination'.
Here then, are the indirect images to inspire that intuition.
Lupus, is the work of Michael John Whelan and is curated by Eamonn Maxwell and is at Grey Noise Dubai until December 4th
Categories
Tags