Really there are just so many restaurant choices in Dubai. Tons of fast food yes, but also amazing cuisine from all over the world, and some of the freshest seafood you'll ever taste. Where's a hungry art fair attendee to go?
FAD's picked a couple of faves…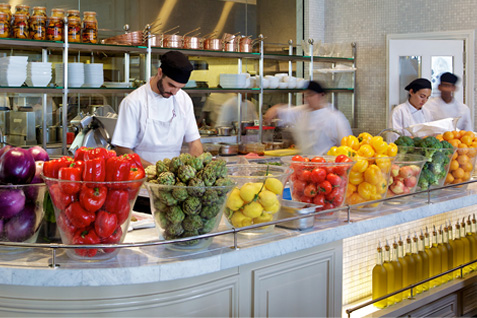 Sometimes after a long hot day you just want perfect, light, southern Mediterranean food and that 's when to head over to La Petite Maison. The Dubai outpost of this celebrated Nice, France restaurant has a menu filled with delicious, vibrant Nicoise staples; artichokes, courgettes, lemons, olives, tomatoes, peppers and girolles sit along with seafood, meat and fresh pasta to produce a style that's light and healthy. Oil from the olive groves that run from the hills of the Alpes Maritimes behind Nice into Liguria is used throughout. Bon Appétit!
<Tomo
The globe trotting traveller gets a lot of sushi put before them but in Dubai a national obsession with seafood means that Japanese cuisine is taken to another level. Tomo is an authentic Japanese restaurant helmed by Partner Chef Takahashi and his team of skilled chefs from Japan at the top the iconic Raffles Dubai pyramid, with 360 views across Dubai. At Tomo, the outdoor seating is traditionally Japanese: low tables set up on a tatami floor and with guests being asked to remove their shoes before stepping on the mat. Traditional dishes include jako salad, sashimi, tempuras, kaki furai, hand rolls and over 15 different varieties of rice. Delicious!
Categories
Tags