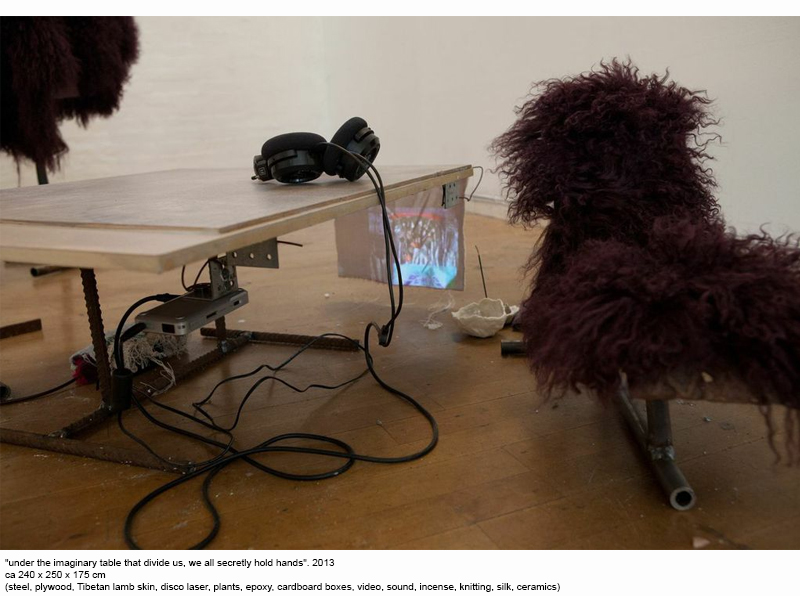 Regency Town House, Brighton Nov 22nd – Dec 7th 2014 Public opening Saturday Nov 22nd 12-6pm Opening hours 12-6pm Wednesday-Sunday or by appointmentRegency Town House, 13 Brunswick Square, Brighton BN3 1EH www.isisgallery.org
…those primitive forms were as nothing compared to the richness of the forms, the magnificence, of a certain pseudo-fauna and flora that will appear at times in certain strictly defined environments. Old apartments constitute such environments, saturated with thmanations of many lives and events; their spent atmospheres rich in the specific ingredients of human dreams'
In Bruno Schulz's extraordinary novella Treatise on Mannequins (1934) the author describes bizarre flowerings in the still air of old, abandoned rooms, much like a discovery of an enormous bee colony in a bed in an unvisited upper room. Although physically distinct, Martin Erik Andersen's rich and rewarding sculptures emanate and fluoresce in similar manner in the raw spaces of the Regency Town House in Brighton.
Schulz was also interested in the lack of importance in the shape of things, in an irreverence in ascribing the essence of an object in accordance with its form. Since the early 90's, Andersen's sculptural works have enjoyed a certain willfulness to baffle, employing a range of materials that are seemingly close to the edge of random. But it is the reactions between these seemingly disparate objects and constructions that is where the beauty lies, rather than their meanings, for meanings are hampered by language, and emotions arrive by instinct. Imprecise welding, cigarette ash, wonky stitching, fuzzy video, music with frustratingly variable tempo – this is Andersen's way. "D'un château l'autre" (2014) is a case in point, whereby seemingly disparate elements can be taken like the fractured sentences of Céline – scraps of thoughts and intentions that reflect the mess of our consciousness.
Featuring a sequence of works throughout the house, "on a plate for you" (2014) is rich with suggestion and paradox. Danish writer Magnus Thorø Clausen elegantly described Andersen's sculptures as being in 'balance between being emphatically physically present and, at the same time, on their way toward erasing themselves, right up to the limit where they are almost disappearing from view; or, in any event, where they are vanishing from whatever thought can hold onto with its notions and conceptions.' And it is in this very difficulty in identifying where the artist is trying to lead us that we find its treasure, as secondary issues of narrative texture, spatial relationships between form and mass, even our own body awareness in relation to the work and its environment, are superseded by the primary objective of eliciting a sense of mystery, possibility and wonder.
Installed by the artist in the raw spaces of the Regency Town House in Brighton, "on a plate for you" (2014) is the Danish artist's second show with John Marchant/Isis Gallery (the first being "mind and matter – slipping through our fingers" (2010) in association with Sprovieri, London).
Martin Erik Andersen (Copenhagen 1964) lives and works in Copenhagen.
This exhibition has been made possible with the kind assistance of Galleri Susanne Ottesen and the Danish Agency for Culture.
Categories
Tags