Isaac Julien THE MAID / REFLECTIONS (Playtime), 2014 Endura Ultra Photograph 160 x 240 cm (63 x 941Ž2 in) Edition 3/6 (edition of 6 + 1 AP) Courtesy of the artist
31 works donated by leading contemporary artists including Chris Ofili, Antony Gormley, Michaël Borremans and Luc Tuymans, to celebrate Parasol unit's 10th Anniversary realised a total of £2,092,250 at Sotheby's this weekend. The enthusiasm in the auction room was reflected in the fact that more than half the lots on offer exceeded their high estimate, with 100% of the works being sold.
Parasol unit's Founder/Director, Ziba Ardalan said: "I am absolutely delighted with this wonderful result which has surpassed our wildest dreams. I want to thank all the artists who donated works for their extraordinary generosity which has enabled us to look towards the future with optimism."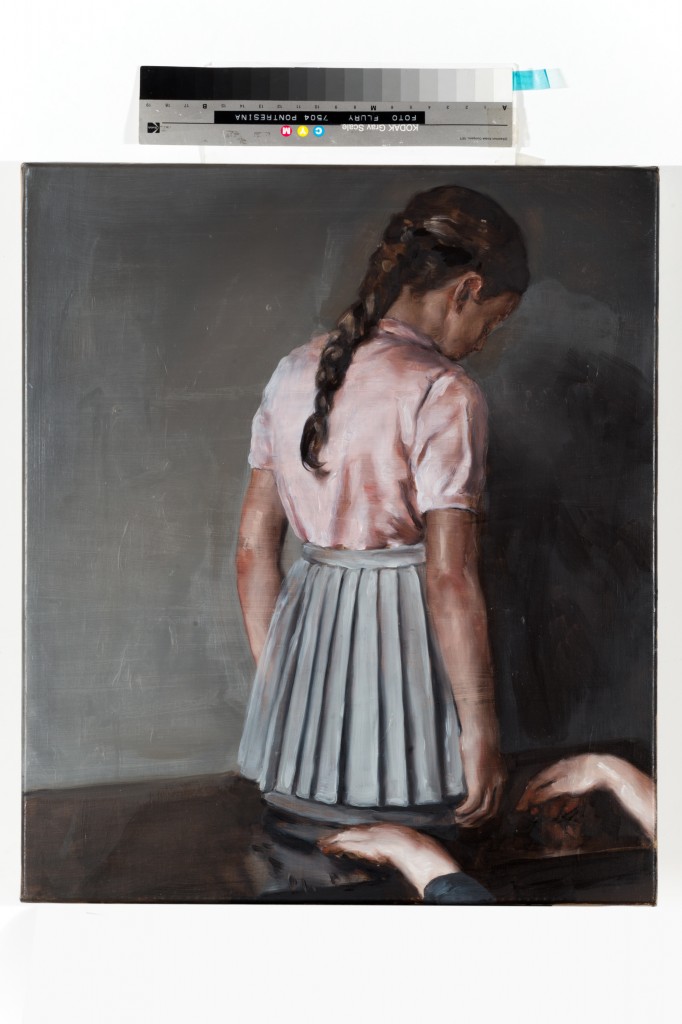 Michaël Borremans The Skirt, 2005 Oil on canvas Size: 70 x 60 cm Anonymous donation
The Sotheby's sale was led by The Skirt, 2005 (est. £150,000-250,000), by the Belgian painter and filmmaker Michaël Borremans, which sold for £926,500, breaking the previous record for the artist which stood at £396,600. It was fitting that a record for the artist should fall during the "Towards Tomorrow" auction, as it was at Parasol unit that Borreman's staged his first London exhibition in 2005, the same year The Skirt was painted.
It was an auction for Belgian painters, as the hammer fell on a triptych by the influential Antwerp-based painter Luc Tuymans at £290,500. The Barrel (Tryptych), 2013, a work of oil on copper, was kindly donated by the artist for the auction
There were also new records for the Scottish artist Charles Avery and the Swiss sculptor Hans Josephsohn. Avery's drawing, Feeding the Gulls, sold for £11,250, part of his continuing project to describe a fictional island, while Josephsohn's figurative brass bust, donated by Iwan and Manuela Wirth, achieved £37,500, easily exceeding the pre-sale estimate of £20,000-£30,000.
Parasol unit also collaborated with Paddle8.com, who auctioned half of the donated works online, raising an additional £126,700. The proceeds raised from both auctions, as well as a private sale of £160,000, totals £2.37 million which will go towards Parasol unit's ambitious exhibition and education programme.
Parasol unit foundation for contemporary art, founded in December 2004, is a registered educational charity and a not-for-profit institution that operates purely for the public benefit. The foundation curates four exhibitions a year, showing the work of international contemporary artists who work in a variety of media. It also stages a number of other artistic projects and gives an annual award.
Parasol unit has the loyal backing of artists who have either shown their work in one of the outstanding exhibitions held at the foundation over the past ten years or are long-term friends and supporters of the foundation. Adel Abdessemed, Cecilia Edefalk, Fiona Banner, , Antony Gormley, Mona Hatoum, Isaac Julien, Idris Kahn, Y.Z. Kami, Robert Mangold, Chris Ofili, Yinka Shonibare, MBE, and Luc Tuymans are among the many artists who generously donated a work for the auction.
Parasol unit foundation for contemporary art 14 Wharf Road , London N1 7RW www.parasol-unit.org
Categories
Tags