Happy Frieze week everyone! This year around it's busier than usual with lots of major exhibitions openings, new galleries, new gallery shows and lots of art fairs. In fact you can be rushed off your feet all week without even setting foot in Regent's Park.
But I did make it across to Frieze and spent six hours there which is actually quite short given how much there is in the sculpture park, Frieze and Frieze Masters – I'll cover Masters in a separate article.
Frieze London
And now on to the big one – enough has been said about how it's just a play pit for the super-rich and that it's not truly representative of what art's all about. Anyone who thinks that probably isn't reading this review anyway, it's best to take the advice of my fellow writer Daniel Barnes – throw yourself into it and enjoy it for what it is.
As with any luxury item for sale, it's important to not look like you're trying to sell so the usual aloof gallery assistants are back paying attention only to their laptops and phone and there's never a price tag to be seen except at smoothie cafes and magazine subscription stands.
But this year some galleries have taken it to extreme and actually tried to look like they have nothing to sell, in fact what they have may actually be unsellable. But it's all just a big statement to make it clear they are on the big guns or that others should now take notice of them. I've created a list of these galleries below:
6 galleries not trying to sell anything … but really they are
1. Gagosian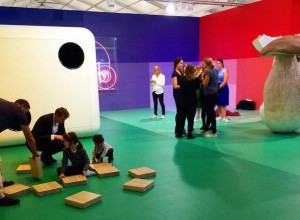 JP Morgan bought 23 Wall Street and only built four stories compared to the high rises surrounding it. It's rumoured that he did this to show that he could buy a piece of prime real estate and didn't need to maximise its utility, simply because that's how wealthy he was.
The Gagosian stand feels very similar as it's been converted into a giant play area including a dice that children are welcome to climb in and out of. It's fun but it also makes it clear that Larry Gagosian is the world's biggest art dealer and can do whatever he wants at Frieze.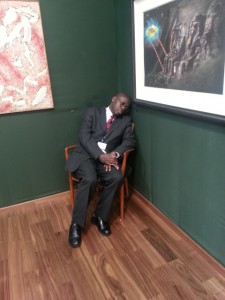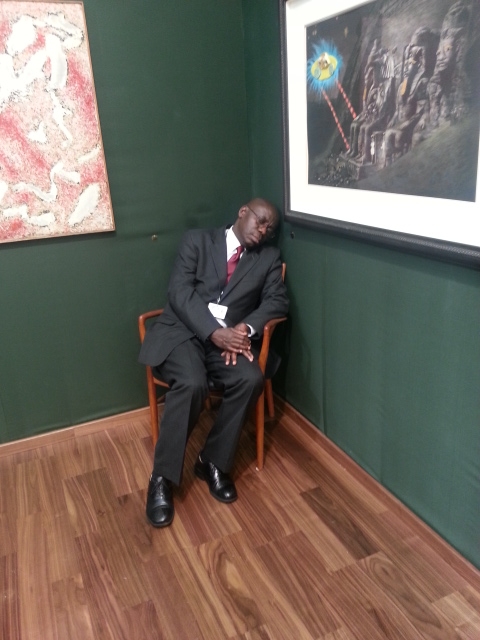 2. Hauser & Wirth
Much attention has been given to this booth curated by Mark Wallinger and it was definitely the busiest at the fair. The works are hung salon style and it's really hard to appreciate anything but the most noticeable 'work' is a guard sleeping in the corner. I thought it could be a comment on how there is always a fair representation of black guards at galleries but not visitors. But this can't be the case, this is Frieze after all and that sought of controversy wouldn't be tolerated.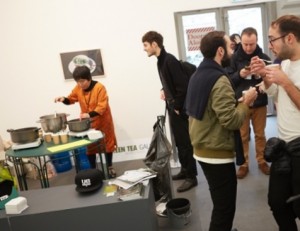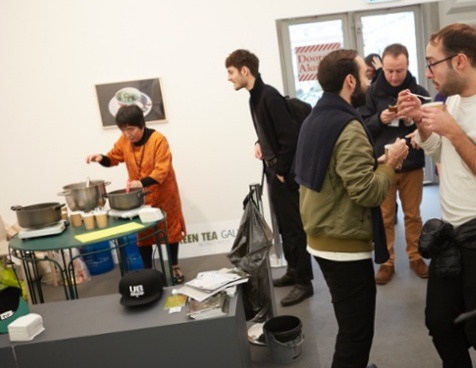 3. Green Tea gallery
Now this is the safe kind of controversy Frieze welcomes. Tea is made with ingredients from around Fukushima that are perfectly safe but are people brave enough to drink it. I did see several queuing it for it and it's just the kind of false danger that will appeal at Frieze. It's also part of the 'Live' programme, which is new to this year's Frieze and includes a bizarre furniture installation by Rodeo gallery from Istanbul.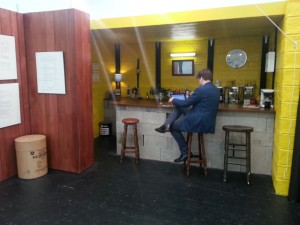 4. Dan Gunn
The Focus section is all about pushing the boat out and makes up this and the next two items. In what appears to be a fallout shelter complete with bar and an arcade machine with game about building a shelter (how self-referential can you get), sits a man at the bar. Is he with the gallery? Does he know he's at an art fair? Can I take one of the books on the shelves? Who knows.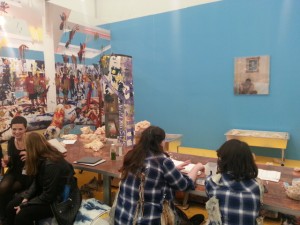 5. Carlos / Ishikawa
This East London gallery's stand just looks like a mess, or as if a bomb went off in a studio with clutter everywhere and artworks on the floor, on the table and hanging off the walls. It's meant to be anarchic but you can't be in a corporative art fair and still consider yourself anarchic.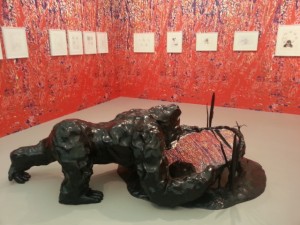 6. Sadie Coles
Back in the main exhibition space  we have a brightly coloured forest covering the walls as a bronze gorilla picks up a pond to gaze at its own reflection. It feels like a dream world combination of two very different works that complement each other surprisingly well.
There are also some impressive individual works on display but it was all about the curated booth this year and once again Gagosian has re-asserted itself at the top of the pile. As for the fair itself, it felt spacious despite hosting ten more galleries this year and wasn't busy on the opening day – an all round pleasant, if tiring, experience.
It's still ridiculously expensive if all you want to do is see some art and you're better off visiting London's galleries for that. Visiting Frieze is only for those interested in what's selling in the art market.
Frieze sculpture park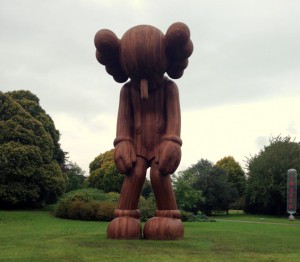 This was my favourite section last year. It's free to view, fun and accessible without any of the lavish 'you can't afford this' trappings of the main fair. The public always love it and it's a great distraction for anyone wandering or jogging through the park.
This is another year of eye-catching sculptures like a Yayoi Kusama pumpkin, a large scale toy dinosaur and nobody will miss the giant caricatured cross between Pinocchio and Mickey Mouse by KAWS (pictured above).
The downside is that it has none of the satire of last year, which poked fun at the opulent Frieze next year. The one exception and my favourite on display is Martin Creed's playful destruction of the still life genre as he tears apart some flowers on screen (pictured below).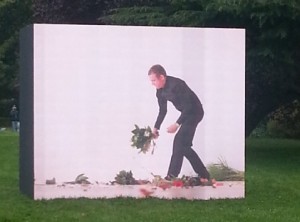 It's still fun to wander round and if you can't turn up in time for a curator's tour the Art Fund app is an invaluable guide to all the artworks on display.
Frieze London is on until 18 October in Regent's Park.
Photographs copyright Creative Review, Observer, Guardian & Tabish Khan
Categories
Tags