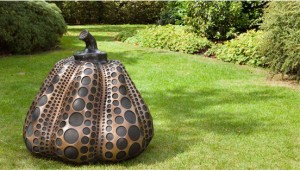 We were just outside Pix Soho when the Peroni began to take hold. I didn't make it to Marian Goodman. I went to the private view of the ICA Offsite at Old Selfridges Hotel, where the best portion of the official Frieze Live programme was being served by the endlessly engaging Isabel Lewis. It was refreshing to be treated as human, as one with a voice, and as one with the need to move around while people were talking. There was a moment, at around 7.15, when we considered how Marian Goodman would compel us to just look at things, and we realised the future of art is engagement.
I sat in front of Gregor Muir, who wore the most dramatic and dashing scarf. The first time I met Gregor I said something idiotic about how Lucky Kunst inspired me, but he seems not to remember. The atmosphere had the happy, 'have a nice day' feeling of a department store, combined with the inclusive liberalism and carefully managed contingency of an art institution. I suddenly felt a terrifying affinity with Hunter S Thomson: how can anyone expect timely, coherent copy when there's so much booze knocking around? My attorney and I sat in the dark, under hewn concrete, surrounded by luscious green pot plants, listening to the captivating Isabel Lewis, collaborator with Tino Sehgal, talk about gardening and pheromones. Lewis delivered an intoxicating mixture of lap dance, music and open dialogue with the audience. Her manner is both serious and playful, dragging people into debate, co-opting people's emotions and creating, like Moses parting the Red Sea, a space in which people could share often untested ideas.
There is something about the Old Selfridge's Hotel that makes you feel that you are at once locked in an impossible moment of history and thrust into a liminal space of the contemporary. Perhaps it is the derelict emptiness, or the pristine waiters handing out canapés, or the sense that lives here crossed catastrophic paths long before you. There's a lot happening here this week and any of it worth going to see, if only you remember to book a free ticket online. The space and its contents merge to create not events but experiences that are valuable in and of themselves, detached from the fever of the fair.
Having arrived home at 6am, disco-damaged and art saturated, Wednesday was a bit of a non day. Peaking too early during Frieze means having to confront the spectacle sober, so I wretched at the thought of a day in the big top amongst the VIP. Today I felt that only a walk around the Sculpture Park calm my nerves. The major virtue of the sculpture park is that it abstracts high-end commercial art from its context, as if it has been deported from the State of Frieze, so it has to stand alone in a damp swell of English mud. Matt Johnson has made a dinosaur, disconcertingly similar to Jake and Dinos Chapmans' The Good, the Bad and the Ugly (which was on show as part of this year's Sculpture in the City outside the Gherkin). It's not clever or funny, or even fun, but only a pale imitation of something that has a genuine idea behind it. Martin Creed has a film, on one of his outdoor screens, which depicts him – in an unusual moment of candour and aggression – kicking over an inoffensive pot plant, making an edifying gesture of nothingness. Kusama has one of those pumpkins, in black and brown, that looks as if it has emerged out of the landscape of hell. It all feels like a feeble attempt to democratise an event that is belligerently elitist, since those of us who have been allowed into to hallowed tent know that the really interesting stuff is guarded by a thousand security personnel inside.
I wandered inside, waving my pass at a bouncer who used to work on the door of a bar I used to frequent in Hoxton – we used to call him, affectionately, The Fat Peter Andre – to take a quick glance at Mark Wallinger's recreation of Freud's study. The only time I met Wallinger, he peered over his 80s glasses at me with a look of pity and contempt as I told him that, at that time, I worked at White Cube; he muttered something about selling my soul. But here he has created something that I felt compelled to visit again, something that – as today's Frieze edition of The Art Newspaper pointed out – is brave and audacious for a commercial gallery. The relative sobriety of the installation is worth a second look because the attempt to characterise contemporary art in terms of the reverence it hopes for is remarkably forward-looking and intellectual in a commercial world. It is high-minded and audacious, but it is also warmly perplexing, and totally Hauser & Wirth it.
Words: Daniel Barnes
Categories
Tags