Frieze art fair's presence in London triggers a raft of satellite events trying to draw the collectors and media attention away from simply Regent's Park. Alongside The Other Art Fair, one other event known as a hotbed of emerging art talent is the combination of Saatchi's New Sensations and the Future Can Wait who share the basement space of Victoria House in Bloomsbury Square.
This is my third consequent year attending – my first visit was fantastic, I was lukewarm to last year's show, and so wasn't sure what to expect in 2014?
Visitors will first venture into the New Sensations exhibition and to call it forgettable would be generous. Although I do see a lot of art on a daily basis, I was expecting at least one artist to offer something I hadn't seen before or present an inventive piece, but was left wanting.
Saatchi Art (formerly Saatchi online) plays a major part in this exhibition and I like several artists on that platform, so it's strange that none of them have found their way into this show. The Saatchi gallery hasn't been delivering on the new artist front either, so it's disappointing to see New Sensations follow suit.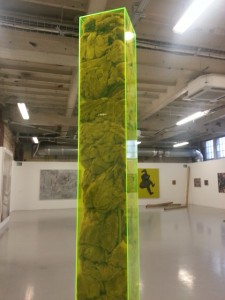 Putting this exhibition behind me I moved on to The Future Can Wait knowing that it can only get better. Thankfully this show has a few more established names on show which brings up the level of art on display.
I'm not sure I've seen a Zavier Ellis curated show without John Stark in it and with good reason, as here we have some of his excellent post-apocalyptic paintings that are stronger than his recent works. There is also a great Dorothy Thompsett fantasy menagerie that looks outwardly peaceful, but is laced with menace.
It's disappointing that I didn't come across any new artists that really struck a chord with me or offered up a piece that made me stop and stare mid-step. There are many emerging talents out there but neither show has been able to find or select them.
Categories
Tags