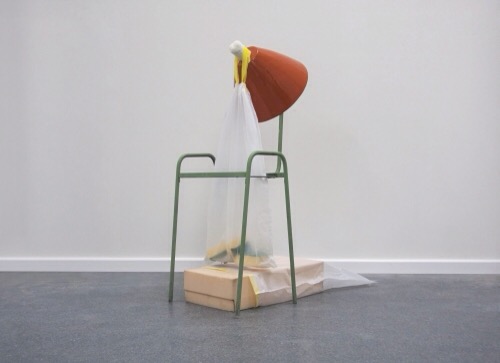 Title: Sayal-Bennett, A, 'Through The Tulips' Medium: Metal Frame, Foam, Plastic Bag, Sponge, Paint Roller Sleeve Year: 2014 Dimensions (cm): 0.4m x 0.6m x 0.8m
Today the shortlist for The Griffin Art Prize was announced, of the ten artists shortlisted, nine are women from the UK's leading art schools.
The ten artists selected for the Prize's shortlist are: Jennifer Campbell, Chudamani Clowes, Elisha Enfield, Yvonne Feng, Evy Jokhova, Matthew Krishanu, Sarah Lederman, Amba Sayal-Bennett, Alexandra Sinopoulou and Jinge Zhao.
The winner of the Prize will be awarded a one-off opportunity to take up a six-month residency in a large well-lit studio above West London's Griffin Gallery in 2015. The winner will also have access to the Innovation & Development Laboratory of leading global art brands Winsor & Newton, Liquitex and Conté à Paris where the latest art products are developed a truly unique offering. The Prize includes the opportunity to exhibit new work in a solo show in September 2015 which will be accompanied by a catalogue.
The Prize is judged by Alastair Smart, Arts Editor and Chief Art Critic at The Sunday Telegraph, Jenny Lindén, owner and Chairman of Lindéngruppen, Jenni Lomax OBE, Director of Camden Arts Centre, and international artists Gordon Cheung and Anj Smith, who will select the winner on 18 November.
An exhibition of work by all of the shortlisted artists will be held at West London's Griffin Gallery, to coincide with the announcement of the winner on 18th November, and will run until 19th December.
Previous winners include Alzbeta Jaresova (2012), who was included in the 2013 Catlin Guide to the 40 most promising new graduate UK artists, and Luke George and Elizabeth Rose (2013) who have just celebrated the launch of their first solo exhibition of work created during their residency in West London's Griffin Gallery.
griffinartprize.com/uk/shortlist-2014
Categories
Tags