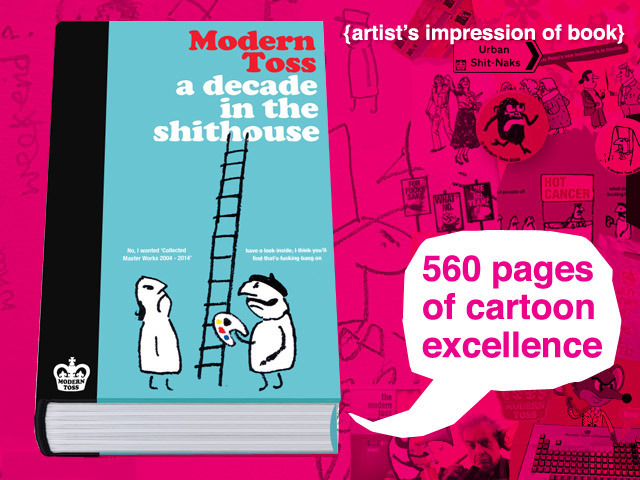 Thursday 2nd- Sunday 19th October 2014 Forge & Co, 154-158 Shoreditch High Street, London E2 6HD Private View Wednesday 1st October 2014 www.moderntoss.com @moderntoss
Britain's premier cult cartoonists and animators Modern Toss bring their unique brand of stylishly cack-handed drawing and precision satire to Forge & Co in Shoreditch this October for an unmissable celebration of ten years at the forefront of the groundbreaking shit scribbling business and the launch of their blockbusting new book, 'A Decade in the Shithouse'.
This two-week strut through their ten year output will feature original drawings and artefacts prised out of the Toss archives, a range of top notch limited edition prints, and some bang up-to- date shouting pictures made from touch-sensitive talking paper.
Also on daily display will be the incredible work of idiot technology that is the 'Periodic Table of Swearing' – a four-legged talking table you can operate like a demented organist piping out swear words based on the chemical elements. Punters are also invited to experience what it's actually like inside a Modern Toss cartoon with The Living Cartoon, and get their face drawn by Jon or Mick (if they're about) in the specially-built Modern Toss Portrait Booth – a unique work of art you can carry around for the rest of your life unless you have plastic surgery.
Follow Modern Toss on Twitter @moderntoss for more information about 'A Decade in the Shithouse', including updates on late night events during the Forge & Co exhibition run.
Who are Modern Toss?
The scurrilous, global cult comic Modern Toss is the work of Jon Link and Mick Bunnage. As writers, cartoonists, and animators they've taken Modern Toss in many different directions- from challenging late night television to cutting edge advertising, and from international design magazines to greeting card racks. This year a Kickstarter campaign for their 10th anniversary book 'A Decade in the Shithouse' became the UK's second biggest ever comic crowdfunding success, exceeding their target within 48 hours of going live. The book is due for release in September of this year. Their work features regularly in The Guardian, Private Eye magazine and The Sunday Times Style Magazine.
Exhibition Supported by:
The exhibition is co-hosted by Sabotage Times, who helped organise Modern Toss' first London solo exhibition in 2010. Founded by James Brown, online magazine Sabotage Times is home to the best writing on the internet about music, football, fashion, travel, TV and film and gets a million unique visitors per month. @sabotagetimes
Forge & Co is a unique new space in the heart of Shoreditch. Set over four floors of a 1950s modernist building, it offers fully serviced co-working spaces, contains an art gallery, event spaces, and a public lounge and brasserie at street level. @forgeandco
About Mark Westall