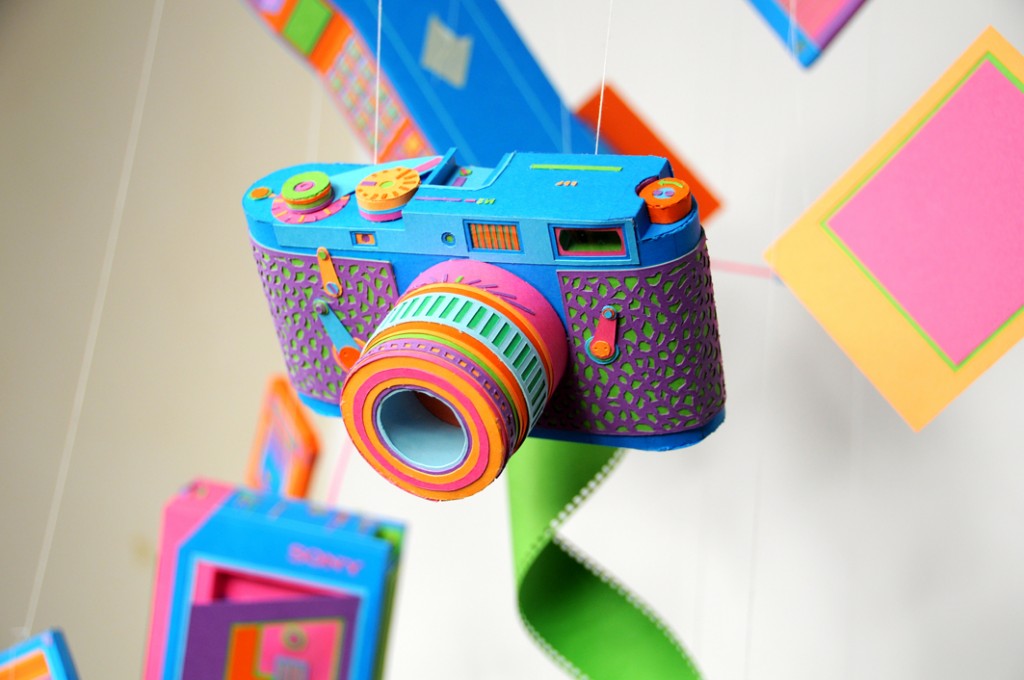 Zim & Zou Back to Basics 2 Camera A, 2011 ?Digital print, edition of 25, £75
22nd March – 1st April 2012
WIN Tickets in the PICKMEUP/FAD competition here:www.fadwebsite.com/pick-me-up-2012-competition
Pick Me Up, the UK's first annual contemporary graphic art fair and festival, celebrating graphic arts in all its forms, returns for its biggest edition yet this spring. Open from 22nd March to 1st April, the fair will showcase the very best illustrators, graphic novelists, cartoonists, and graphic designers from around the UK and the world with original works and prints available to purchase from just £10.
A selection of the most exciting graphic art collectives and galleries have been invited to occupy Somerset House's Embankment Galleries to create unique spaces and installations, including Nelly Duff, the London gallery that represents among others Barack Obama's favourite street artist Ben Eine and the fine line drawings of Jessica Albarn, sister to Blur's Damon Albarn.
The fair offers the opportunity to meet the artists, watch them work and get involved, with a lively events programme ranging from a children's illustration weekend to a portrait booth with Guardian regulars Modern Toss, workshops on comics and cartooning from Pick Me Up favourites NoBrow and SelfMadeHero and a Paper Toy Workshop with Creative Review magazine. New this year will be a space dedicated to workshops, live music, spoken word and live drawing with a bar open every evening.
This year, Pick Me Up's artists in residence will be the London based illustration collective Peepshow, who will present their Museum of Objects and Origins and invite a rosta of special guests, as well as running workshops throughout the fair.
Also part of the fair is Pick Me Up Selects, an exhibition of 20 specially selected international rising stars of the graphic arts world including Riikka Sormunen, Mimi Leung and Zim and Zou. Each will be producing new, exclusive work to see and buy.
As well as providing a platform for emerging talent, Daily Specials will bring the finest names in illustration to the heart of the gallery on a daily basis including legendary graphic artist George Hardie, who was responsible for many cult 60s and 70s album covers such as Led Zepplin's debut and Pink Floyd's Dark Side of The Moon. Other guests will include Mr Bingo, character designer James Jarvis, children's book illustrators Bruce Ingman and Marion Deuchars, who will run her Art Factory workshop for families at the fair.
Other highlights include East London based gallery Nelly Duff's pop-up zoo of animal characters made from a jungle of newly commissioned prints and independent publishing champions Beach London's selection of prints and range of limited edition and small-press artists' books and zines displayed in a vintage library setting. There will be international contributions from Netherlands gallery Ship of Fools and Spanish duo Cachetejack, as well as a special focus on talent from the South West of England from SOMA gallery and Scrumping with Puck Studio. With lots more workshops and weekend events, as well as talks, performances, DJs and portfolio reviews, the 11 day fair promises to be the most exciting yet.
All work on display at Pick Me Up is available to purchase with prices to suit every pocket from £10 to £500. The full programme of exhibitors and events will be detailed on our website www.somersethouse.org.uk
Exhibitors
Nelly Duff, a gallery based on Columbia Road in London's East End, opened its doors in 2005 and takes its name from the rhyming slang for 'life' (duff rhymes with puff, which means 'breath of life'). The gallery prides itself on being one of the first Edition Houses and physical spaces in London to sell the work of pioneering international street artists from Sheffield to Sao Paolo. Nelly Duff's pop-up zoo will be a jungle of animal prints from their artists including Barack Obama's favorite street artist Ben Eine, Dr D, Jessica Albarn and Sweet Toof.
A Two Pipe Problem Established in 2009, A Two Pipe Problem is a letterpress that has fast gained a reputation for designing and printing beautiful and exquisite work. The printer, designer, art director and envelope stuffer Stephen Kenny maintains an ethos of it all being about 'design by movable type' – no computers. For Pick Me Up, Stephen will be moving part of his studio from Walthamstow in East London (a 1930s proofing press and part of his wood type collection) to the fair. Visitors will be able to buy prints and cards, talk to Stephen about his work and the history of letterpress or have a go at printing one of his designs and take home the fruits of their labour.
Landfill Editions Independent publishers Landfill Editions will launch a new collection of prints and objects at Pick Me Up 2012. Taking a 1971 design by legendary artist Eduardo Paolozzi as a starting point, the new works will be by contemporary artists whose approach resonates with Paolozzi's. The range will include bespoke printed plates, glassware, prints, books and ceramics that all branch out from a sculptural centrepiece and the original Paolozzi print itself.
YCN is a collaborative creative company marrying a multi-disciplinary team with a growing roster of international illustrators. In their shop and library at 72 Rivington Street in London they show and sell exclusive artist books, prints and other lovingly produced collectables. YCN will be relocating their shop to Pick Me Up, proudly presenting some of the freshest illustration talent in the world for visitors to take home.
Beach London For Pick Me Up they will present a small-press library, with a focus on five of the most inspirational international small- press publishers: NoBrow (Eng), Museums Press (Sco), Lubok (Ger), Nieves (Swi) and Seems (USA).
Each of these publishers will be showing their whole catalogues along with original prints.
Ship of Fools is a graphic art gallery based in the Netherlands. They describe it as "a place to find art that makes you smile, art that has a nice set of balls, is straight forward and honest". Ship of Fools show art from people they believe in, not only names you know but also new ones. They come from all sorts of places, and all sorts of countries. For Pick Me Up they will show work from Julian Sirre, Jordy van den Nieuwendijk and Kuvva.
Cachetejack is the Spanish illustration duo, Nuria Bellver and Raquel Fanjul from Valencia. At Pick Me Up they will present their prints, postcards, books and zines and run a series of workshops based around collage, mask making and even key rings.
People of Print Established in 2008, People of Print exhibits and sells the printed work of emerging and talented printmakers from across the globe. They work collaboratively with solo artists, studios, shops, agencies and collectives to develop a global community in the world of print. For Pick Me Up, they will show a selection of prints from their worldwide collection, including the likes of Bongout, Seripop, Jasper Goodall, Killer Acid, Mike Zimmerman, Heretic and many more. People of Print will also provide a series of hands-on print workshops demonstrating various methods of printmaking so visitors can participate in creating their own print or t-shirt from a selection of ready made designs.
Soho Warriors Football Club Founded by illustrators Chris and Matthew Dent, the Soho Warriors Football Club (SWFC) is a group of 20 men who play football together and work together to create exciting football inspired projects. The team consists of artists, illustrators, designers, photographers, web designers and filmmakers fusing their love of football with their creative backgrounds. For Pick me Up 2012 SWFC will show a selection of work by illustrators including Adrian Johnson and Matthew Dent.
The Peepshow collective was founded in 2000 by a group of University of Brighton graduates who continue to collaborate on projects involving illustration, advertising, art direction, moving image, set design, mixed media installation and fashion and textile design for clients including MTV, The Guardian and BBC. For Pick me Up 2012, Peepshow will be the fair's artists in residence and bring together a collection of made paper artifacts including drawings, objects, prints, and costumes, to be housed in their very own Pitt Rivers inspired Museum of Objects and Origins. Exhibiting items from an invented past, the collection will also be a living, growing, changing display as themed workshops with the public will create new works to fill the final few empty cabinets. Peepshow will host a series of workshops with special guests throughout the fair.
Puck Studio
Puck Studio is a creative studio based in East London led by illustrators David Gibbons and Robbie Wilkinson with a focus on illustration, print making, vinyl displays and installations. At this year's Pick Me Up they will present Scrumping, an eclectic and exciting range of some of the best creative talents working in the South West of England. From established greats to emerging talents, Scrumping is a celebration of what the South West illustration scene has to offer in and around an apple tree like work station where prints will be hung from its branches for visitors to view and pluck.
Print Club London is an East London print studio and will be returning to Pick Me Up for the third time this year with their fully functioning print studio. Visitors will be able to see the full process of creating a screen print as well as pulling their own print for a bargain £15.
SOMA Bristol based contemporary illustration and graphic design gallery Soma was established in 2004.They specialise in limited edition prints by illustrators, printmakers and graphic designers. For Pick Me Up 2012 they will show new work by Andy Smith, Crispin Finn, Tom Frost, Peskimo and Gemma Correll.
PICKMEUP Selects
Pick Me Up will showcase the best and most interesting new graphic art talent with the 20 designers and illustrators chosen for the Pick Me Up Selects exhibition that runs alongside the fair. A selection panel of distinguished figures from the graphics world including Camilla Parsons, Outline Editions; John O'Reilly, Varoom magazine; Angharad Lewis, Grafik Magazine; Liz Farrelly, writer and the curatorial team at Somerset House, have hand-picked the artists to exhibit everything from watercolours and collage to paper sculpture. A work by each of the artists will be available in a limited edition postcard box set for just £12.
The artists are Sarah Beetson, Tim McDonagh, Tim Enthoven, Yoko Furusho, Paul X Johnson, Matthew the Horse, Michael Kirkham, Mimi Leung, Sac Magique, Sarah Maycock, Yuko Michishita, Jon McNaught, Martin Nicolausson, Niki Pilkington, David Sparshott, Kristjana S Williams, Phil Wrigglesworth, Riikka Sormunen, Zeloot and Zim&Zou.
Categories
Tags