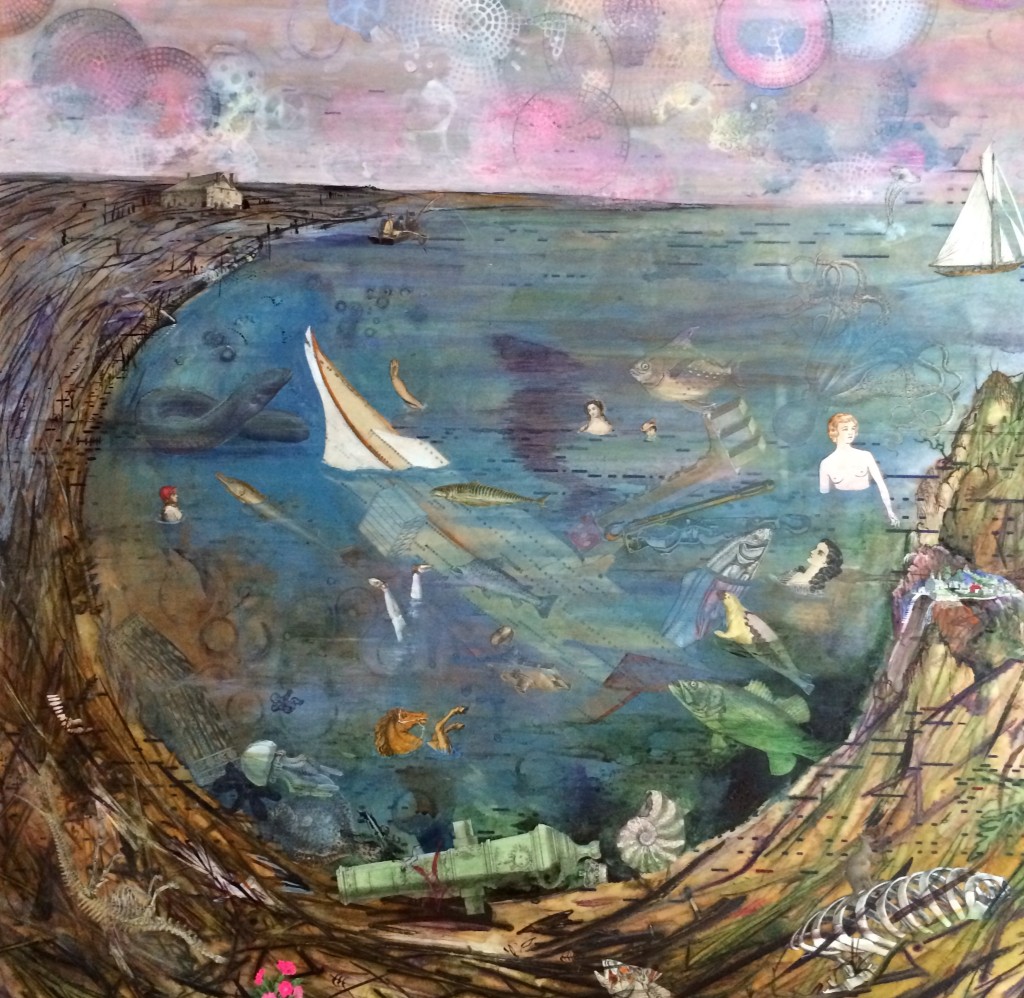 Shipwreck, ink, acrylic, and collage, 2014
While owls perch, ghostly heads float, dinosaur fossils remain intact, and octopi oscillate. Face the challenge to sift through waves, layers and swirls of muted browns, pungent purples, tinged greens, golds and seamlessly saturated blues, and you may find your gaze drifting through mirages of swordfish prodding, lost lovers embracing, and elephants stampeding across delicately paved piano scrolls.
On view from September 4th through October 11th NYC's RYAN LEE will host a remarkable solo exhibition featuring the large scale and multi-paneled paintings, graphite works, and hypnotic animations of Josh Dorman.  With his organic, yet deliberate use of meticulously arranged materials, textures and techniques, Dorman's kaleidoscopic works beckons audiences to take a journey toward an awakening of the subliminal subconscious.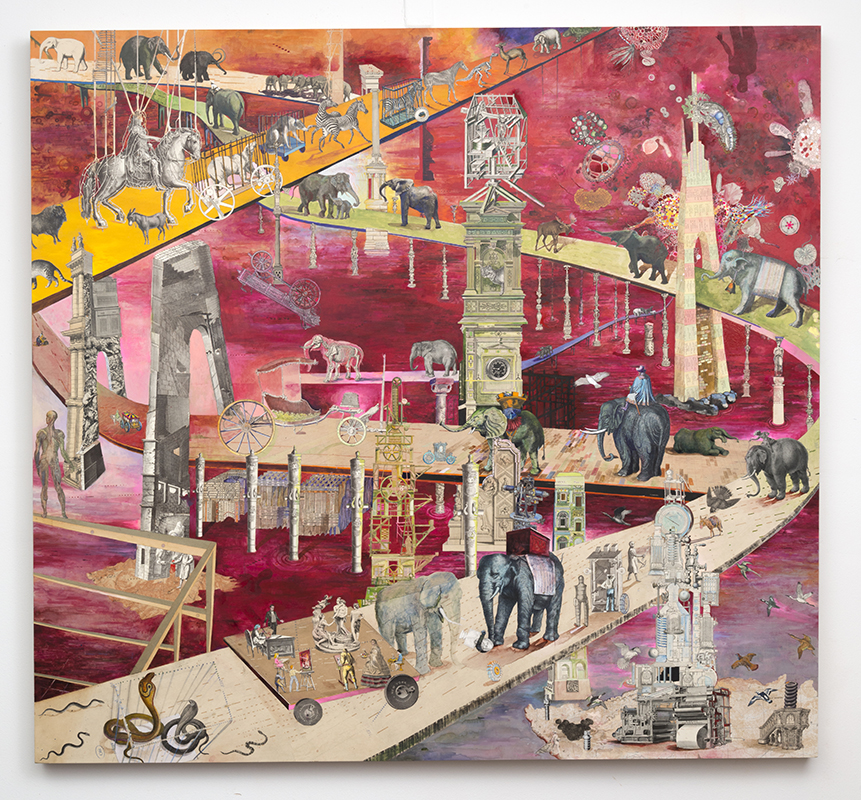 Red Roil, ink, acrylic, and collage, 2014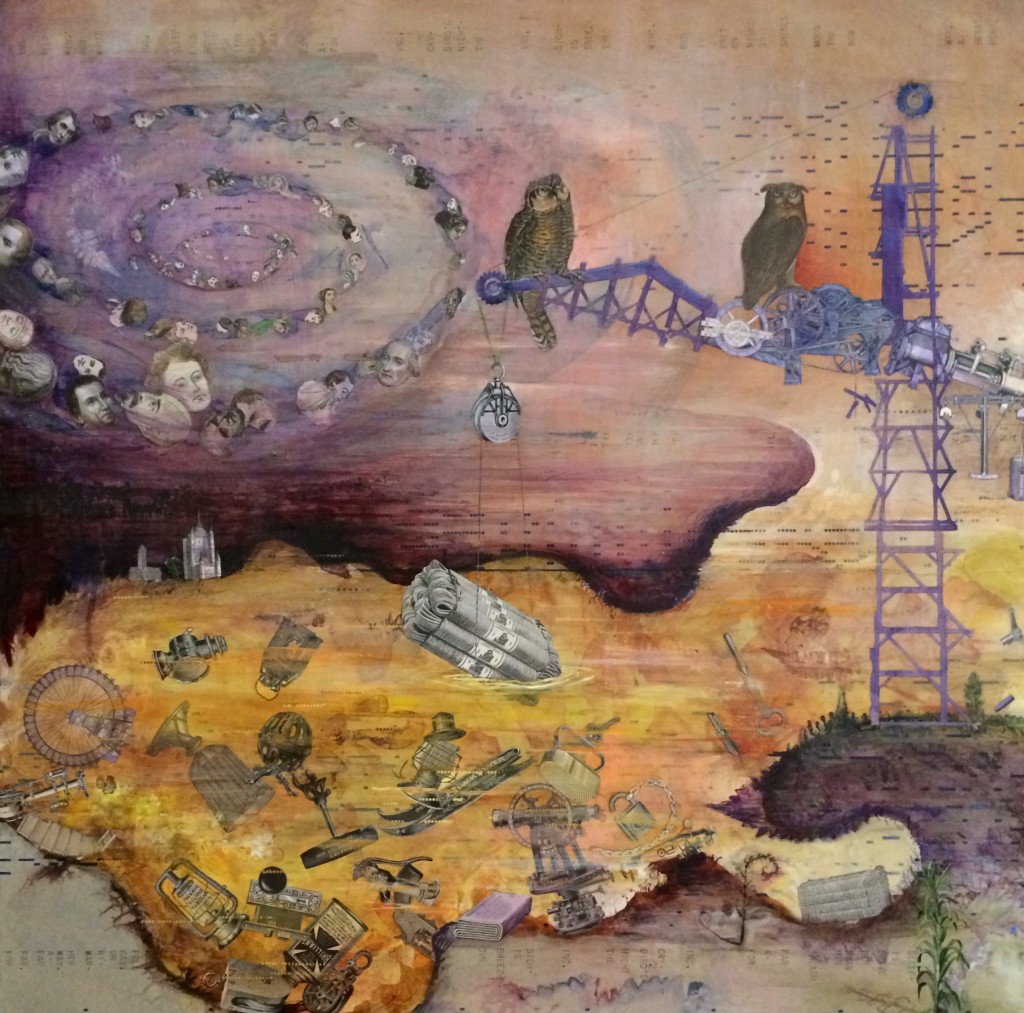 Alone With Owls, ink, acrylic, and collage, 2014
While toying with suggestions of dreams, or of a life once lived as seen through the breaths of a gestural romance, he approaches his multi-dimensionally designed enclaves with a systematic technique, while simultaneously mastering the art of tapping into the inherent subconscious, thus allowing for a synthesization of seemingly chaotic worlds, time portals, and ideas to come to symbiotic materialization.
Graduating from Skidmore college in 1988 and receiving his MFA from Queen's college in 1992, Dorman has exhibited with some of the world's leading art institutions such as: The CUE Art Foundation, The Drawing Center, Trierenberg Corporate Kunsthalle, The National Academy Museum, and The Craft and Folk Art Museum. Recently finishing a residency at the Art Omi in Ghent, 'Whorled' seeks to reveal many of of his initial and ongoing inspirations while taking into account the significant changes his artistic career has endured over the past years, both in technique and personal growth.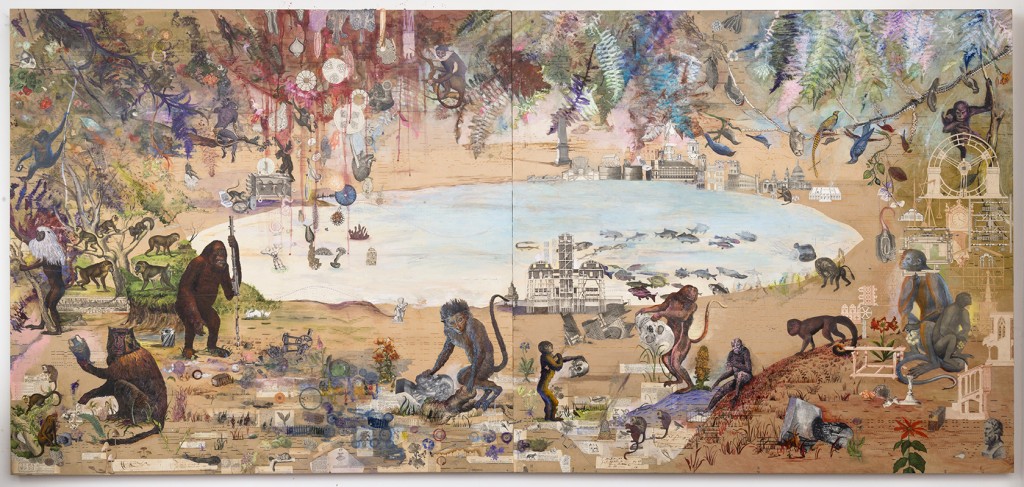 Memento Mori, ink, acrylic, and collage, 2014
Existing as an avid collector of antiquarian texts, from botany and zoology, to aerodynamics, ancient philosophy and the history of joke telling, Dorman is fascinated by how the human cognitive collects and retains information in the 21st century. While he considers himself primarily a painter, he is also an archivist of the past.  One who is attempting to understand how pre-photographic illustrations, diagrams, and texts continue to affect us in our present state, both individually and collectively, and on a diurnal basis.
Diving vehemently into his 200+ year old spines, he endlessly sifts through, in and around libraries of content. Carefully, he carves out figures which entice, attract and motivate him. As he returns back to his panels, he will begin to methodically apply trimmed variations of piano scrolls, a new interest which he has grown more fond of since his move away from the application of historical maps. These metaphorical motifs of movement punctuate and (puncture)* the foundations for his seemingly contrasting atmospheres, creating a harmonious gateway; one which allows for the viewer to choose their own journey.  Taking a step back, he listens for the que, cleverly weaving his timeless figures into mystically conjured 'Whorlds'.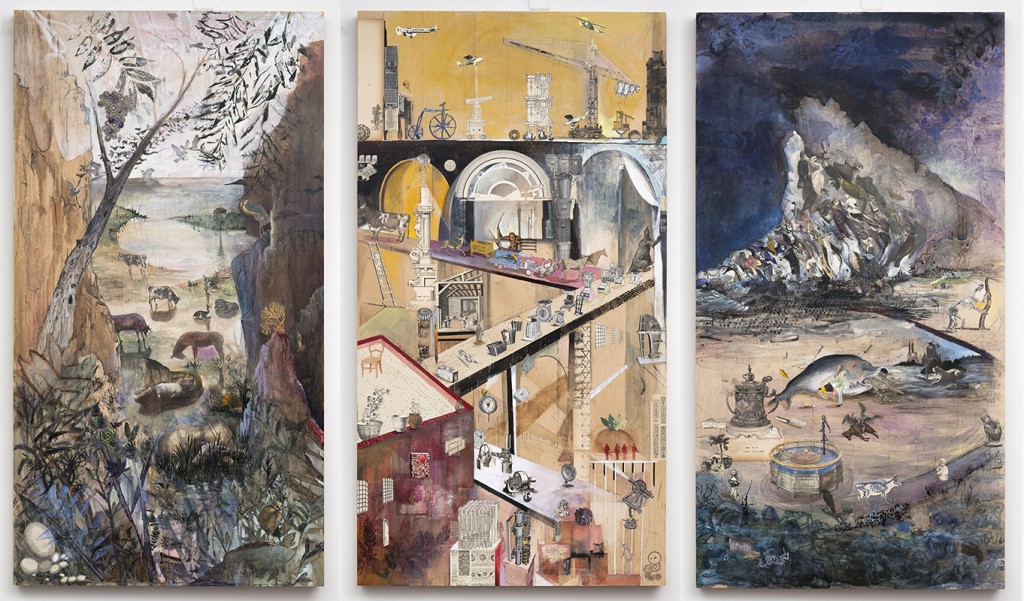 Book Of Hours, ink, acrylic, and collage, 2014
Through this respectful re-appropriation, he successfully plucks images out of their initial context, resulting in mystical realms to rise to fruition, taking on their own transformative lives or narrative. Turning then to his acrylic brushes, he accentuates and embellishes, melting in meditative peace with every stroke.  Then, to truly awaken all of what he has created, he injects a deeper layer of breath into his work by incorporating bouquets of foliage dripped with ink, allowing for authentic stencils to take form, where a revived materiality of the psychological unfolds onto a never ending palette of sublime hyper intensity.
Next Time/Go To See, ink, acrylic, and collage, 2014
Another noticeable departure from earlier works, is Dorman's heightened awareness and lack of fear towards the powerful use of a single color. With a series of paintings particularly exploring the affects of the color blue,' Whorled' also features an array of panels that pay homage to this sometimes understated and overused powerful prime hue.
Overnight, ink, acrylic and collage, 2014
Taking his artistic interests to another level, recently Dorman has immersed himself into the world of animation. Collaborating with celebrated British electro-acoustic music composer, Anna Clyne, together the two have produced riveting dialogues of illustrated rhythm. Produced by Vision Into Art, on September 18th, visitors can also expect a live performance by violinists, Amy Kaufmann and Cornelius Dufallo to coincide with projections of the animated films at RYAN LEE.
If one dares to fall, submerge, intertwine and unwind with the worlds and multiple dimensions the elucidation of Dorman's open ended canvas's insinuate; an organic interpretation will inevitably arise. Although Dorman's subjective and objective journeys can assist to uncover the psychological and sociological issues which tend to hide within the individual, and collective cognitive, one which he continues to grow with overtime, he does not intend to instruct the viewer on how to think. Either you choose a cluster of piano scrolls as your guide, blossoms of color as your relatable refuge or re-occurring characters as your gallant chauffeurs, when attempting to understand the breathtaking works of Dorman— there is never a wrong choice.
Josh Dorman's 'Whorled' will be on view from September 4th-October 11th at:
RYAN LEE

515 West 26th Street
New York, NY 10001
*Taken from the Artist himself: installationmag.com
All images courtesy of the artist and RYAN LEE, New York 
Categories
Tags