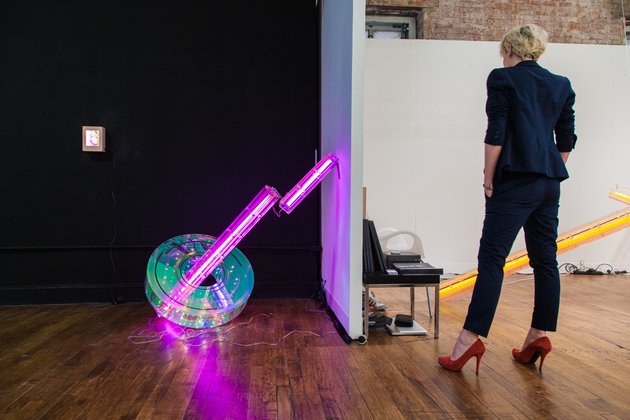 Slick and sleek, cool and enticing, laid back -yet forward thinking, this years VOLTA Art Fair struck gold again as being one of the most cutting edge venues for fair goers to visit during Armory week in the NYC. Located in a charismatic, spacious 2 story building on one of the hippest corners of SOHO, exclusive gallery owners who have understood and harnessed the importance of the dynamic relationship which occurs between the artists whom they represent were invited to participate. A show which supports the passion and persistence of emerging solo artists' projects and the American incarnation of a successful young fair founded in Basel in 2005,  by refocusing the fair-going experience to solo-artist projects, VOLTA's New York edition promotes a deep exploration of the work of its invited participants and offers the opportunity for new discoveries. VOLTA showcases galleries — whether young or mature — that choose to work with the most exciting emerging artists. Thus providing a platform for challenging, often complimentary – and sometimes competing – ideas about contemporary art.  Functioning as an almost deconstructed anti-thesis of the Armory fair, for which the master of  innovativeness whom Armory week is celebrated for, Marcel Duchamp, Amanda Coulson has indeed mastered the art in choosing to invite galleries whom pride themselves on maintaining  these organic and empathetic relationships from point A to B, C, D… and beyond.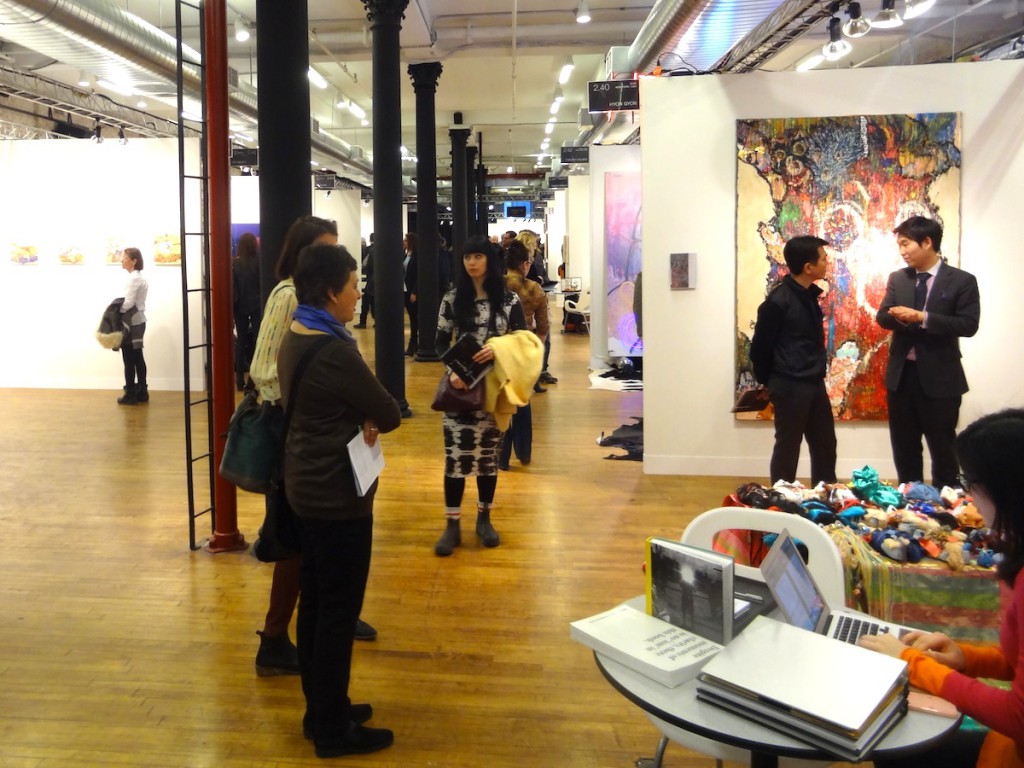 Installation shot of Volta2014
Simply done, and filled with tasteful and careful executions- VOLTA certainly re-instills hope and faith in the seemingly ever-so- hungry commercial art fair scene. This strict solo format gives the New York Fair its unique character, which curators and collectors often compare favorably to experiencing a series of intense studio visits.  It is obvious that the art market has been, and continues to be clearly shifting, proving  that collectors are becoming more interested in a  story or a creative individual whom they can relate, rather than just a  price tag which they might be able to turn for profit in the future. The evocative emotions which are awakened when situated in front of  a single artist's narrative is just as equally important as skill, value and worth and VOLTA most definitely mastered this methodological combination.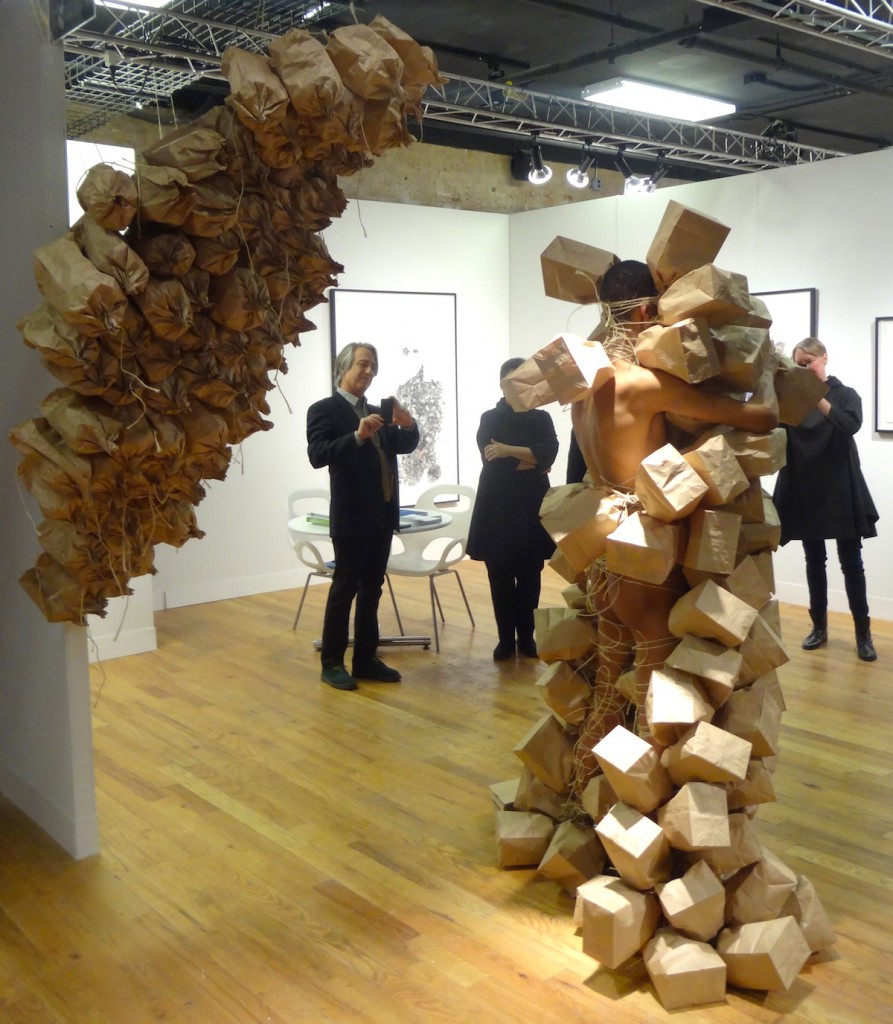 Wilmer Wilson IV performing in the CONNERSMITH  Booth. Photo: Benjamin Sutton.
Walking in, through and around the cleverly tailored 'boutique-like' stalls, I soon reached the second floor to find VOLTA's media partner GalleryLOG team immersed in a heavily equipped video camp with aims to capture one-on- one interviews and intimate, yet relaxed conversations with loyal collectors and fair participants who have faithfully engaged and experienced VOLTA since its inception. This type of interaction was most definitely something one normally does not witness in the middle of a fair setting, so I naturally gravitated towards it (along with many other participants). GalleryLOG is a two year old start up,which is headed by the innovative and ingenious Bahram Safinia, and he and his GalleryLOG crew are revolutionizing the way in which galleries choose to portray their artists to press, collectors, and genuine art lovers. How may you ask? The answer: By, bringing the textual based press release to LIFE through eloquent video! Not too long ago, Safinia began asking the questions:  How well are press releases appreciated by the audiences whom they are directed towards? And more importantly, how EFFECTIVE are they? While chatting with Safinia  next to the smoothly running GalleryLOG video station, he relayed to me some compelling evidence. After sending out a simple survey (seen below):
He received these results:
2% = Yes, always, love 'em
27% = Rarely, barely, at a glance
71% = No, never. Who has time?!
These numbers shed immense light on the fact that the way we view and relate to artists and their work is drastically changing.  As most of the art world probably knows,  the  time, effort and compromise that goes into composing a well written and well executed all party pleasing press release is usually exhausting. Not to mention, the time and effort that it takes to read one! Additionally, the perplexing politics which can occur during the writing of a release can tend to cause friction between gallerist and the artist. Dealing with issues such as: Commercial versus the poetic.  Fact versus the sublime.  Exhibiting history versus the current, and so forth. To transcend these conflictions, GalleryLOG strives to deliver an honest conversation with the artist, gallery owner or sometimes both- thus igniting the perfect creative comprise. Inspired by silent films from Harold Llyod to Chaplin, GalleryLOG's simplistic black and white video, beautifully composed piano tracks , combined with raw, script-less monologues  undeniably evoke an irreplaceable viewer experience enticing one to get up, get out and catch the exhibition!  Of course, nothing could ever replace viewing art in the physical realm but, as the passionately driven Safinia further commented to me, "GalleryLOG uses video to enhance the way galleries communicate. I strive for GalleryLOG videos to inspire a heightened curiosity towards the contemporary art realm, and to engage people to become more involved with the arts community.  Because video is fast becoming the preferred medium of communication, in my perspective the work that we produce is the perfect compromise between the poetic aims of the artist, the business strategies of the gallerist and the visual emotive needs of the viewer."
Visit Gallery Log to find out more at: www.GalleryLog.com
Additionally, check this interview with the man behind it all,  Bahram Safinia : HERE
So, finally after all of the thoughtful looking, carefree conversing, poetic photographing, and lighthearted liaising, with galleries from all over the globe: from London based Jack Bell Gallery and Beers Contemporary, NYC's Hionas Gallery and Morgan Lehman , to Tokyo's MA2 and Gallery MOMO and Germany's Gallery Kornfeld and Heike Strelow, it was tough to choose only 5 highlights. But nonetheless…
Here are FADNewYork's TOP 5 highlights from this year's Volta2014 in NYC
#1.  Katja Loher& c24 Gallery
Located on the first floor, it was virtually impossible to overlook  the brilliantly hand blown glass which encompassed digital videos made by the Swiss Native now New Yorker visual and performance artist, Katja Loher.  Making herself present to show fair goers through and around the booth, explaining all of the processes and inspirations behind her work, by peering into these glass orbs, the viewer enters a parallel universe entirely scripted, choreographed and filmed by Loher.
Check out this collaborative video with Katja Loher, C24 Gallery and GalleryLOG
Katja Loher, Toy Bubble, 2010, 2-Channel video composition, hand-blown glass bubbles, video screen embedded in an acrylic box, 2:22 minutes, looped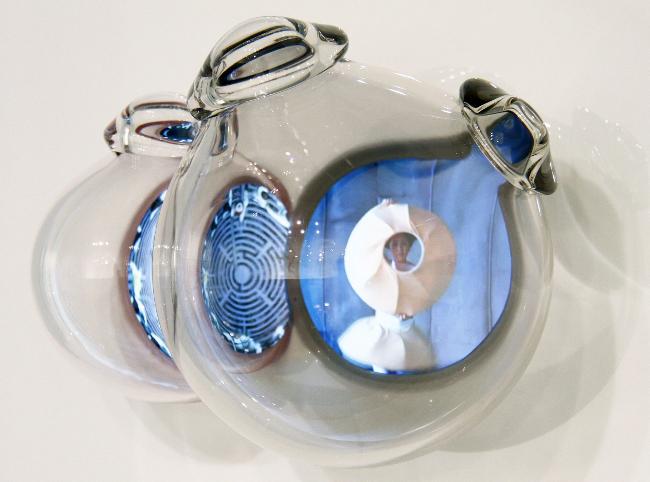 Katja Loher,  Space Bubble, 2011, Two synchronized videos, 1:40 minutes each, looped. Hand-blown glass bubble and video screen embedded in an acrylic box
Read more about artist Katja Loher: HERE
or
Visit Katja Loher's website: www.katjaloher.com
About C24 Gallery: Directed by Lisa De Simone, based in New York City and founded in 2011, C24 Gallery focuses on contemporary art. The gallery handles work in all media, including painting, sculpture, photography, film, video, drawing, printmaking, and installations.
Katja Loher+ C24 gallery= While expanding the progressive vision C24 seeks to uphold, Loher's  digitally enlightening and socially engaging sculptures and performing personas address matters of the human psyche and the forward thinking nature we should all seek to collectively cultivate.
#2. Alfred Steiner & Gallery Poulsen
Alfred Steiner, Sponge (Spongebob), 2014, Oil on medium-density fiberboard
Alfred Steiner, Plankton (Sheldon), 2013, watercolor on paper, 30 x 22 inches
Although Steiner was not present to explain his work, nonetheless,  it was incredibly evident how greatly gallery owner, Morten Poulsen admires, understands and affirmatively stands by Steiner's graphically empowering work. Armed with answers to any questions surrounding Steiner's erotic canvases, it was refreshing to witness a gallery owner's genuine contempt for the artist they seek to represent.
Morten Poulsen standing next to Steiners work- Photo courtesy of: well, you see the watermark.
About Alfred Steiner:  Born 1973 in Cincinnati, Ohio, USA he explains the process behind his work:
"After I settle on an object, I scour Google Images for a suitable photographic model. I use watercolor both to unite the disparate elements and to engage the tradition of naturalist illustration, keeping in mind that the underlying subjects are often wildlife.These works are hybrids of the stylized and the naturalistic. They are one answer to the question How can one reconcile the stylized and the naturalistic?"
To read more go: HERE
or
Visit Alfred Steiner's website: www.alfredsteiner.com
About Gallery Poulsen: While visiting his booth, Morten Poulsen explained how he had come to a point where he knew enough artists around the world whom he both admired and shared an open and trusting professional relationship with.  As he motioned his arms gallantly upwards  while looking off into the near distance as a powerful orator would do towards his audiences …he proclaimed to me, "So, I started my own gallery! Of course, only with the support of the artists. " Now an established gallery in the middle of Copenhagen. 10 years have passed since the gallery opened – it was launched in Jutland, but soon found his home in the capital of Denmark. Since 2010, the address was in the meatpacking district of Vesterbro.
Alfred Steiner + Gallery Poulsen= Humorously complex with a fearless nature to strike the masses with charmingly bombastic layerings of  images and personality from a different paradigm, Steiner's work questions while simultaneously answering. And  as Gallery Poulsen only exhibits  art, artists and gallery shows, of a varied selection from today's diverse art world with emphasis on figurative art, often with a political-satirical character- these two make for a perfect match.
#3. Alicia DeBrincat & Kianga Ellis Projects
With vivid use of contrasting color, material and content, Alicia DeBrincat's work is visually compelling.  Creating a transcending atmosphere of ambiguity the viewer is left curiously questioning and ponder who, what, when and why- and for good reason.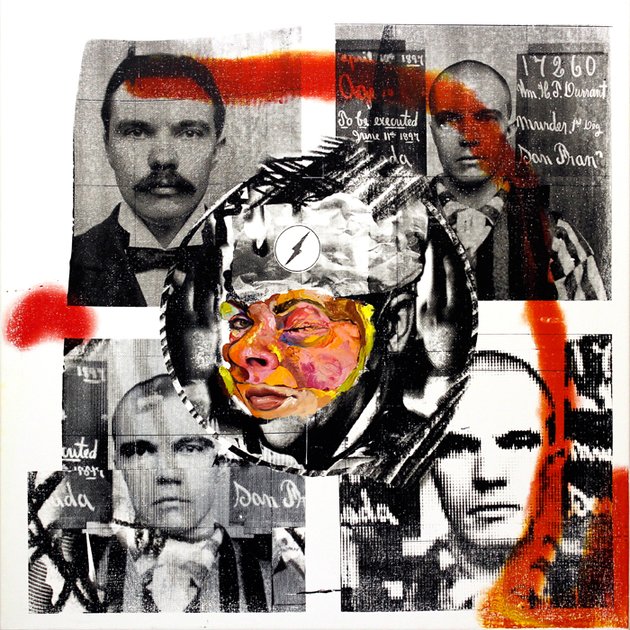 Durrantquad (Orange), oil and silkscreen ink on canvas, 36 x 36 inches, Durrantman Series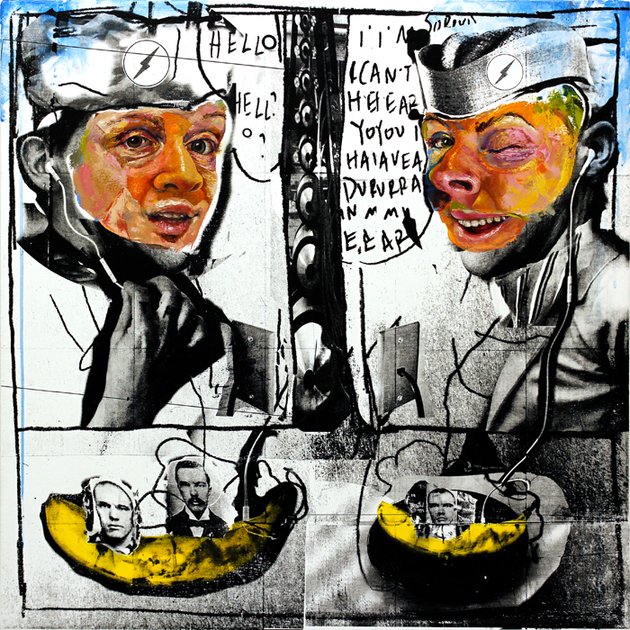 Alicia DeBrincat, Durrantphone, 2014, silkscreen ink and oil paint on canvas, 36 x 36 inches
Que in: Kinaga Ellis Project owner, Ms. Kianga Ellis.
Inviting, professional, and supportive Ms. Kianga Ellis was there to answer any questions onlookers might have about Debrincat's work. Delivering her passionate perspective in such a way which made you think she might have created the work herself, Ms. Ellis certainly posses an eye for recognizing raw talent and for thoroughly understanding the complexities which are intricately laced through the narratives and questions her represented artists are striving to articulate . Kianga Ellis' Projects might have been one of the youngest exhibiting booths on the VOLTA block, but with an entrepreneurial hunger to witness all of the artists and projects she collaborates with to succeed, this is definitely only the beginning of a series of remarkable shows.
I could go on and on about  my thoughts regarding Debrincat's work,  but the collaborative efforts produced between Alicia DeBrincat , Kianga Ellis Projects, and GalleryLOG, offer a far more interactive and enlightening translation.
Read more about Alicia DeBrincat:  HERE
or
visit Alicia DeBrincat's website: www.aliciadebrincat.com
About Kianga Ellis Projects: Kianga Ellis Projects features an ongoing program of solo presentations by emerging artists and mid-career international artists at the vanguard of contemporary art practice. Artists are invited to use the 300 sq foot project room in Chelsea NYC as an open platform from which to experiment and present their interests in two or more of the following within a unified context: the digital realm and Internet culture, social situations and concepts, traditional art media, performance and moving image.
Alicia DeBrincat+ Kianga Ellis Projects=  Mind tingling works and thought inducing projects which explore, instigate and question the phenomena surrounding our relationship with historical social and political events, which inevitably shape our collective identity and everyday existence. Not to mention, having an excellent project space to express these sensational brainchildren. VCOOL…
#4. Joshua Dorman and RYAN LEE Gallery
Entering the booth of RYAN LEE was like walking into a colorful soothing aura of a nostalgic dream that you may not have known you have experienced yet. Inspired by Pieter Brueghel and Hieronymous Bosch, the work of Joshua Dorman is just simply-  stunningly breathtaking. His expansive and dynamic, yet strict use of materials combined with his intricately woven creative processes, transforms viewers to engage with his paintings as a traveler venturing closer and more intimately towards an inward journey of an awakening of the subliminal subconscious. Equally inviting was Jeffrey Lee, one of the partners of RYAN LEE gallery. Eager and enthusiastic about revealing deeper insight into Dorman's work we were like curious children dipping into crevices of the  imagination which I regretfully do not visit enough.
Josh Dorman, Where the Skies are (Blue), 2013, ink, acrylic, and collage on panel, 18 x 18 inches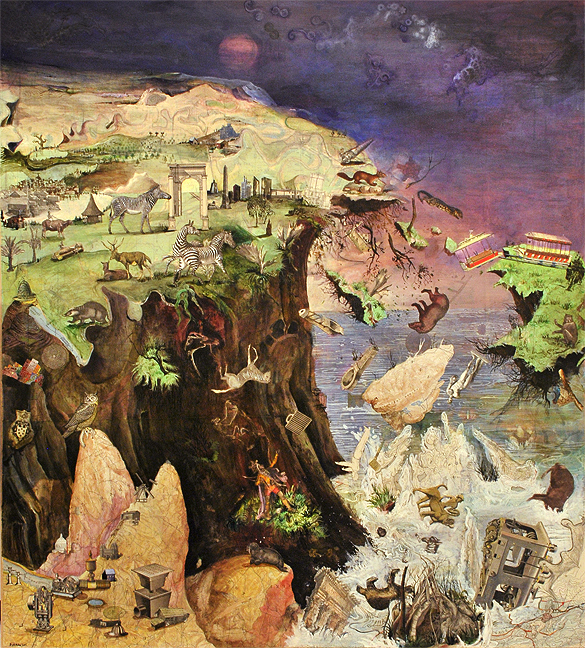 Josh Dorman, All Falls Away, 2012, ink, acrylic, and antique paper on panel, 42 x 38 inches
About Joshua Dorman: Dorman's use of symbolic figures, folkloric elements, and hidden texts are in dialogue with his illusive imagery. He sources textbooks, manuals, and documents that pre-date photography for engravings relating in form and color. These found images, alongside his paintings and drawings, are combined with vintage paper and map fragments. His interest in unfamiliar, obsolete, and cryptic systems informs his process. In speaking on his practice, he says, "Between apocalypse and paradise, I seek metaphors for human hubris. The printed text on the maps can be altered. The locations become blurred. Gravity sometimes fails." Born in 1966 in Baltimore, Maryland Joshua Dorman received his BA from Skidmore College and his MFA from Queens College in Flushing. He has achieved enormous success from various shows with galleries such as: Mary Ryan Gallery, Craft and Folk Art Musuem , Morgan Lehman, and the George Bills Gallery.
Read more: HERE
Although he considers himself primarily as a painter, check out some of Dorman's animation which will send sensations to your consciousness…
Visit Josh Dorman's website: www.joshdorman.net
About RYAN LEE Gallery: RYAN LEE was established in 2013 by Mary Ryan and Jeffrey Lee.  Located in the Chelsea district of Manhattan, the gallery is home to a dynamic roster of international contemporary artists working in a diverse array of media.  Representing both established and emerging artists, RYAN LEE is committed to showing innovative and pioneering exhibitions that represent the spectrum of contemporary art practices, and will also be a platform for many artists' first New York exhibitions.
Joshua Dorman + RYAN LEE Gallery= Carved figures cascade and nostalgic shapes transcend and unite.  And while the chaotic continues to struggle with the  uniform, stories and characters may or not be detected, but the positive thread running through the professional partnership between Joshua Dorman and RYAN LEE Gallery is inherently evident.
#5 John Cox and Popopstudios
Boom! Last but not least-  John Cox and Popopstudios. Representing the Nassau, Bahamas art scene to the fullest onlookers could not help to vibe with Cox's elaborately twisted bicycle innertubes and just as equally with his enigmatic, energetic and charming personality. The founding director of Popopstudios, Cox considers himself a mixed-media artist whose works focuses on the "everyday"; he is known for large format paintings, found object assemblages, collage and non-traditional printmaking. For Cox, balance is not so much as goal as a constant exercise in conscious creativity. Engaging the lifecycle of balance—struggle, transcendence, and acceptance—he often manifests in his artwork this somewhat spiritual journey of helplessness searching for the myth of perfection, and this is no different in his latest installation, consisting simply of bicycle inner tubes, string, and air.
To read more go: HERE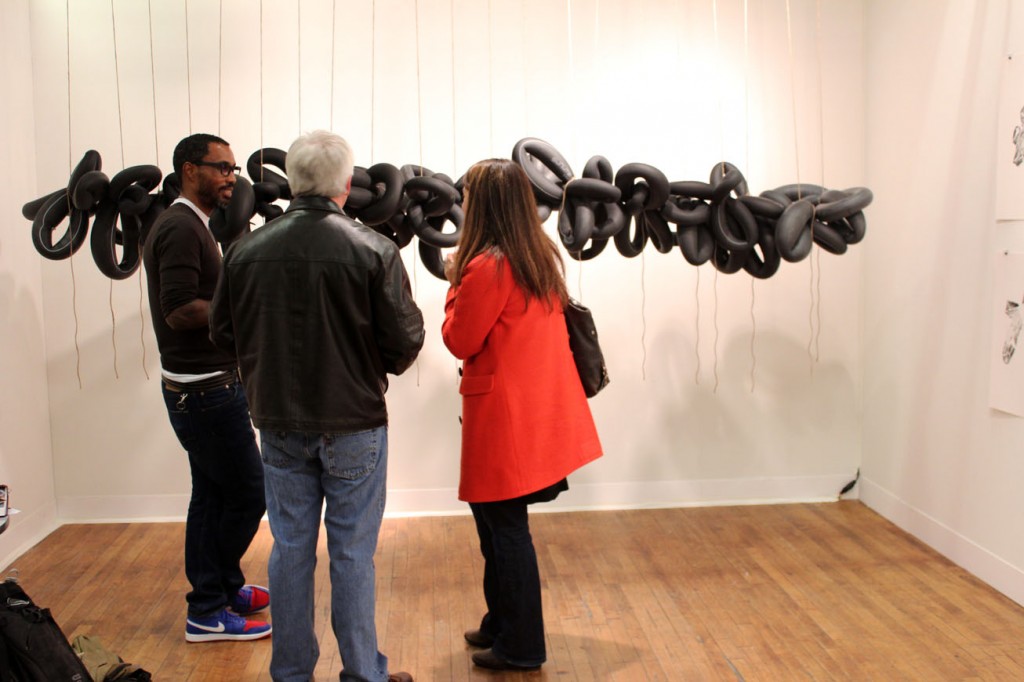 John Cox seen on far left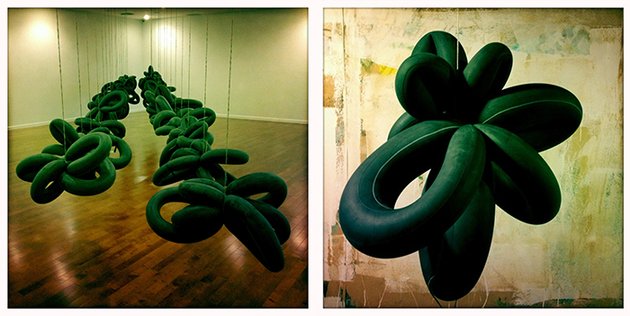 John Cox, Filler, 2013, bicycle inner tubes, string, variable dimensions
About Popopstudios: Popopstudios is an independent art studio and gallery dedicated to the preservation and advancement of alternative Bahamian visual culture. The goal is to educate, promote, expose and defend new and challenging developments in contemporary art in The Bahamas. Popopstudios exists to harbour both seasoned and developing artists interested in new media and mixed media processes, while projecting these efforts to a national and international audience.
While introducing this Florida bred now, new, NewYorker to the ethos behind Popopstudios, Cox also informed me of his latest business venture as the Creative Art Director at the BAHA MAR Hotel. When inquiring of his interest surrounding the implementation of contemporary visual based art into the hotel sector of the Bahamas. He replied, "I am attempting to extinguish the negative stigma which is widely believed by most people that art in hotels is corny or unattractive, or overlooked- especially as somewhere with such a tourist driven economy as the Bahamas. Hotels can function as an alternate way of viewing and appreciating contemporary art and I want to be at the forefront of this."
To know more about BAHA MAR go here: www.bahamar.com
John Cox+ Popopstudios= Fresh, dynamic and forward thinking and straight- from the grass roots of the Bahamas. While exposing the vivacious art collective of the Bahamas- John Cox is an artist to keep your eyes on and Popopstudios is a community to look out for!
To know more about BAHA MAR go here: www.bahamar.com
So, there you have it. Risk taking, cutting edge, creatives armed at the forefront of addressing social and political issues, exploring other dimensions and avenues of exhibiting and display while churning up questions and imaginations in between it all- Can't wait to see who is on the list for VOLTA2015!
All additional exhibiting galleries and artists can be found on Volta's website: HERE
Words: VC now live in New York for FAD
Categories
Tags