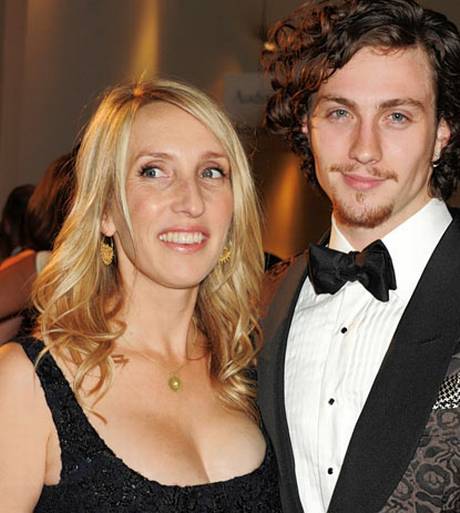 Director Sam Taylor-Johnson and actor Aaron Johnson.
Police raided the home of artist and Fifty Shades Of Grey director Sam Taylor-Johnson when a passer-by spotted a machine gun on a desk inside the house.
The gun, a deactivated M16 assault rifle, had been given to the film-maker and photographer as part of an art project.
A Metropolitan Police spokesman confirmed officers from the firearms unit were called after the gun was spotted through a window of the north London house lat week.
A spokeswoman for the couple said: "The firearm was located in Sam Taylor-Johnson's basement studio and has been confirmed as a certified and fully decommissioned M16 assault rifle that was provided to Mrs Taylor-Johnson by the international charity Peace One Day as part of an art project entitled 'Peace One Day M16'.
"The project, curated by Jake Chapman, consists of new works by some of the most celebrated names in contemporary art all of whom are transforming fully decommissioned M16 assault rifles."
About Peace One Day art Project 2014
The Peace One Day 2012 art project was an incredible success, raising almost £450,000 and incredible levels of awareness for Peace One Day's work in 2013. With the next art project we hope to build on this success for future Peace Days.
Awareness of Peace Day creates action, and that action saves lives – a child will not be bullied, a woman will not be hit, a gun will not be fired. The creative community has a key role to play and a voice that can be heard, using their influence to help increase awareness and raise funds.
For 2014, curated again by leading contemporary artist Jake Chapman, Peace One Day are asking artists to use decommissioned M16 assault rifles to produce artwork, thereby continuing the story of taking objects of war and using them in support of peace.
The Exhibition is confirmed to take place at the Institute of Contemporary Arts during Frieze week from Monday 13th October to Friday 19th October with an auction taking place at Bonham's on Friday 17th October.
www.peaceoneday.org
Categories
Tags