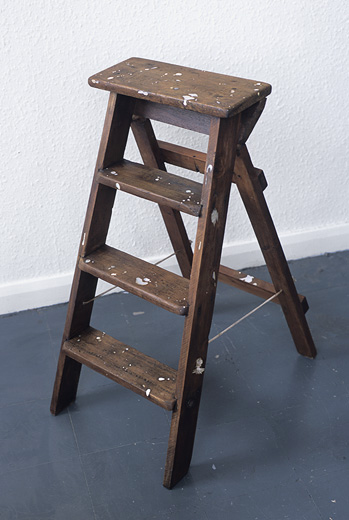 Susan Collis: 'The oyster's our world', 2004 – Wooden stepladder, mother of pearl, shell, coral,fresh water pearl, cultured pearls, white opal, diamond

Among London's smaller galleries, I particularly like Seventeen. Fronted by Dave Hoyland, it's friendly, imaginative and unpredictable; counts some favourites of mine among its own artists (Susan Collis, Graham Dolphin, Oliver Laric); runs two shows at a time; and is open to all sorts of unpredictable stuff, typified by the basement film programme curated by Paul Pieroni from 2007-09. And it was always easy to explain where it was: 17 Kingsland Road, near Hoxton Square.
Now, though, it's moving further up the road to increasingly fashionable Dalston, and so joins the mildly illogical group of galleries who aren't where their name says they are. New York's 303 Gallery may hold the numeral shift record, having left 303 Park Avenue South in 1986 and arrived at its present 507 West 24th Street via numbers 513, 89, 525 and 547 on four other roads between. In less integral paradoxes, Hay Hill soon moved to Cork Street then Baker Street; Paradise Row has just closed on Newman Street; and Christopher Crescent has got as far as Brussels from its eponymous Hackney address. Frith Street has been in Golden Square for seven years (but has just announced the addition of a project space in…. Frith Street!). First up from 4 September in Seventeen's new incarnation at 270-276 Kingsland Road is the group show 'Either' and a solo for Sachin Kaeley, the only painter the gallery represents, albeit in a decidedly post-internet mode.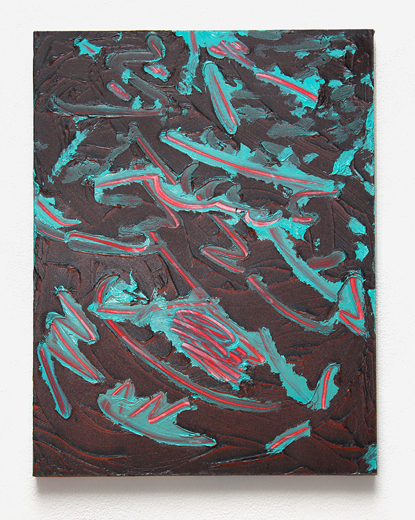 Sachin Kaeley, 'Acrylic and spray paint on board', 2013
Most days art Critic Paul Carey-Kent spends hours on the train, traveling between his home in Southampton and his day job in Surrey. Could he, we asked, jot down whatever came into his head?
Categories
Tags