Clive Hodgson: Untitled, 2012
It's nice to see an underrated artist steal into the limelight, and such is the case with the painter Clive Hodgson (born 1953), who's just had his American debut (at White Columns in April). Now he finds himself in three of the many summer shows now open, which almost all do far more than lazily lump together the gallery's own roster. Simon Lee, Laura Bartlett, Pace and Carroll / Fletcher would be my pick of the Hodgsonless group exhibitions, and he's in three others – proving how his modestly-sized, primarily abstract paintings can fulfill various agendas. July at The Approach concentrates on mark-making, so foregrounding Hodgson's waveringly nuanced and washily layered use of oils. Timothy Taylor's Slow Learner, curated by Andreas Leventis, includes artists who employ text and symbols to subvert meaning. That fits with Hodgson's repurposing of emblems from decorative traditions; and with the way he privileges both their date of making and his name to align, in White Columns' words 'the melancholic daily realities of On Kawara with a decidedly informal take on formalism'. Sherman Sam sees that as 'existential, in that it is declarative of existence – both the artist's and the work's'. Sam himself curates a beautifully surprising cross-generational flower show at Ancient & Modern, which includes both sketchily direct flowers and a painting of circles which, given the context, stand as floral.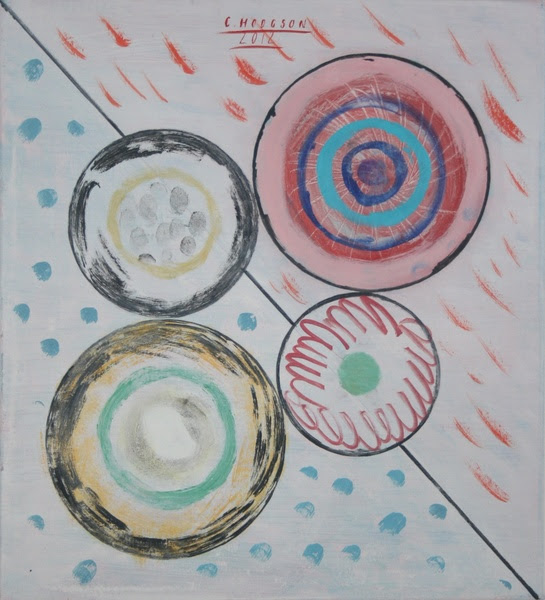 Clive Hodgson: Untitled (Circles), 2011
Most days art Critic Paul Carey-Kent spends hours on the train, traveling between his home in Southampton and his day job in Surrey. Could he, we asked, jot down whatever came into his head?
Categories
Tags