Taking GIF art to a new level, artist James Kerr speaks to us about the state of Post Digital art, and just what goes into making his hilarious artistic GIFs.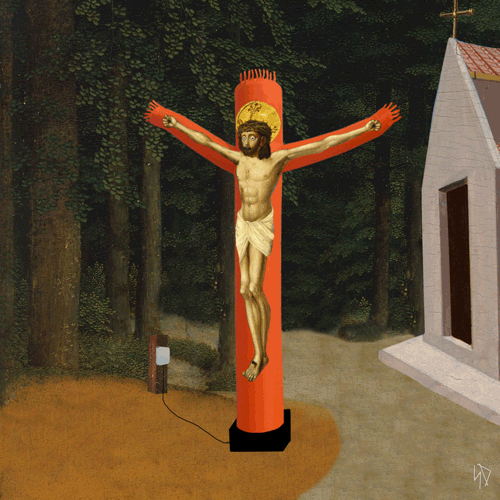 Hi James. How are you?
I'm doing well. Busy, but not complaining.
What have you been working on this week?
I've been working on a getting images together for a book that I was invited to work on with a local publisher (here in Montreal). Essentially, the book is a collections of stills from certain GIFs, but we're also throwing in an augmented reality component to it which should be a bunch of fun. The only trouble with all of this is that I never made any of the GIFs with print in mind, so I'm know going through the ones I want in there, and tidying up all these little details that I normally ignore because they are hidden when I convert them files to GIFs.
So you are currently exhibiting your GIF's in the Post Digital- Are We There Yet show at DegreeArt, tell me – what does the term 'Post Digital' mean to you – and do you think we're there yet?
I'd say that we are in the infancy of the Post Digital age, but am not entirely sure how far out of the womb we actually are. With the rate at which technology is advancing, it's really hard to imagine where we are going to be in a decade from now. I mean, digital art has existed for as long as there has been digital technology, but I feel as if only now is it getting recognized by these traditional art institutions, and for that reason it is slowly beginning to gain legitimacy. The simple fact that these conversations about whether we are in the age of Post Digital art are happening is a pretty a good sign that we are in it. To me, the term is has sparked many an interesting conversation, and, if anything, I've begun to start imagining new technologies, and how I could apply them to my art.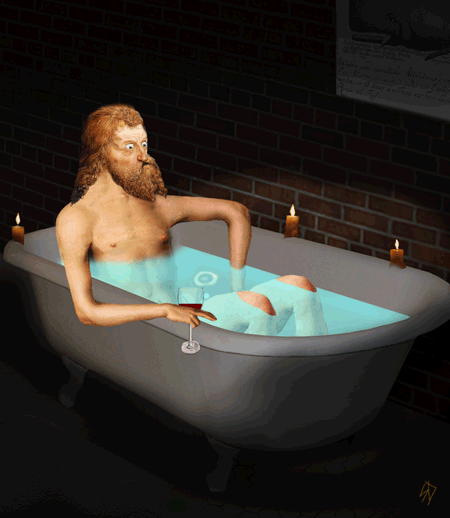 Your GIFs are fantastic – and we love the use of classic paintings, and religious scenarios in them – tell me, how do you go about choosing the images you use?
I choose images based on what I think would work best for the idea I have in mind. Sometimes it's the other way around – where I see a painting, and am inspired to make something with it. Once I've decided on what to make, I'll start looking through images and start cutting out what I want to use.
Where do you source them from?
Most of my source images come from Internet searches, and from sites like wikipaintings, and various museums who have their collection online (and available for use). Sometimes I'll make scans from books, but it's rare.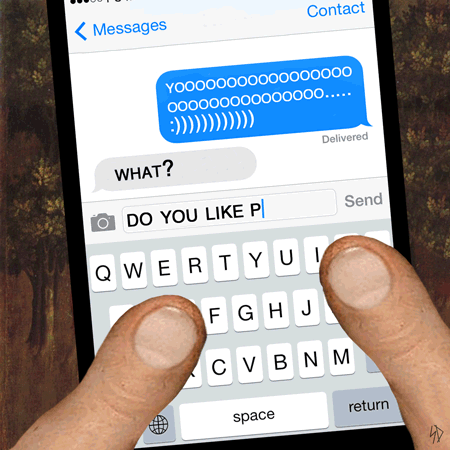 There's quite a humorous element to them – what is the reason behind this? Is it an expression of your personality?
I've always been interested with using humor in my work. Generally speaking, it's what I gravitate to when looking at art, but I also find it an interesting tool when tackling some of the more challenging themes that I want to explore. I believe that using humor helps draw an audience who might not immediately get what's going on, and hopefully keep them around for a little while. The challenge with most art is how do you keep viewer's attention for more than 2 seconds, and I think humour goes a long way in doing so. But, what it really comes down to is that I think it's a really good, honest expression of my personality – I really want to make art that makes me laugh when making it
When did you begin to make GIFs as art?
I started making GIFs in the winter of 2012. I had some time off, and was looking for a new project, and thought it would be fun to learn how to animate. I started making these really short videos that a friend of mine suggested that I look into turning them into GIFs, and I fell in love with the process immediately.
Do you ever create works that aren't technology based?
I used to! I'd love to get back and do some more traditional collage, but there's not enough time in the day.
How do you feel technology has influenced and/or changed the way artists create today?
I think technology really changing the emphasis with how artists choose to create. I don't have any numbers to back this claim up, but I'd imagine that young people are perhaps becoming less interested in more traditional mediums like painting, and more-and-more opting for digital mediums instead. I'm really curious as to if these more traditional mediums are going evolve over time. In a sense, that is something that I like exploring with Scorpion Dagger – I like giving the characters in these paintings a new life in the digital world.
Have you been influenced by any other artists – both old and new?
There's way too many to list.
During the Post Digital exhibition there has been the relay going on the website http://postdigitalart.co.uk/ what do you think about using this as a platform for artists to explore the post digital together?
It's great. To be completely honest with you, if it wasn't for the Post Digital Relay I probably wouldn't have given too much thought to it. I'm fairly sheltered from these sort of conversations normally, but I definitely enjoy participating in them, and am extremely thankful they asked.
Add to the Post Digital discussion here: www.postdigitalart.co.uk.
James Kerrs work will be exhibited at 12a Vyner Street gallery until 14th August 2014.
Categories
Tags