We speak to artist Alice Woods, who is currently exhibiting an installation artwork in DegreeArt's Post Digital – Are We There Yet? exhibition. With a collection of varied works, we find out more about Alice's process, and concepts.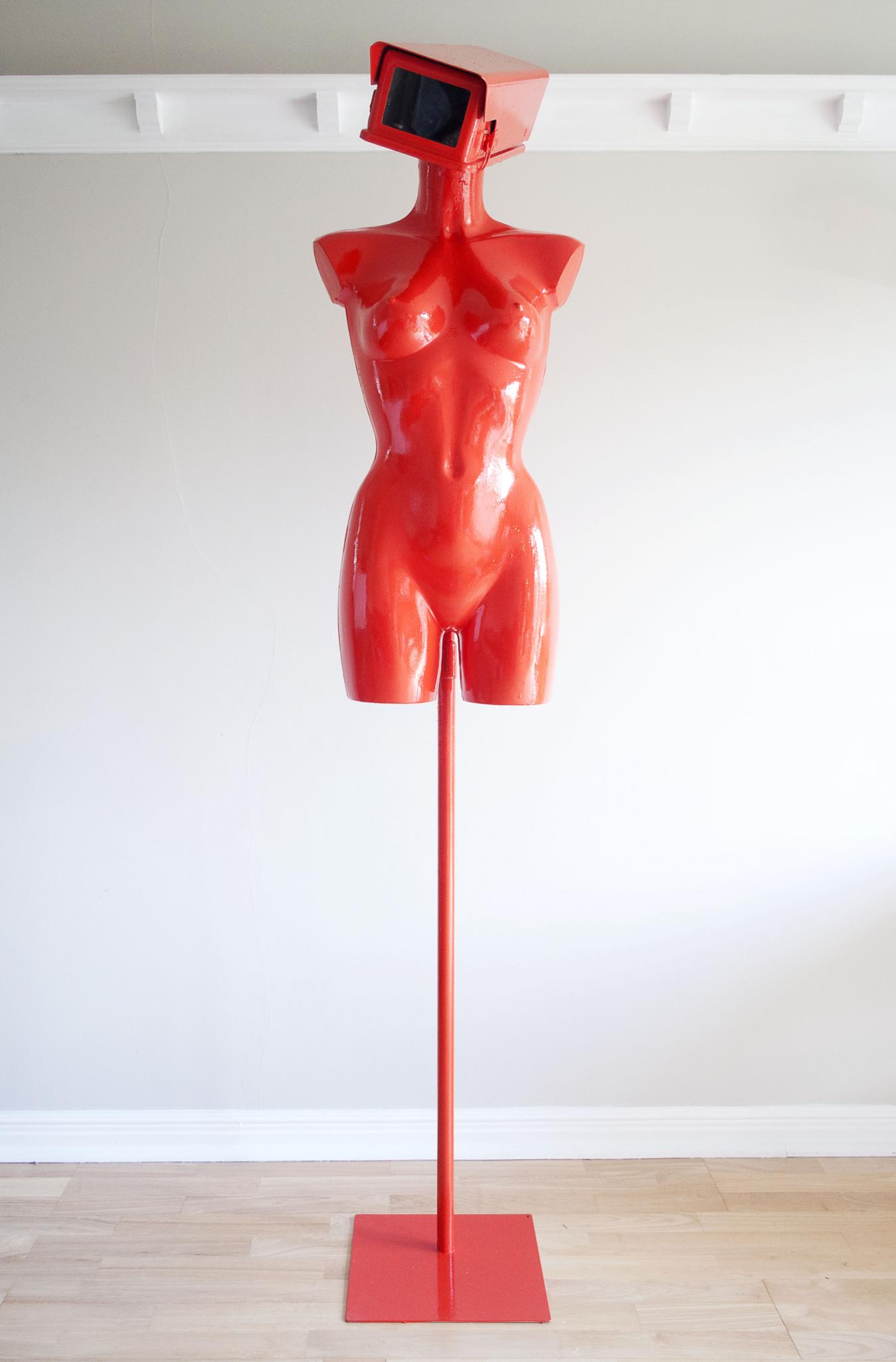 Hi Alice, 
What have you been up to this week? 
I have been turning an old stable into a studio and prepping for a new immersive installation I am making called 'Dead Cat Bounce', which is a large scale extension of a previous work 'It's Big, Red, & It's Seen A Lot Of Action'.
You are currently showing in the 'Post Digital – Are We There Yet' exhibition at DegreeArt – tell us more about the piece 'Sally (The Watcher)' you are showing? 
Sally is a work I made about a year ago when I was researching the double-edged nature of the internet and in particular social media, where as a user you observe what your friends and family are up to, whilst simultaneously have data collected about your own browsing habits for the purposes of targeted marketing. This raises all sorts of questions about privacy, who can see our browsing history, and opens up a whole can of potentially sensitive data which could be exploited in more sinister ways than just seeing a link to the last thing you browsed on Amazon. Of course this goes way beyond the sphere of the Internet as we have seen with the recent NSA revelations and as a public have started to learn more and more about who is listening to who… Sally is also a reminder of how seamlessly tech is integrated into our lives, so much so, that we often forget we are interacting with it.
How did you develop the technology for this piece?
The tech for this piece is pretty simple, just a CCTV camera and appropriate housing. I have set the piece up in a number of different ways – taking a picture every time it detects movement and automatically uploading to a blog, live web streams – and also linking to multiple monitors in various parts of an exhibition space. The set-up tends to vary depending on the space or event. It has also been used as a functional CCTV camera in a particularly large exhibition venue to keep an eye on unwatched areas.
Your work is concerned with the relationship between the powerful and the powerless – tell me, how does this relate to Sally?
Sally is watching us – the viewer – all the time. But we are also looking at her, and this is the exchange I am interested in. Who has what power and when? How can it be used and is there the probability of conflict of interests arising?
What does the term 'Post Digital' mean to you and do you think we're there yet?
I think it is hard to say whether or not we are 'there yet' as the term is still very fluid and means different things in different contexts. For me the idea of being 'Post digital' is about retaining strong elements of humanity within works, and any digital elements existing as integrated and complimentary aspects. I think we have moved past digital and electronic elements just for the sake of gimmick and are now starting to understand how their integration can really add something to being human instead of detracting from it.
You posted your browsing history on the Post Digital relay site – how did it feel exposing something quite personal? Were you wary of publicising the inner workings of your mind?
It definitely made me take stock of what I was browsing and when. If anything, I think I reduced my Internet time as I was less tempted to aimlessly browse if I had a scrap of free time. I mostly use the web for research and a bit of social stuff and I wouldn't class myself as a heavy user. What was valuable about the experience was that with the knowledge of eventual publication I developed a heightened awareness of where I was clicking and how many tabs I kept open. Luckily I don't think any of my inner thoughts were revealed through my browsing history – it was all pretty ordinary stuff!
With the invention of social media – how much of an impact would you say this has on the way artists create works, if any at all?
I think the dissemination of work has changed, but I'm not sure about the creation. The idea of making and materially (or the lack of the two) is always going to be important in art, even if works exist purposefully to be entirely in a digital space. New technologies have expanded the parameters of art making, as in all other areas of production, but in terms of the impact social media has had, I think the difference is that dissemination can now be instant and wide-reaching from potentially the point of starting a work to finishing it.
You have quite a variety of work, including The Subway Man and It's Big, Red, & It's Seen A Lot Of Action – tell me more about these works – and why they vary so much from Sally (the Watcher) and what the pieces have in common. 
My work always tends to be rooted in research, which may or may not manifest itself in something visual. The last couple of years my practice has been centred around the relationship between economics and culture, and the power dynamics that exist between them. My more recent works have focused on finance, and after spending time with a sustainable finance activist group 'Alternative Banking' in New York earlier this year, I started looking at the interconnectedness of those with financial and monetary policy making power, and where this impacts the general population – for good or for worse. 'It's Big, Red, & It's Seen A Lot Of Action' was a result of material experiments that use one continuous component to create linked structures, as was 'Pink Sheets' another work made at that time. Like Sally, these works look at where the power lies and with whom. 'The Subway Man' is a recreation of the trousers of a man I saw on the subway in New York, although his more were tattered! Perhaps due to a broken fly, he used an American eagle patch to crudely replace the need for a zipper. I am generally intrigued by these kinds of bizarre problem solving decisions… and felt this man's patriotic gesture deserved further consideration.
Are you influenced by any artists – old or new?
There are many artists that I admire, and whose work I love – Michael Heizer, Walter De Maria, Allen Jones, Rirkrit Tiravanija & Sol Lewitt to name a few, but my ideas for works tend not to come from art itself or the art world, but from whatever I am interested in at the time. I am quite methodical and patient, and when I get into something I like to cover all bases and dig deep before I move on, and during this process something visual may or may not arise and if it does, then I make it.
During the Post Digital exhibition there has been the relay going on the website http://postdigitalart.co.uk/ what do you think about using this as a platform for artists to explore the post digital together?
The idea of a 'virtual' space or a non-physical exchange is definitely an interesting context to operate in, and one which has come to feel very natural with the proliferation of text (and now image) based digital communication. Whilst we are still defining what postdigital can be, bringing together different approaches and thoughts is always useful. But just like more physical collaborations, sometimes things come out of it and other times, nothing materialises at all.
Join the Post Digital discussion and gain insight to the Post Digital artists work at http://postdigitalart.co.uk/.
Categories
Tags