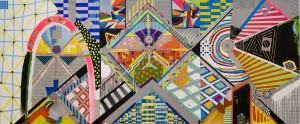 www.beerscontemporary.com 1 Baldwin St, London EC1V 9NU
Artists: Frank Hallam Day, Michael Mapes, Brian Porray
Cut/Copy/Paste presents three American artists who explore the boundaries of the contemporary collage and the re-appropriation of images. Though each artist displays a distinct (yet related) body of work, the exhibition presents the artistic practice as limitless and endlessly reinterpretable; an interminable platform for the interrelating discourses and references of re-imagined images in a contemporary context. The pastel-colour smudged mark made of a fragment in time, the kaleidoscope of a repeated geometric motif, the snippets of photographs and locks of hair – the reinvented; the cut, the copied, the pasted.Frank Day's photographic series titled 'Ship Hulls' at first glance masquerade as renderings of Rothko's oil paintings – heavy in thick brush strokes and rich blocks of colour. While they were taken in the ebb and flow of the tides surrounding the working quays and isolated backwaters of Lagos, Nigeria and Douala, the photographer cites the history of painting as a main source of inspiration, likening his works to painters Henri Rousseau and Jan Van Eyck among others. The traditional oil landscape is therefore transformed and reimagined here. Pasted in the form of digital close-ups of ancient and abandoned hulls that breath life into what are otherwise lonely graveyard African harbors.
In contrast, New York artist Michael Mapes is technically a portraitist, though he rarely uses paint as his primary medium. Instead, the artist deconstructs then reconstructs some of the Dutch Master's most famous 17th century portraits, recreating the human visage by arranging and compartmentalizing fragments of a person's life; dissected photographs, locks of hair, handwriting samples, jewelry – into highly detailed works of art. The specimen boxes he creates, exist in an uncanny area between photography and sculpture, functioning both as portraits within a rich historical canon, and as fascinating and painstakingly rendered scientific canvases.Adding onto the colour sensation of the exhibition, Las Vegas-born Painter and collagist Brian Porray's compositions transform collage into a visual force field of energy. A seemingly chaotic miscellany of patterns unfurls across the – often unabashedly large-scale – canvas, rife with triangles, stripes, checkerboards and rainbow arches, painted and patched together, freewheeling in repeated anarchic and psychedelic motifs. Porray's choice of medium can be equally as sporadic as his practice, largely utilizing a combination of coloured pencil, spray paint, ink and acrylic, on linen, canvas or paper.
While each of the artists are acutely aware of their artistic predecessors, they exhibit a technical mastery in their practice that gives a fascinating new scope to the age-old artistic process of the deconstruction and reconstruction of the image. While coloured triangular shapes are omnipresent on canvas, paper and linen, tiny photographic fragments are systematically arranged using paintings of the Dutch Masters, and ship hulls pose as traditional oil landscapes, the selected works offer a minefield of aesthetic historical references; reinstating art as endlessly re-interpretable and constantly in flux.
Categories
Tags